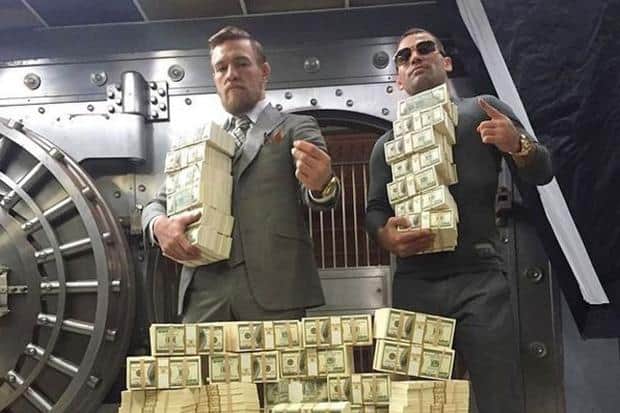 With the UFC still reeling from Ronda Rousey's epic loss to new bantamweight champion Holly Holm in the main event of November 14's UFC 193 from Australia, fight fans have little time to rest as the promotion gears up for its jam-packed December headlined by the long-awaited UFC 194 grudge match between featherweight champ Jose Aldo and interim champ Conor McGregor.
'The Notorious' won the interim strap by stopping Chad Mendes in the main event of July's blockbuster UFC 189 after Aldo pulled out with a rib injury, and he did so while living in the 'McMansion' in Las Vegas. After heading home to his native Ireland for a prolonged visit, McGregor recently posted on Instagram that he was now heading back to the West Coast, and added a rather lofty goal in the process.
In the post, McGregor stated that he's aiming to earn $90-100 million dollars for the UFC at the December 12 spectacle from the MGM Grand in Las Vegas, which would tentatively bring his haul to a staggering $200 million in a mere six months.
While we obviously have no way of confirming the exact numbers, McGregor's insight has lead to believe that he's not only a 'company man,' but is the company himself. Check it out: