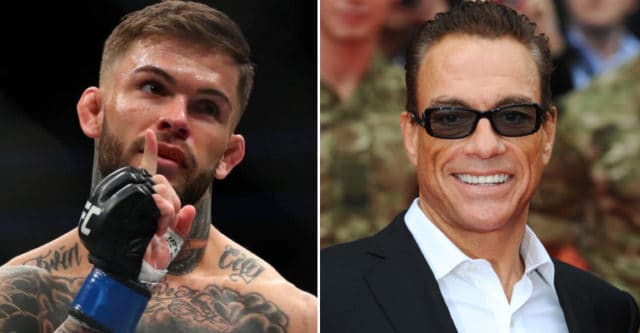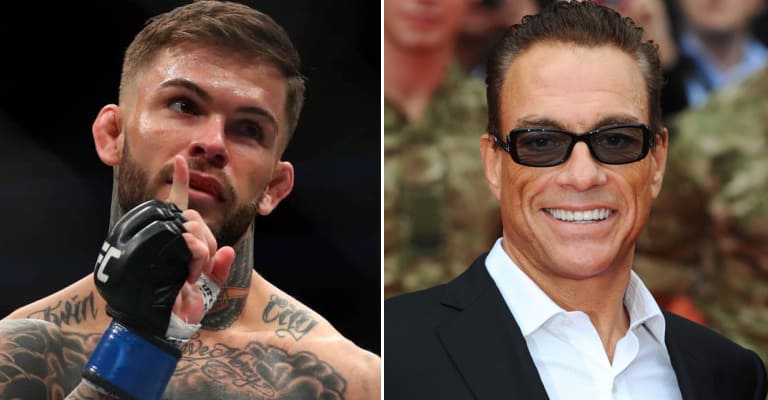 Cody Garbrandt should probably be in the news for his continuing quest to regain the UFC bantamweight title, but instead, his highly-publicized gym incident with Jean-Claude Van Damme keeps coming up in numerous headlines involving "No Love."
After the longtime martial arts actor accidentally kicked Garbrandt in the teeth during a visit to Team Alpha Male in California, team leader Urijah Faber described a strange scenario where TAM had to console a visibly shaken Van Damme after Garbrandt was understandably angered.
It led to a reportedly gushing apology from Van Damme and even a segment where Garbrandt felt the need to confirm he would "rip Van Damme's f****** head off" if they really fought. Garbrandt recently campaigned unsuccessfully to face archrival TJ Dillashaw in a short-notice UFC 222 main event after Max Holloway was forced out, yet during a recent edition of The MMA Hour, he focused on his dust-up with Van Damme.
Opening up in great detail, Garbrandt said Van Damme was going crazy in the gym like he was on drugs, and this was after he showed up two hours late and did a ridiculously long warmup following a night of drinking with the team:
"He just can't control himself. He got too excited in there. He was running all over the place like he was on shit.

"What is Jean Claude gonna show me? I respect the guy. But he's two hours late, he had to warm up. I was annoyed by the whole thing.

"It was just a circus act, to be honest," Garbrandt said. "I looked over at this buddy and his manager. I was like, you gotta get this guy out of my face."
"No Love" said the chaotic scene only got even weirder when the 51-year-old Van Damme dropped to his knees to apologize, but he couldn't assault the much older actor so he eventually went to his movie premiere for the latest "Kickboxer":
"It looked like I punched him and dropped him," Garbrandt said. "People didn't know he kicked me. I was just annoyed with the guy and I'm like, 'all right, I'm done with this fool' and walked out of the cage.

"He's an old guy," Garbrandt said. "What am I gonna do? Pummel him? It's a lose-lose. We're cool. I went to his premiere. It is what it is. He's just a sensitive Hollywood guy."
If you enjoyed this story, please share it on social media!