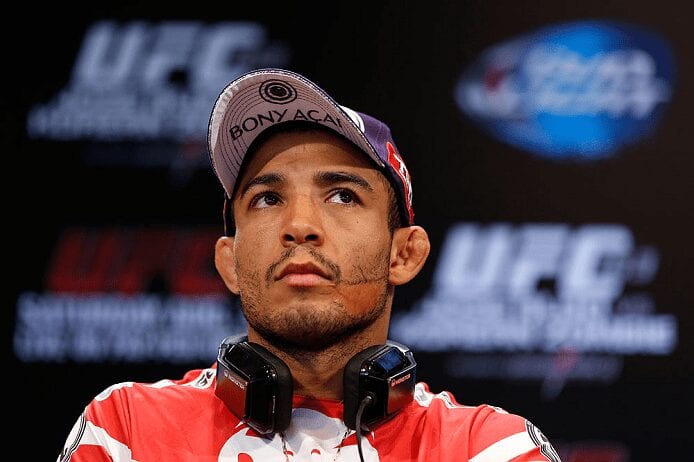 There's been a seemingly never-ending stream of discussion about why former UFC featherweight champion Jose Aldo was knocked out in a mere 13 seconds by Conor McGregor at December 12's UFC 194 from Las Vegas.
One of those theories suggests that Aldo was simply scared of McGregor and overcome with nerves as he refused to look at 'The Notorious' during the pre-fight staredown. But during a recent spot with Combate, Aldo's longtime head coach Andre Pederneiras refuted that option.
According to 'Dede,' Aldo was not anxious, but rather overconfident, which caused him to rush in and get caught:
"I wouldn't say anxious. Maybe overconfident, because he was really well. He was so confident in the victory he (thought) 'I'll throw (my hand) and will catch him'. It's a split-second decision. Or you attack, or you get out. He decided to attack, and the other guy threw a counter to defend. He attacked, but moving in a way to stop (Aldo's) attack."
Pederneiras expanded upon Aldo's loss, noting that while the result was obviously not what they wanted, the champ didn't necessarily make a wrong decision. He wouldn't dub McGregor's punch lucky, but he did believe how it connected perfectly on Aldo's chin may have been lucky:
"How can you say a superchampion like Aldo made a wrong decision?" he asks. "If you analyze the fight, Aldo threw the first straight, a fake straight, and McGregor threw his punch and it wouldn't land on Aldo's chin, but on his head. But Aldo moves up, moves his chin up, and (the punch) lands on his chin. McGregor wanted to land on his head. And with Aldo moving up, McGregor can't say he calculated to hit right there.
"He will say this, but it's something hard to say, especially because if Aldo goes in and throws his punch, it wouldn't have landed. However, he was happy. Let's say it wasn't a lucky punch, he programmed that, but the way it connected on his chin when he moved forward, I think it was lucky."
There are now a multitude of potential high-profile bouts for McGregor to take on next, yet an immediate rematch with Aldo doesn't appear to be close to the top of that list. With most long-reigning champions getting an instant rematch after losing their belts, Pederneiras understandably believes Aldo should, as well.
However, he knows what sells in the UFC, and Aldo doesn't exactly follow along that path. Regardless, he views the UFC inconsistency with such situations as hypocritical and wishes they would be more consistent:
"Well, I disagree. They don't care if I agree or not, but here's what I say: I can't see Aldo not fighting for a belt or not in an immediate rematch. It wouldn't be fair if that doesn't happen, but happen to others. 'There's no immediate rematch for anyone', cool, we know what the rule is. '(There's rematch) because she's blond and sells well'? I'll dye Aldo's hair. Right?
"I don't see other scenario than a new fight, so we can really have a fight. In my head, what happened wasn't a fight, just a punch that landed and ended it quickly."
As for a rematch with McGregor, 'Dede' acknowledged that while taking McGregor to the ground would certainly be an option, Aldo still isn't scared to take on 'The Notorious' in a stand-up battle, and will perservere:
"I think the ground would be a good option, but I don't rule out a five-round, stand-up fight," he said. "Aldo has strong blows, he can really hurt the opponent. In this fight, he was confident both standing and on the ground, he'll be fine."