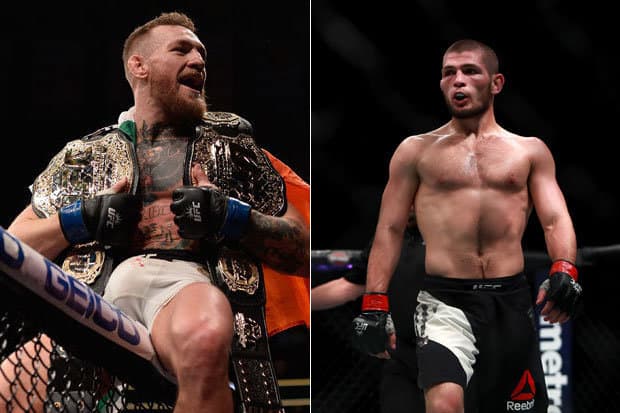 The coach of Conor McGregor believes that a potential fight against Khabib Nurmagomedov is building.
It's been well established by now that the former UFC featherweight and lightweight champion is in the middle of some ongoing legal issues.
As a result, his career as a pro-MMA fighter has been put on hold. However, it appears that once his legal problems go away, then he is ready to get back to fighting inside of the Octagon under the UFC banner.
McGregor has not been seen in the Octagon since at UFC 205 when he won the lightweight title from Eddie Alvarez. McGregor then fought in a boxing match with Floyd Mayweather.
If you recall, just last month, the first glimpse of him sparring since his boxing bout surfaced online. McGregor wanted to show off his skills to his fans. Since that time from when he competed last, he has stayed in the gym.
During a recent interview with MMANytt, McGregor's striking coach Owen Roddy talked about the rumors that have been going around about the fact that Nurmagomedov would be defending his lightweight belt against McGregor later this year.
"I can't confirm anything but it would be great," Roddy said (transcript courtesy of MMA Fighting). "Conor's training hard, he's always training. He's motivated and he wants to fight, it's just that he gets a few things sorted out and then he sits down and negotiates a good deal for his next fight. I think it will be another big spectacle like they always are. So I'm excited, just like everybody else. I don't know but I think [Khabib]'s at the forefront. I always say, Conor wants the biggest fights that he can possibly have and I think, at the moment, Khabib seems to be that guy."

"I'm sure it's just down to the right negotiations but yeah, I think it is building," Roddy said. "This kind of started similarly with the Mayweather fight; there was talk, there was a bit of back and forth and a bit of drama and then once the crowd and once the fans get behind it, they ultimately create the fight. It's brewing up nicely."

"The striker's always at an advantage because you start standing and you start at range," Roddy said. "The grappler always has to get around that and find his way into the clinch and it's very, very difficult to do that without taking a big shot off Conor. It's just about setting traps and putting his opponent in positions where they're vulnerable. He's got phenomenal takedown defense. You've seen that in some of his other fights. . . He's no slouch there so we're more than prepared to fight anybody."