Clay Guida & Cub Swanson Bash Conor McGregor At Q&A In Scotland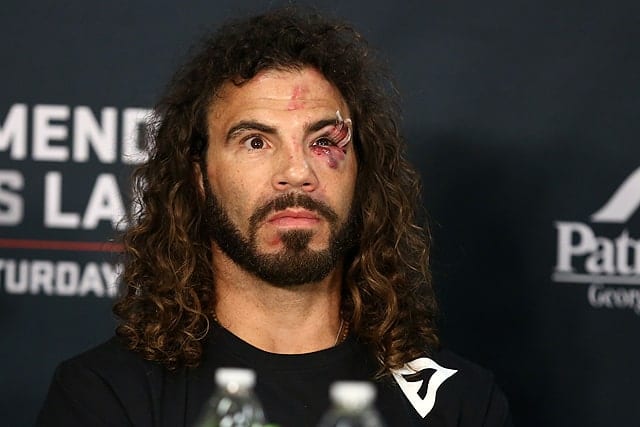 The UFC is set to put on a show tomorrow (July 18, 2015) from Glasgow, Scotland, as UFC Fight Night 72 comes to us live on FOX Sports 1 featuring a pivotal middleweight main event between long-time veteran Michael "The Count" Bisping and the resurgent Thales Leites.
Although the attention should be on Bisping and Leites, it's not too surprising that now interim featherweight champion Conor McGregor's name was brought up at a Q&A in Europe featuring fellow featherweights Cub Swanson and Clay Guida, as well as women's strawweight champion Joanna Jedrzeczyk.
And it seems, like many other featherweights, that Guida and Swanson aren't too fond of the brash, and outspoken Irish phenom.
When an Irish fan got on the mic and started haggling the two 145-pounders about his countryman, they didn't have anything nice to say, with Swanson starting it off saying that he believes Aldo will make McGregor quit when the two meet to unify the titles (Via MMAJunkie):
"(Jose) Aldo's going to beat him," Swanson said. "Probably he'll quit."
Guida was a tad more outspoken, saying that after Aldo handles McGregor, either Swanson or himself will be happy to send the "Notorious" one back to "potato picking" Ireland, taking a shot at all of the Irish in the process:
"We're going to send him back to the potato-picking country he came from," said the veteran UFC featherweight, getting a rise out of the crowd.
How do you feel about the Aldo vs. McGregor show down which will go down later this year? As the top-ranked pound-for-pound fighter in the world, "Scarface" has defended his title seven-straight times, and is actually the only featherweight champion in UFC history. Aldo has a very lengthy win streak, and has dispatched every UFC fighter put in front of him, but it still seems as if many are picking the "Notorious" one to dethrone the champion.
How do you see it going down?