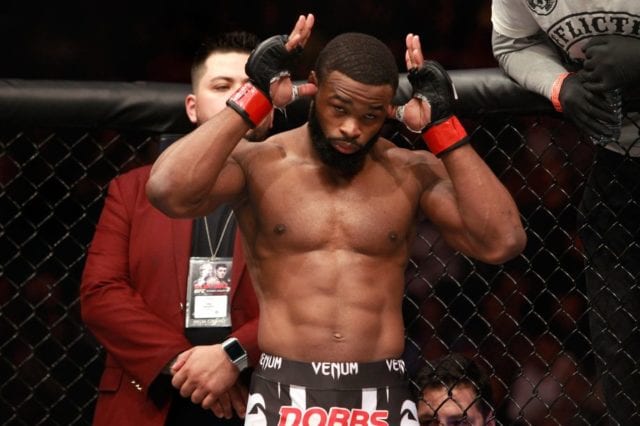 Welterweight king Tyron Woodley is a dominant UFC champ, but can "The Chosen One" find success in the rap game?
After Woodley retained his title at UFC 228 with an easy win over Liverpool's Darren Till he took to the FS1 post-show to announce his new rap single would dropping soon.
That time is now. Woodley's single entitled "I'll Beat Yo' Ass" featuring 10 time Grammy nominee Wiz Khalifa drops on all platforms today. The champ also worked with a number of other established hip-hop artists throughout the production of his album.
Woodley is well aware of the athlete rapper connection/crossover as he told TMZ Sports. Regardless, when your one of the pound for pound best fighters in the world you do what you want to do.
"Timing is everything in music, Woodley explained. "And what better time to release a single called 'I'll Beat Yo' Ass' – fresh off of whoopin' some ass?"
Here is Woodley's Instagram post for his new single:
In the video below you can get a sneak peek of Woodley's new single called 'I'll Beat Yo' Ass' which is available for download on iTunes and Spotify.