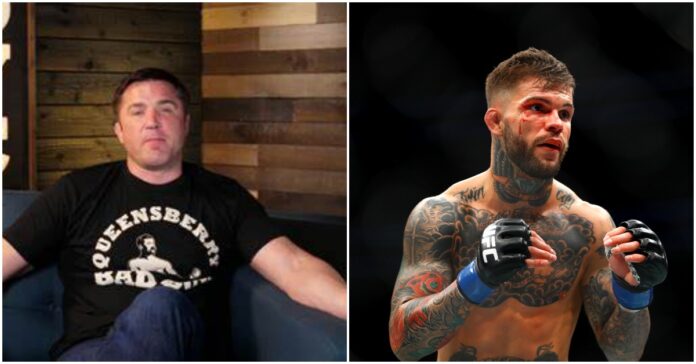 Chael Sonnen has asked fight fans to show their support for Cody Garbrandt as the former UFC champion experiences difficulties during his career. Garbrandt dropped down to flyweight last month to make his debut at UFC 269 where he faced Kai Kara-France.
The weight cut was a potential issue for Garbrandt but after having made the successful cut fans believed he may be able to consistently fight at flyweight and make a run. However, it wasn't meant to be for the former champion as he suffered a first round knockout loss.
Despite the rough start, Garbrandt has no intention of calling it a day on his career and has already called on who he wants to face as his next opponent, Sean O'Malley.
"Like I said, I felt great at 125. I think that's something I have to decide, whether I – 35, 25, I feel great at both. I think if I went to 35, I would do things a little differently. Keep my weight up throughout the camp. There's a lot of good matchups. Sean O'Malley, I really want to whoop his ass. That's a fight that's looming."
Chael Sonnen Rallies Fans Behind Cody Garbrandt
Fans criticized Garbrandt's callout of O'Malley given the 'SugaShow' is currently pushing through a higher weight class accumulating wins along the way as well. Although fans critiqued this move for 'No Love', former UFC title challenger Chael Sonnen has urged fans to show support to Garbrandt.
"Cody Garbrandt came out in a interview and said something I found confusing. He said that he felt great at 125lbs but that a fight with Sean O'Malley was looming. That's tough. I read that thing and then I read it a third time."
"You're 125, Sean is 135, these two things don't go together. They don't have to. I don't have to understand everything. But I still focused on this. Now my problem with Cody Garbrandt…Look, I believe Cody is the best 135 pounder the world has ever seen. You want to give me a hard time about that go ahead. I believe the Cody Garbrandt that beat Dominick Cruz can beat any man that can tip the scale at a 135lbs."
"Some guys' (title) reign isn't long. Some guys don't defend and re-defend and go on to defend that thing 5, 6 or 7 times. Those guys that do, wow. There's a real adoration for that, but it doesn't take away from the guy who did it one time. "
"So, the rules are different for Cody Garbrandt as I see them. When you become a world champion the rules are now changed. Cody doesn't have a whole bunch of options. You want to give him a hard time (for calling out O'Malley), he doesn't have a lot of options. Fight or not fight? What do you want to do? He's made it clear that he's going to fight. Accept it!
For some guys, they'd be given their walking papers and it wouldn't even be a conversation. Make sure you understand, there are laurels here. One hundred percent. This is a world champion who is desperately trying, that's what changing weight classes, doing whatever it takes, taking on all comers. He's desperately trying to recapture something. Let's get behind that. Let's not give Cody a hard time." (transcribed by BJPenn.com)
Cody Garbrandt's future is unclear now in terms of opponents, but there is no doubt he has helped provide some amazing moments within this sport, it will be interesting to see if 'No Love' can get his career back on track.
What do you think Cody Garbrandt should fight next?