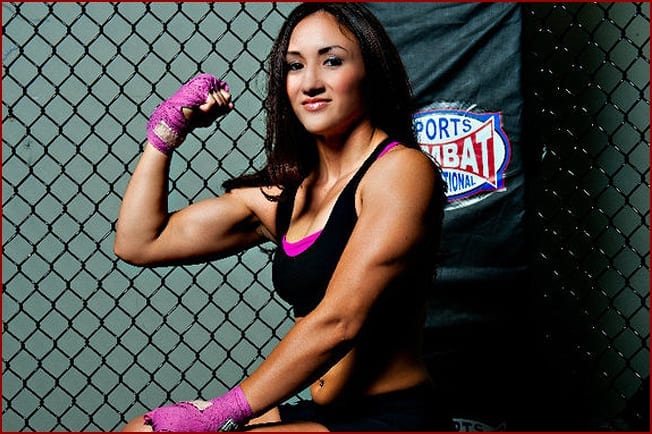 Carla Esparza became the inaugural women's strawweight champion at The Ultimate Fighter (TUF) 20 Finale last December, and she is set to make her first defense of her title at next weekend's (March 14, 2015) UFC 185 against Joanna Jedrzejczyk.
Being the first champion in a brand new division can be a tough job, as Esparza is basically the face of a division that needs exposure and growth. However, she is in a difficult spot. Women's MMA still doesn't get a plethora of attention unless your name is Ronda Rousey, and lighter weight classes don't seem to get as much love either. However, it's not all up to Esparza, as the UFC needs to promote the new division as well.
According to the champion, her upcoming title fight has not been promoted enough at all. For example, when the initial fight poster was released for UFC 185, the women's bout wasn't even on it. The poster saw the main event between Anthony Pettis and Rafael dos Anjos promoted, and even a main card bout between Johny Hendricks and Matt Brown, but not Esparza and Jedrzejczyk, which is rather odd.
Speaking with MMAFighting, Esparza gave her thoughts on the promotion of her first title defense:
"To be honest, I don't think our specific fight is being promoted as much as it should be," Esparza told MMAFighting.com "It is what it is. I'm gonna just keep winning fights and then those things will come. I'm not really too focused on that."
Despite the fact that she may be getting under-promoted, Esparza cannot be underestimated. She hasn't lost in four years, is a former Invicta FC champion, and went undefeated throughout TUF 20. She also proved that she was a force when she won the UFC championship, submitting Rose Namajunas in the third round, a fighter the UFC was comparing to Rousey.
The UFC also seems to be promoting another strawweight, Paige VanZant, quite heavily as well instead of their champion. VanZant is set to take on Felice Herrig, Esparza's best friend, at UFC on FOX 15 in April and has received a ton of attention. Esparza says she tries not to focus on things like this, and is happy for her friend:
"I guess I can look at it in a positive or a negative way," Esparza said. "I can look at it as, 'Hey great, females are getting on the card for whatever reason.' And it's a business. But at the same time, I can look at it in a negative way and say 'Hey, it's a business, so does that mean it's all about sex sells, promoting yourself as that?' So, I try not to focus too much on that. I'm just happy for my friend. Maybe if it was somebody else in that fight, I wouldn't be as happy, but it's all good."
VanZant, who is likely multiple fights a way from a title shot, was also recently signed to reebok. Esparza, not knowing how to feel about the situation, says she understands it from a marketing stand point, but believe the deal has to go with a fighter's skill level as well:
"I'm never gonna hate on someone," Esparza said. "I'm not gonna hate on Paige for taking an opportunity that was given to her. But as far as the decision that Reebok made for that, I understand wanting to deal with someone who is very marketable. But I think it has to go hand in hand with someone's skill level and experience, what they do in the sport."
Whatever the reason may be for the lack of promotion in Esparza's eyes, the champion has put it in the rearview and is focused on her fight. She has a chance to make a huge statement this weekend if she can take out the polish striker and she believes that the promotion issues are just how things work in today's world:
"I don't think it's a bad message," Esparza said. "I think it's a realistic message. That's the way the world works. If you're marketable, you can make your money in different ways. That's the way it is. It's like with a job, if you're good at networking, you may not be the best person at the specific job, but you know how to get your opportunities. It is the way it is."
Will Esparza prove herself as the champion come fight night, or will Jedrzejczyk steal the gold?