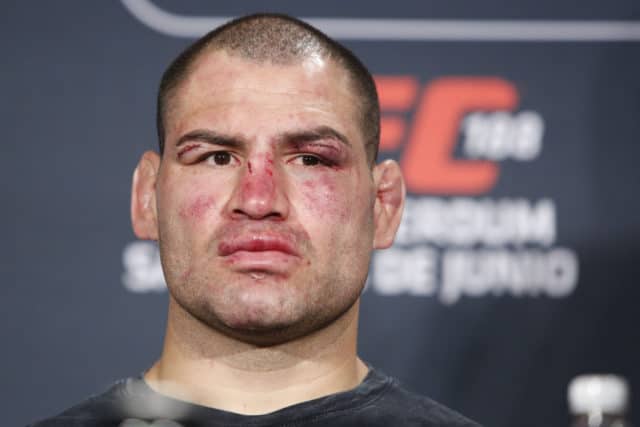 Hours after word arrived that the UFC's biggest name may not fight in MMA in 2017, a former UFC champion has revealed he's planning on doing just that.
Former UFC heavyweight champion Cain Velasquez revealed to Ariel Helwani that he would be out for the remainder of 2017 and hoped to be healthy at some time in 2018 at today's UFC 215 open workouts in Edmonton, Alberta.
Velasquez detailed how far he was from recovering from the back issues that prompted the Nevada State Athletic Commission (NSAC) to deem him unfit to fight heading into his UFC 207 rematch with Fabricio Werdum, claiming that he's not ready to make his comeback yet. With a son on the way soon, Velasquez wants to be there for his arrival this fall (via MMA Fighting):
"I'm close. I'm not there yet, but I'm close. And also, focused on this time as far as the baby that we have coing along. I wanted to be there for that, he's due in November, so it's been a really good process of healing, being with the family, you know what I mean?"
As for his anticipated return, a situation his fans have become all-too-familiar with in recent years, Velasquez stated he won't return until he is fully healed up:
"I want to be one hundred percent for the fans, and I need to stop messing around and coming back too early. I can't do that, I can't afford that anymore. I gotta be a hundred percent ready to come back, and I'll do tjhat."
When he does return, however, Velasquez doesn't have an opponent in mind, as his team hasn't discussed any potential bouts:
"That's not up to me. I'll ask for whoever. We haven't talked."
No doubt one of the best heavyweights to ever compete in mixed martial arts, Velasquez' career has unfortunately shifted from it being a foregone conclusion that he would be the greatest to a discussion of if he can even ever fight again after countless injuries – mostly from the hard-charging training he defends – have limited him to just two fights since October 2013. He says he's not done yet and still loves going to the gym to train:
"I want to. I love it. I love fighting, you know?. My favorite part of my job is to go into the gym everyday and work out. I love working out, I've never said, 'Oh, working out sucks,' I love it, you know what I mean? So, I want to return. Just competing, man. Yeah, I miss competing"
While he still loves all the aspects of fighting, Velasquez closed by saying he just isn't ready to return this year:
"This year? Probably not."
You can check out his full interview here:
If you enjoyed this story, please share it on social media!