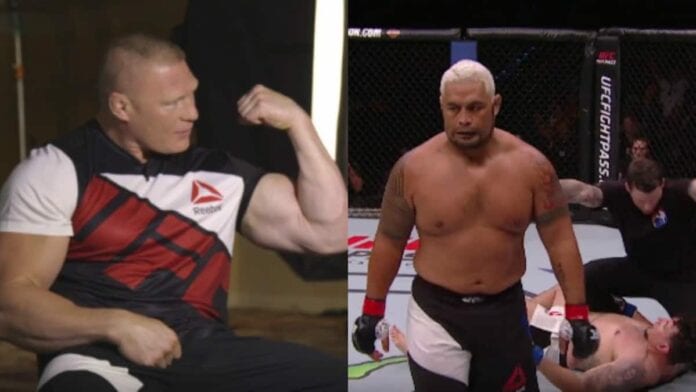 It's been a long time since former UFC heavyweight champion Brock Lesnar stepped in to the UFC octagon. After a long battle with illness and a couple of crushing losses sent him back to the WWE, many felt Lesnar's fighting days were well and truly done. Nobody saw the last's month of events unfolding as they did, and when Brock's return was announced during the UFC 199 broadcast the frenzy surrounding Lesnar was instantly revived.
His huge drawing power was evident at UFC 100, as the 1.6 million pay-per-view buys for his 2009 rematch with Frank Mir still remains the highest grossing UFC event of all time. That said, he's facing in Mark Hunt a devastating one punch knockout striker and after five years out of action. Lesnar himself admitted that the shape he's in for pro wrestling is a completely different requirement than with mixed martial arts competition, so will he be able to whip his physique up to scratch on five weeks notice?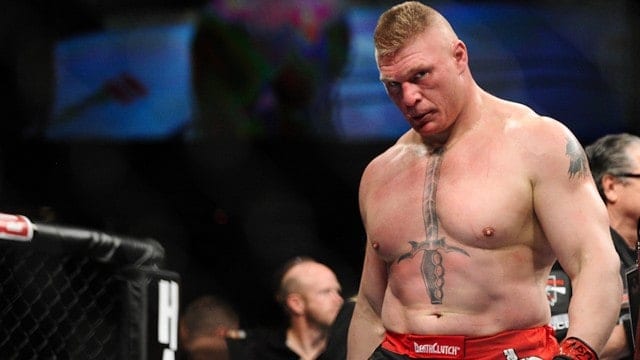 Another big question that's raised in connection with his return this weekend (Saturday July 9, 2016) is the former champ's ability to take a punch. He's received some criticism in the past over not 'liking' getting hit, as was evident in his losses to Cain Velasquez and Alistair Overeem, also with Shane Carwin to an extent.
Talking during this recent segment with UFC's Megan Olivi, Lesnar says the diverticulitis played a massive role in the disappointing tail end of his first fighting stint. Furthering that point, the WWE superstar says he's not scared to get hit and trade punches with 'The Super Samoan.' Transcribed by yours truly.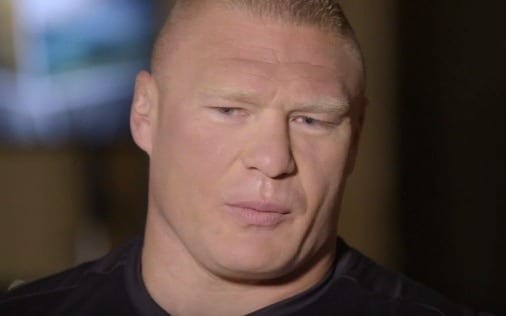 "That loss (to Overeem) haunted me for five years, wanting to get back inside the cage and be a competitor again. The illness took a lot of the fight out of me. I got back in the octagon four months after the surgery, I didn't give my body or mind time to heal. For most of my life I lived the warrior code, thinking I was indestructible. It takes a lot out of you when you get defeated by something other than a human. It took me a number of years to get my athleticism back and get my mind back on track."

"I knew they were going to offer me someone with credentials, but I never turn down a fight. All the heavyweights are dangerous, this is the best of the best. When Dana said Mark Hunt, I was like 'Well OK.' I've watched Mark Hunt fight and he's beatable. It's not like he hasn't been knocked out or hasn't been beat. I'm sure he's going to be looking for the big knockout, and I'll be watching for it and try to defend that. I'm not scared to get hit by Mark Hunt. I'm confident in my striking, and I've been over this fight a million times in my head, at the end my hand is raised."