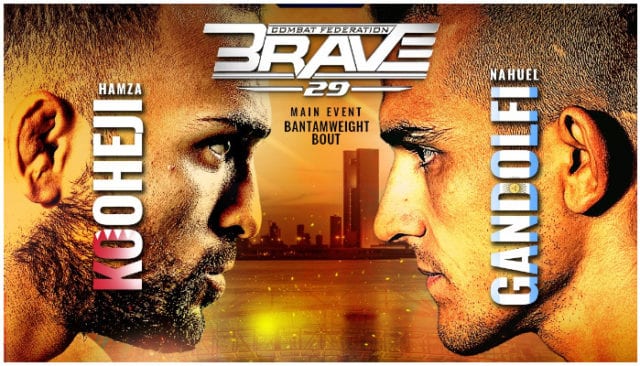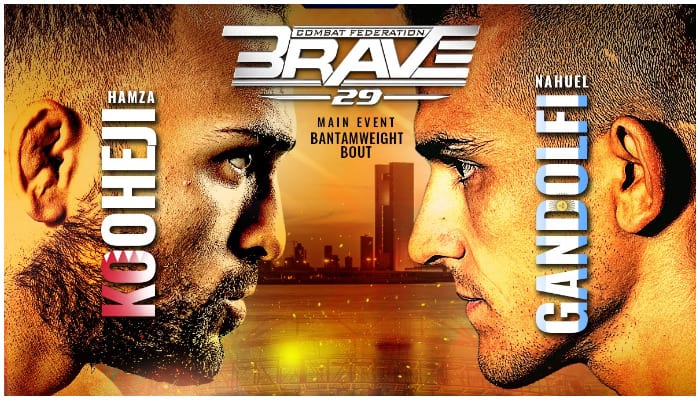 BRAVE CF 29 went down today (Fri. 15 November, 2019) inside the Khalifa Sports City Arena in Bahrain. The 14 bout card was headlined by final of the inaugural open weight KHK World Championship.
Both the semifinals and the final of the four-main open weight tournament took place at BFAVE CF 29.
The event also saw the return of former BRAVE CF champions Abdul-Kareem Al-Selwady and Luan Santiago. History was also made by Brazils Luana Pinheiro and  Englands Helen Harper, who took part in Bahrain's first professional MMA bout.
Here is the complete list of results from BRAVE CF 29
Main Card:
Azamat Murzakanov def. Mohammad Fakhreddin via RD1 TKO (KHK Openweight Championship)
Hamza Kooheji def. Nahuel Gandolfi via RD3 TKO
Azamat Murzakanov def. Mohammad Fakhreddin via RD2 TKO
Dumar Roa def. Abdul-Kareem Al-Selwady via RD1 KO
Luan Santiago def. Gadzhimusa Gaziev via split decision
Felipe Silva vs. Guram Kutateladze def. Felipe Silva via RD1 KO
Luana Pinheiro def. Helen Harper via RD1 KO
Prelims:
Matis Zaharovs def. Hussain Ayyad via RD1 TKO
Ilia Topuria def. Steven Gonçalves via RD1 KO
Amir Albazi def. Ryan Curtis via RD1 submission
Ali Qaisi def. Jeremy Pacatiw via unanimous decision
Kasum Kasumov def. Rany Saadeh via RD2 submission
Tae Hyun Kim def. Erick "Indio Brabo via unanimous Decision
Azamat Murzakanov def. Guto Inocente via unanimous Decision
Mohammad Fakhreddin def. Kleber Orgulho via RD2 TKO
If you enjoyed this story, please share it on social media!