Obviously very few people expected smooth sailing between the UFC and the fighters association, but things have gotten off to an extremely rough start. Last week the announcement of the MMAAA was revealed, with the target of changing many aspects of the sport. One of the main objectives discussed was fighter pay, but the issues run far deeper and in to more complicated territory. After years of alleged maltreatment by the UFC, the MMAAA, led by Georges St-Pierre, has seen enough.
Also brought to the table were concerns over health care, post-career care, benefits and pensions. Overall, the formation of the association seems to be a big step forward for fighters. UFC president Dana White had a cautionary message for UFC employees. Blasting Donald Cerrone for joining the association, the UFC president claimed the MMAAA would 'have hands in fighter's pockets.' Sending out a clear message, White also ripped former Bellator CEO Bjorn Rebney for his involvement.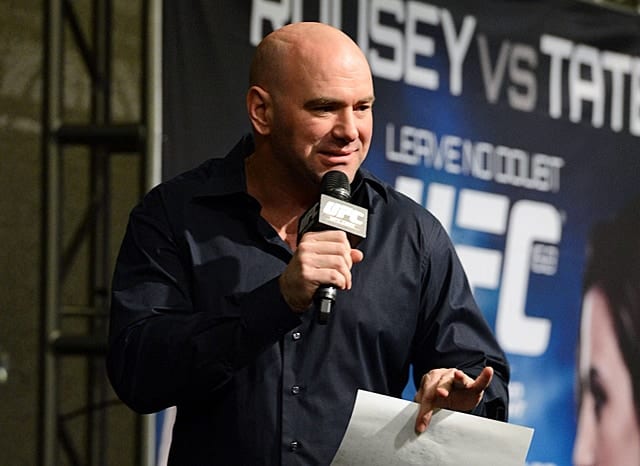 Dana Claimed 'Bjork' Is a Scumbag
Yesterday Dana White's comments about Bjorn Rebney were less than savoury. The UFC president claimed 'Bjork' is the biggest scumbag in MMA, further making clear his stance on the MMAAA. In response to this criticism, Rebney pointed out the amount of money the UFC actually pays their fighters:
.@danawhite You pay fighters 8 cents on the $. No pension, No benefits, No safety net & your Co.'s worth $4 Billion! U should be ashamed.

— Bjorn Rebney (@BjornRebney) December 6, 2016
Calculations
After reportedly making $157 million profit in 2015, this claim by Bjorn Rebney about the UFC is intriguing. Doing the math, this would mean out of the UFC's gross income of $600 million in 2015, $48 million would have been spent on fighter pay. To put things in perspective, Conor McGregor's 2015 disclosed UFC salary was around .4 million USD. This does not include any locker room bonuses or other contractual rewards that weren't disclosed.
With just over 600 fighters on the roster in October 2015, if Rebney's accusations are true, the largest chunk of the UFC's disclosed salaries are going to very few fighters. Leaving 46.4 million to pay the other some 599 fighters (estimated) that means they made on average 77K each. Taking in to account the higher average wage of champions and bigger draws, do you feel Rebney's claims hold weight?