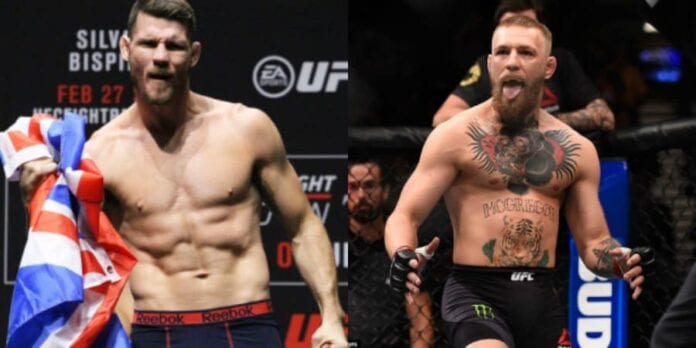 Typically, UFC featherweight champion Conor McGregor has used his knack for talking trash to get inside the heads of his opponents, but that may not be the case with Nate Diaz, who McGregor is slated to rematch tomorrow night in the main event of UFC 202 from the T-Mobile Arena in Las Vegas, Nevada. Diaz has long been an outspoken figure in the sport of mixed martial arts, and he normally gives as he good as he gets when it comes to mental warfare.
In fact, UFC middleweight champion and FOX Sports 1 analyst Michael "The Count" Bisping feels as if Diaz may have gotten into the head of McGregor this time around. "The Count", despite picking the "Notorious" one to win the rematch, feels as if 'doubt' will affect McGregor's performance tomorrow night in 'Sin City':
"I've been in this game longer than most, and doubt creeps in," Bisping said on his podcast 'The Countdown' yesterday. "And especially Saturday night, when he's (McGregor) in the locker room and the fighters are going through and there's people getting stitched up outside. You can hear the roar of the crowd and you start thinking about what happened last time – how you felt and all these types of things…Doubt will creep in, believe you me, and it will affect his performance."
"I think if you look at the press conference, Diaz did get under his skin. Diaz is playing it cool."
The press conference Bisping is referring to took place earlier this week, and it's safe to say that it was one of the most memorable in recent memory. After McGregor showed up fashionably late, Diaz decided he had had enough and left the presser only before bottles and cans were thrown between Team Diaz and Team McGregor. The Irishman looked visually angered after the altercation, but does that mean Diaz is in his head? Only time will tell.
McGregor will look to get revenge on the Stockton native after being submitted by Diaz last March tomorrow night on pay-per-view (PPV).