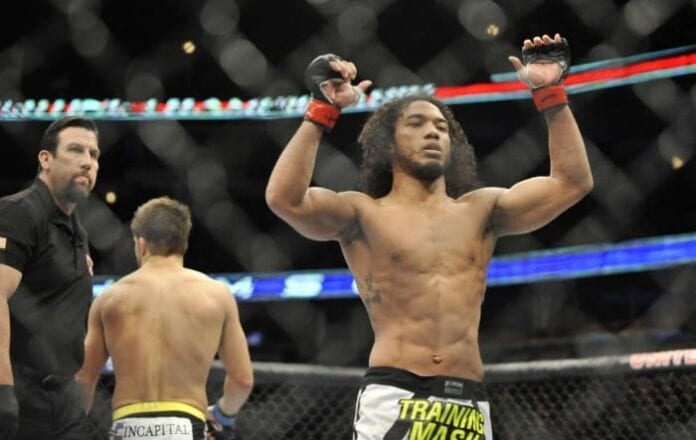 During this past Sunday's (Jan. 18, 2015) UFC Fight Night 59 from Boston, it was announced that a lightweight bout between Jorge Masvidal and Bobby Green would co-main event the upcoming UFC Fight Night 63 on April 4 from Fairfax, Virginia.
But today, news has arrived from FOX Sports that Green has been injured and will be replaced by former champion Benson Henderson, who will make a relatively quick turnaround after his highly controversial decision loss to No. 3-ranked Donald Cerrone.
Henderson was able to land more strikes than Cerrone, but also fought much of the fight going backwards and was taken down while not securing one of his own. The former champion has hit a rough patch in the extremely talented 155-pound landscape, losing three out of his past five bouts since being submitted by Anthony Pettis for the belt back at UFC 164 in August of 2013.
He suffered his first-ever knockout loss at the hands of current title contender Rafael dos Anjos at last August's UFC Fight Night 49 from Tulsa, Oklahoma.
He'll look to get back on track against Masvidal, who has won three straight bouts over Bobby Krause, Daron Cruickshank, and Pat Healy. "Gamebred" has appeared at the top of his game in recent months, but he'll undoubtedly be facing his toughest-ever challenge and a huge step up in competition in an angry and motivated Henderson.
Airing live on FOX Sports 1, UFC Fight Night 63 will take place on April 4 from the Patriot Center on the campus of George Mason University.
Photo Credit: David Banks-USA TODAY Sports