Ben Rothwell vs. Josh Barnett Set For UFC On FOX 18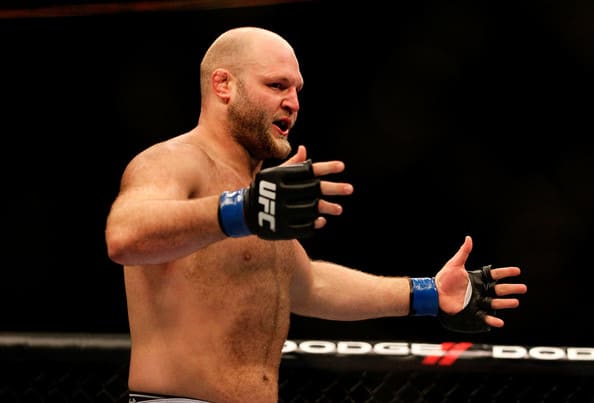 The UFC have announced that a heavyweight bout between top contenders Josh Barnett (34-7 MMA, 6-2 UFC) and Ben Rothwell (35-9 MMA, 5-3 UFC) will take place at UFC on FOX 18.
Rothwell is currently on a three-fight winning streak. He's won nineteen of his last twenty-three bouts. In his last six bouts, he's 4-2. Barnett is currently on a one-fight winning streak. In his last six bouts, he's 3-2.
UFC on FOX 18 takes place on January 30th, 2016 at the Prudential Center in Newark, New Jersey. This event will air on UFC Fight Pass and FOX. 
Anthony Johnson vs. Ryan Bader will be the headliner of this event, and the winner of this fight will most likely be the number one contender for the UFC light heavyweight title. 
Here is the updated card:
Anthony Johnson vs. Ryan Bader
Josh Barnett vs. Ben Rothwell
Jake Ellenberger vs. Tarec Saffiedine
Olivier Aubin-Mercier vs. Joaquim Silva
George Sullivan vs. Alexander Yakovlev
Tony Martin vs. Felipe Olivieri
Alex Caceres vs. Masio Fullen