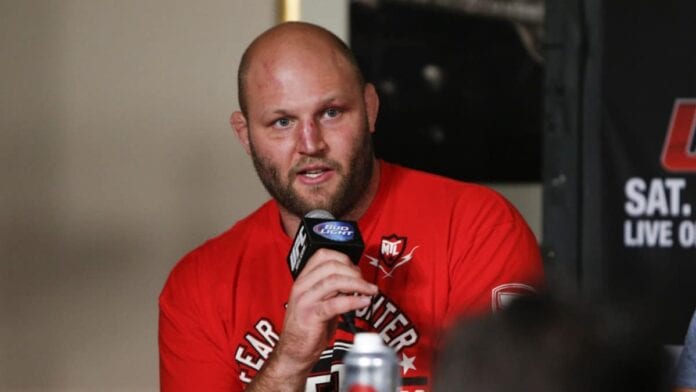 Surging heavyweight contender "Big" Ben Rothwell was set for a pivotal fight with highly ranked contender Stipe Miocic at next weekend's (October 24, 2015) UFC Fight Night 76 from Dublin, Ireland, but things went downhill when it was recently reported that Miocic was injured, causing the bout to be scrapped, and Rothwell to be pulled from the card.
A win over Miocic would've done wonders for "Big" Ben, and it turns out that he was planning on calling out top ranked former champion Junior Dos Santos after the bout, a fight he believes he has to win in order to warrant a title shot:
"Beating Stipe, I still know I'm questionable as the No. 1 contender, and how am I going to convince everybody? I have to beat Junior Dos Santos," Rothwell today told MMAjunkie Radio. "That was the message. It would probably make it happen."
Dos Santos, however, is scheduled to take on another top 10-ranked heavyweight in the former of Alistair Overeem at December 19's UFC on FOX 17 from Orlando. If anything were to happen to JDS or "The Reem", Rothwell has already offered up his services to step in:
"I already put my name out there and said if somebody falls out in the Overeem or Dos Santos fight, I'll be there," Rothwell said. "I don't wish anything bad to happen, but I really want to fight Junior Dos Santos. The whole thing would make sense if that happens."
When news first broke of Miocic's injury, it was thought that the UFC was looking for a replacement, which is when Matt Mitrione expressed his interest in meeting Rothwell via twitter. The two men met last June with Rothwell scoring a first-round submission victory, and "Big" Ben wasn't interested in someone he had already beaten.
Also, Mitrione is scheduled to meet Travis Browne in January which would cause legal issues:
"Matt Mitrione was really campaigning for this thing, but he also knows that legally, he's signed," he said. "If he did fight and he got hurt, there's legal issues right there. The whole thing is stupid."
At the end of the day, Rothwell beieves Dos Santos is the fight that he needs in order to stake his claim:
"I asked to fight a No. 1 contender," he said. "Junior Dos Santos is a guy that beat Stipe; he is a guy that knocked out Cain Velasquez. That's the fight that I need. It says everything with my actions. I let the world know who I am."