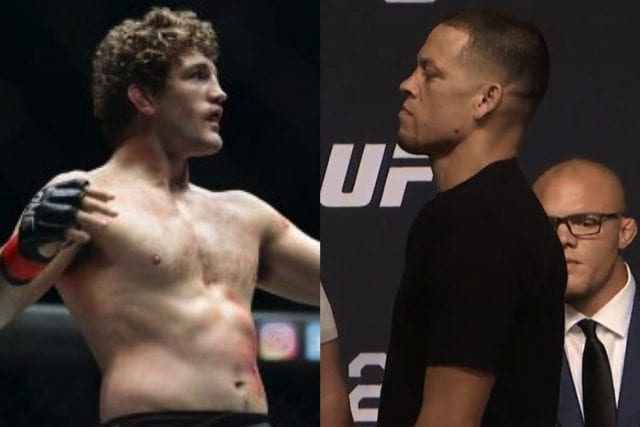 Ben Askren's non-stop assault on essentially everyone in the UFC isn't slowing down one bit. And it's apparently time Askren aims at one of MMA's biggest fan favorites.
He was seen mixing it up with Dillon Danis yesterday, but today another fighter has drawn his gaze. That fighter is Nate Diaz. Stockton's finest took to social media in the wee hours this morning to troll UFC lightweight champion Khabib Nurmagomedov with a supposedly embarrassing photo of him with his team.
A few hours later, "Funky" turned the tables on Diaz by suggesting he and his team have done just that:
Diaz' Team Reacts
Shortly after, Diaz' longtime teammate and close friend Jake Shields told 'Funky' he would slapped in Stockton for even insinuatiing what he did. Always one with a quick wit, Askren agreed.
He then noted you may be stabbed in Dagestan for the same and that didn't stop Diaz from insinuating it:
Former ONE champion Askren recently made his Octagon debut in a successful-but-controversial splash victory over Robbie Lawler at UFC 235. After an opening minute of the fight where he was slammed on his head and pounded with some big strikes, Askren survived. He secured a tight bulldog choke. The fight was called early in the eyes of many when Herb Dean thought Lawler's arm go limp, only to see he was still conscious.
Both 'Ruthless' and Dana White have called for an immediate rematch afterward. Yet Askren is focused on fighting the winner of this weekend's Darren Till vs. Jorge Masvidal UFC London main event, both of whom he's been calling out.
We'll see which fight he signs on for next. But overall, few have shaken up the UFC like Askren has in his short time with the promotion. He's becoming one of the sport's most headline-worthy stars whether you love him or hate him.
Mixing it up with the Diaz brothers will only help that cause.
If you enjoyed this story, please share it on social media!