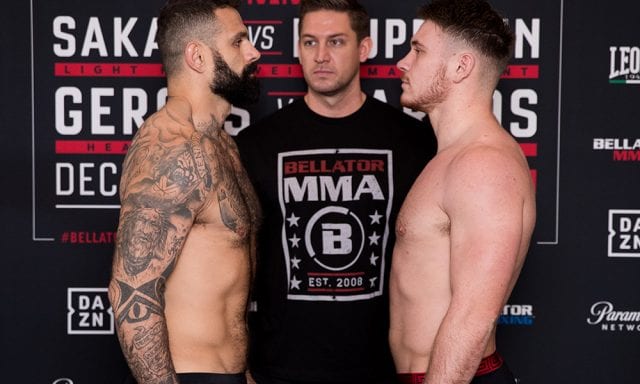 Bellator 211 results are underway as the Viacom promotion holds this latest event on television for fight fans around the world to watch the show.
It's once again fight day here at LowKickMMA, and the talent on display tonight (Saturday, December 1, 2018) will come in the form of Bellator 211. Headlining the card are Alessio Sakara and Kent Kauppinen, but there's a whole bunch of great fights also taking place on the rest of the main card.
Alessio Sakara and Kent Kauppinen meet in a light heavyweight bout in the main event. In round 1, both fighters came out aggressive and were trading some nice shots. Kauppinen stunned him in about 40 seconds into the round. Sakara missed a wild head kick. Kauppinen KO'd him with a nasty left hook.

Hesdy Gerges and Domingos Barros meet in a heavyweight bout in the co-main event. In round 1, Barros ate a strong leg kick but managed to take him down and got top position. Barros got full mount and rained down strikes to earn the win.
Luca Vitali vs. Pedro Carvalho in a lightweight bout. In round 1, Carvalho came out, clinched with him, and was able to lock in a guillotine choke for the win.
Alen Amedovski vs. Ibrahim Mane is next in a middleweight bout. In round 1, Amedovski didn't take long to finish his fight as he landed a right hook then a straight left hand to put Mane to sleep.
Opening the main card on Paramount Network is Kiefer Crosbie vs. Orlando D'Ambrosio. In round 1, they had an early feeling out process before Crosbie took him down and controlled the pace of the action with his ground and pound. In round 2, more of the same as what happened in the first round with Crosbie controlling the pace with his wrestling. In round 3, D'Ambrosio couldn't do much on the feet and had a hard time trying to stay up right. Crosbie continued his wrestling game plan that got him a decision win.
Bellator 211 Results
Here are the results for this event:
MAIN CARD (Paramount, DAZN, 4 p.m. ET)
Light Heavyweight Bout: Kent Kauppinen def. Alessio Sakara via KO (punch) at 1:10 of Round 1
Heavyweight Bout: Domingos Barros def. Hesdy Gerges via TKO (ground and pound) at 3:52 of Round 1.
Lightweight Bout: Pedro Carvalho def. Luca Vitali via submission (guillotine choke) at 0:43 of Round 1.
Middleweight Bout: Alen Amedovski def. Ibrahim Mane via KO (punches) at 0:12 of Round 1.
Welterweight Bout: Kiefer Crosbie def. Orlando D'Ambrosio via unanimous decision (30-27, 30-27, 30-27)
PRELIMINARY CARD (Bellator.com and Bellator Mobile App)
Welterweight Andrea Fusi vs. Walter Pugliesi
Welterweight Giorgio Pietrini vs. Nemanja Milakovic
If you enjoyed this story, please share it on social media!