Bellator 203 Results: Patricio "Pitbull" Freire Edges Out Daniel Weichel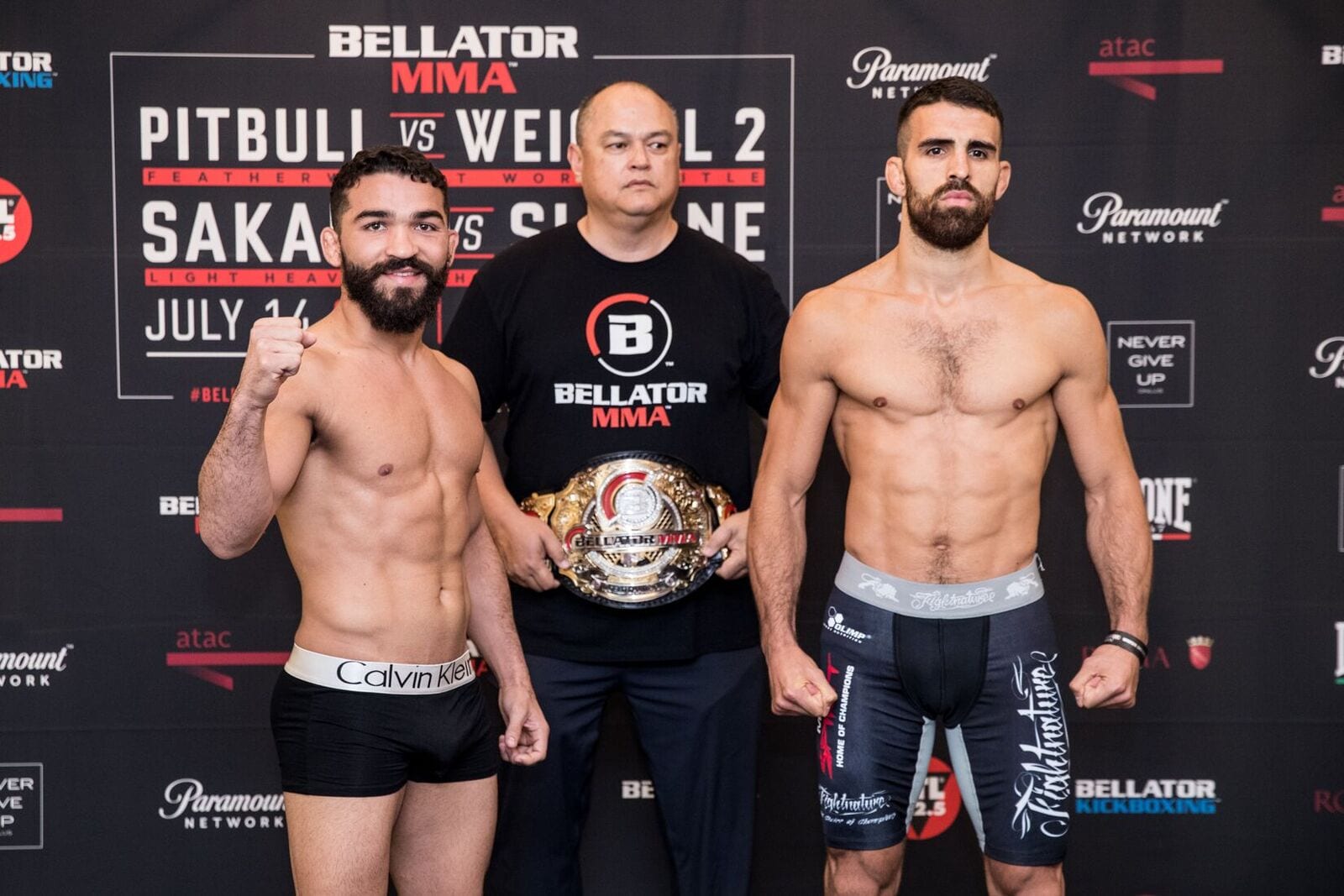 It's once again fight day here at LowKickMMA, and the talent on display tonight (Saturday, July 14, 2018) will come in the form of Bellator 203. Headlining the card are Patricio "Pitbull" Freire and Daniel Weichel, but there's a whole bunch of great fights also taking place on the rest of the main card.
Patricio "Pitbull" Freire (c) and Daniel Weichel meet in a women's featherweight title bout in the main event. In round 1, they had a feeling out process as there was no action within the first four minutes, which led to the fans booing. Weichel caught a leg kick, which forced Pitbull off balance. In round 2, Pitbull was mixing things up nicely with his kicks and swarmed him with strikes that rocked him several times. Weichel was hurt badly and desperately shot in for a takedown but Pitbull got on top in guard and landed some nice shots. Pitbull let him up and they go back to striking. Pitbull managed to get a takedown to end the round. In round 3, Weichel was able to score a takedown early in the round and got on top in half guard. Weichel landing some good shots from this position but Pitbull was controlling him well with his feet and not letting him pass position with ease. Weichel went for a guillotine choke but couldn't get it fully locked in and let it go. Pitbull was able to get back to their feet and they have a wild exchange. In round 4, Pitbull continues to land a right jab and Weichel has no answer for it. Weichel has slowed down the pace, which is allowing Pitbull to T-off on him and event stunned him with several combo strikes then tossed him to the ground where he got guard. Pitbull got guard to end the fight. In round 5, Weichel got some energy back and started to let his hands go once again. Pitbull still pushing forward. They clinched briefly but then went back to striking for the majority of the round. Both fighters were exhausted at this point. In the end, the judges gave the win to Freire by split decision, who retains his title.

Alessio Sakara and Jamie Sloane meet in a light heavyweight bout in the co-main event. In round 1, Sloane comes out aggressive and clinches with him right away. Sakara lands some knee strikes and uppercuts. Sloane slipped and Sakara landed some big shots from half guard on top to end the fight.
Andrey Koreshkov vs. Vaso Bakocevic is next in a welterweight bout. In round 1, Koreshkov was keeping his distance with kicks before landing a devastating spinning body kick that dropped him then landed some strikes on the ground. Done.
Will Fleury vs. Alen Amedovski is up next. In round 1, Amedovski caught him with some wild strikes while Fleury was looking for the takedown, which he got in the opening minute. Fleury worked him over with strikes from half guard before Amedovski got to his feet. Amedovski dropped him with two overhand rights and finished him off on the ground.

Opening the main card on Paramount Network is Simone La Preziosa vs. Maxim Radu in a middleweight bout. In round 1, Radu got the takedown right out of the gate and locked in a guillotine choke but Preziosa got out of it and stood up. Radu took him down again and got side control where Preziosa landed some big elbows. Radu landed some big strikes while on top but Preziosa got back to his feet before being taken down again with a minute and half to go. Radu landed big shots to earn the TKO win.
Here are the results for this event:
MAIN CARD (Paramount Network/9:00 PM EST)

Bellator Featherweight Championship: Patricio Freire def. Daniel Weichel via split decision (49-46, 47-48, 48-47).

Alessio Sakara def. Jamie Sloane via TKO at 1:19 of Round 1.
Andrey Koreshkov def. Vaso Bakocevic via KO (spinning back kick) at 1:06 of Round 1.
Alen Amedovski def. Will Fleury via TKO at 1:49 of Round 1.
Maxim Radu def. Simone La Preziosa via TKO at 4:50 of Round 1.