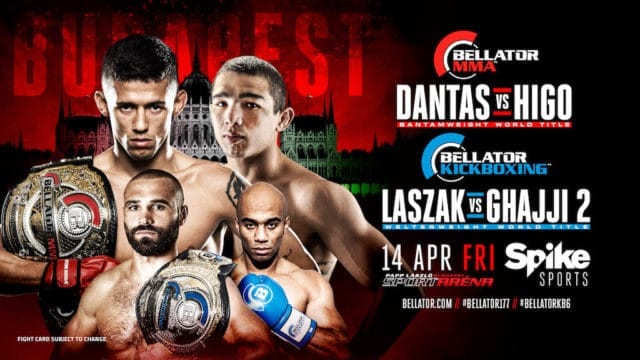 Bellator 177 takes place on Friday, April 14, 2017 at Budapest Sports Arena in Budapest, Hungary. The event will air on Spike at 9:00 PM EST. Four bouts will take place on the main card.
Bellator officials held the weigh-ins for Bellator 177 on Thursday. Eduardo "Dudu" Dantas was set to defend his Bellator bantamweight belt against former LFA champ Leandro Higo in the main event of Bellator 177. However, Higo was unable to hit his mark of 135 lbs., and as a result, the five-round title fight has been changed to a three-round non-title fight.
Daniel Weichel vs. John Teixeira in a featherweight bout will serve as the co-main event. Rounding out the main card is Lena Ovchynnikova vs. Helen Harper female flyweight bout and Adam Borics vs. Anthony Taylor in a featherweight.
Here are the weigh-in results:
Bellator 177: Dantas vs. Higo
Catchweight Main Event: Eduardo Dantas (134.6 lbs.) vs. Leandro Higo (139 lbs.)
Featherweight Feature Bout: Daniel Weichel (145 lbs.) vs. John Teixeira (145.6 lbs.)
Women's Flyweight Feature Bout: Lena Ovchynnikova (124.6 lbs.) vs. Helen Harper (126.2 lbs.)
Catchweight Feature Bout: Adam Borics (144.4 lbs.) vs. Anthony Taylor (147.4 lbs.)
Bellator Kickboxing 6 
Welterweight World Title Bout: Zoltan Laszak (166.1 lbs.) vs. Karim Ghajji (168.7 lbs.)
Middleweight Feature Bout: Joe Schilling (187.8 lbs.) vs. Alexandru Negrea (186.5 lbs.)
Welterweight Feature Bout: Raymond Daniels (170.2 lbs.) vs. Csaba Gyorfi (167.6 lbs.)
Women's Featherweight Feature Bout: Jorina Baars (142.7 lbs.) vs. Irene Martens (140.5 lbs.)
Featherweight Feature Fight: Gabriel Varga (145.4 lbs.) vs. Gabor Gorbics (145 lbs.)
If you enjoyed this story, please share it on social media!