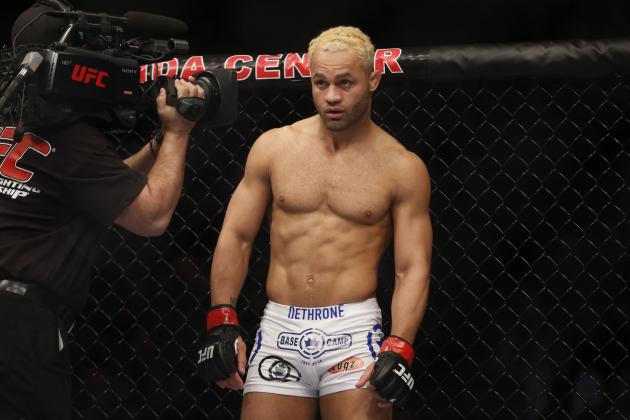 The California State Athletic Commission  (CSAC) released the Bellator 172 salaries on Wednesday, February 22, 2017.
The event was supposed to headlined by heavyweight legend Fedor Emelianenko against former UFC veteran Matt Mitrione. However, Mitrione was pulled from the event due to kidney stones.
Josh Thomson ($10,000) vs. Patricky "Pitbull" Freire ($80,000) in a lightweight bout instead served as the main event. Round out the main card was Cheick Kongo ($75,000) vs. Oli Thompson ($25,000) in a heavyweight bout, Veta Arteaga ($12,000) vs. Brooke Mayo ($8,000) in a female flyweight bout and Josh Koscheck ($75,000) vs. Mauricio Alonso ($20,000) in a welterweight bout.
The full payouts include are listed here:
Patricky Freire ($40,000 + $40,000 = $80,000) def. Josh Thomson ($10,000)
Cheick Kongo ($75,000 + no win bonus = $75,000) def. Oli Thompson ($25,000)
Anatoly Tokov ($10,000 + $10,000 = $20,000) def. Francisco France ($12,000)
Veta Arteaga ($6,000 + $6,000 = $12,000) def. Brooke Mayo ($8,000)
Mauricio Alonso ($10,000 + $10,000 = $20,000) def. Josh Koscheck ($75,000)
James Terry ($3,000 + $3,000 = $6,000) def. J.C. Llamas ($2,500)
Nikko Jackson ($1,000 + $1,000 = $2,000) def. Cesar Gonzalez ($1,000)
Juan Cardenas ($1,000 + $1,000 = $2,000) def. Luis Vargas ($1,000)
Bobby Escalanate ($1,000 + $1,000 = $2,000) def. Anthony Do ($1,500)
Jeremy Murphy ($1,200 + $1,200 = $2,400) def. Matt Ramirez ($1,800)
J.J. Okanaovich ($1,500 + $1,500 = $3,000) def. Zach Andrews ($1,500)
Justin Tenedora ($1,000 + $1,000 = $2,000) def. Roque Reyes ($1,000)
Martin Sano ($2,000) vs. Diego Herzog ($2,500) ruled majority draw
Gaston Bolanos ($4,000 + no win bonus = $4,000) def. Abner Perez ($1,000)
Abraham Vaesau ($1,000 + $1,000 = $2,000) def. Dominic Sumner ($1,000)