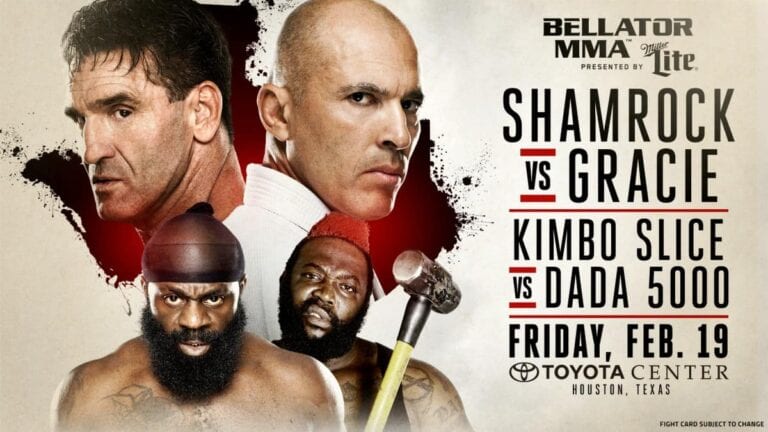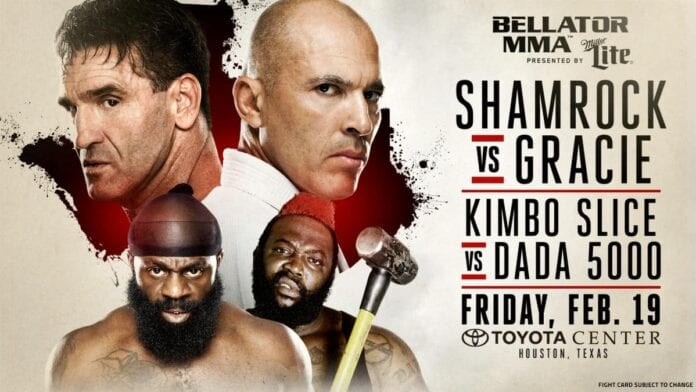 Bellator MMA officials held the weigh-ins for Bellator 149 on Thursday and you can watch them here:
Bellator 149: Shamrock vs. Gracie will take place on February 19, 2016 at the Toyota Center in Houston, Texas. The event will air live in prime time on Spike TV while the prelims will air live on Spike.com.
Ken Shamrock vs. Royce Gracie will headline the event while Kimbo Slice vs. "Dada 5000" will serve as the co-main event. The main card features five bouts. This is the first pole event for the promotion in 2016.
Here are the weigh-in results:
MAIN CARD (Spike, 9 p.m. ET)
Royce Gracie (190.8) vs. Ken Shamrock (201.2)
Kimbo Slice (232) vs. Dada 5000 (265)
Derek Campos (155) vs. Melvin Guillard (158)
Emanuel Newton (205) vs. Linton Vassell (205.4)
Daniel Pineda (148.2) vs. Emmanuel Sanchez (149.2) – 150-pound catchweight
PRELIMINARY CARD (Online, 7 p.m. ET)
Richard Knepp (184.8) vs. Isaac Villanueva (185.8)
Ryan Hollis (134.8) vs. Adrian Yanez (134.6)
Anthony Ivy (154) vs. Jason Langellier (158.4)
Jeremy Mahon (144.4) vs. Davis Sylvester (144.2)
Juan Torres (259.8) vs. Justin Wren (247)
Mike Trinh (128.8) vs. Angel Zamora (129.4)
Ruben Esparsa (184.2) vs. C.J. Hancock (185.6)
Manny Lozoya (142) vs. Jacob Norsworthy (141.8) – 142-pound catchweight