Bellator 126 Results Recap: A New Champ Is Crowned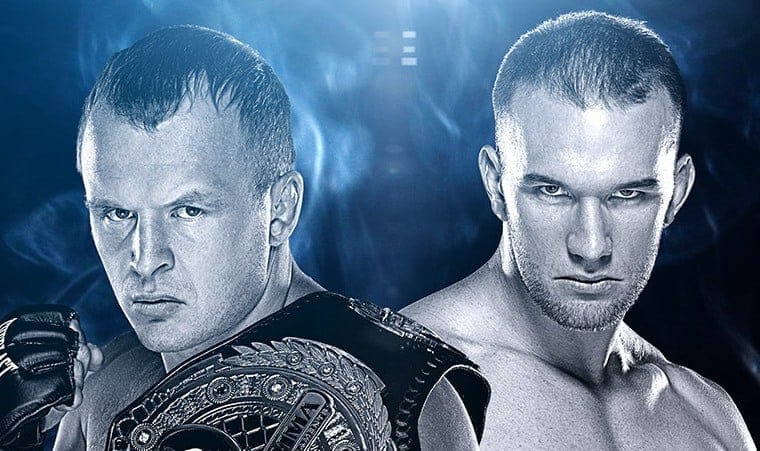 Bellator 126 went down tonight (Fri., September 26, 2014) from the Grand Canyon University Arena in Phoenix, Arena.
Middleweight champion Alexander "Storm" Shlemenko took on undefeated Brandon Halsey in the main event. Halsey scored an early takedown to look for a tight rear naked choke, securing the finish in an alarming 35 seconds. Check out the GIF of his win from Gfycat:
Having only eight professional bouts on his record, "The Bull" could become quite the force at middleweight.
Patricky Freire faced off with Marcin Held in the Lightweight Tournament Final.
Freire was in danger when Held went for his trademark leglocks, but "Pitbull" persevered to land a big lead knee. Held pulled guard and sought a heel hook, but Freire's defense held strong. Held cracked Freire with a solid shot towards the end of the first round.
Held took down Freire with a strong double leg in the opening minute of the second round. Held went tow work with elbows and punches, transitioning to a kimura attempt that Freire escaped. Still, Held dominated with punches on the ground to dominate the second.
Held secured another double leg to start the third. He smothered Freire with more ground and pound, but "Pitbull" cage walked to explode off the mat. It was short lived, as Held went for another heel hook before dragging Freire to the ground yet again. The final bell sounded on a clear-cut unanimous decision win for Held.
Touted wrestler Bubba Jenkins met Thiago Meller at lightweight. Despite his at background, Jenkins largely traded shots with Meller early on. Jenkins eventually got a takedown to avoid a guillotine and land some ground elbows and hammerfists.
After an eye poke halted the action, Jenkins found his range on a busted up Meller in the second round. Jenkins spent the majority of the round smothering Meller with top position.
Meller came out aggressive to start the third, landing some hard shots being taken down again. Meller sought a guillotine choke that Jenkins got out of to land more ground and pound. Jenkins pounded an exhausted Meller to earn the unanimous decision.
Bantamweight Mike Richman faced off with Ed "Wild" West, nailing him with a pinpoint two-punch combination to earn the walkoff knockout early on. Check out the GIF of the insane KO courtesy of Gfycat:
Main Card:
Brandon Halsey def. Alexander Shlemenko via R1 technical submission (rear naked choke, 0:35)
Marcin Held def. Patricky Freire via unanimous decision (29-28, 30-27, 30-26)
Bubba Jenkins def. Thiago Meller via unanimous decision (30-27, 30-27, 30-27)
Mike Richman def. Ed West via R1 KO (punches, 2:44)
Preliminary Card:
Nick Rossborough def. Ryan Martinez by R1 TKO (injury, 5:00)
Brandon Girtz def. Benny Madrid by R1 TKO (punches, 0:51)
Derek Campos def. Estevan Payan by R1 KO (punch, 0:31)
Dan Charles def. Stuart Austin by R3 KO (punches, 0:18)
Joe Taimanglo def. Michael Parker by unanimous decision (30-26, 30-27, 30-27)
Clifford Starks def. Jacob Ortiz by R2 technical submission (guillotine, 0:52)
LaRue Burley def. Raymond Pina by R2 submission (guillotine, 0:22)