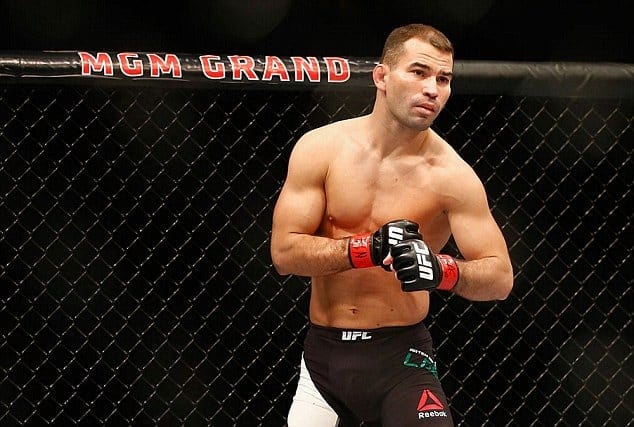 Some have criticized the UFC for booking unranked featherweight Artem Lobov in a main event bout against No. 4-ranked Cub Swanson at the upcoming UFC Fight Night 108 (April 22, 2017) card, but "The Russian Hammer" appears to be quite confident in his chances.
In a recent interview with FOX Sports, Lobov said that he's 'broken many people's faces before' with his power and he isn't sure if Swanson will be able to handle it:
"I don't think he's faced anyone with the kind of power I bring," Lobov said.  "On my first fight on "The Ultimate Fighter" in the house, I broke a guy's orbital bone. He didn't leave his room for weeks. This is the kind of power that's enough to crush people's skulls. When I say I'm breaking people's faces, I don't say that just to sound cool. It's a fact. I've broken many people's faces before and I don't think this is something Cub has faced before.

"Even "The Korean Superboy" managed to rock him. Imagine if I connect. I'm being dead serious here — I hope they're able to wake him back up."
Swanson's last fight was indeed against "The Korean Superboy" Doo Ho Choi at this past December's UFC 206 and it was a slugfest for the ages. After watching it, Lobov asked matchmaker Sean Shelby for the chance to share the cage with Swanson:
"I love fighting. I'm not in the sport for any other reason than the love of fighting so I just kept hassling them for a fight and they just wouldn't give me one. Then I saw Cub's fight versus "The Korean Superboy" [Doo Ho Choi] and I thought wow, what a great fight. I'd love to be involved in something like that and I thought Cub was a great matchup for me," Lobov explained.

"So I just messaged Sean Shelby saying 'listen Sean, I know you probably think Cub would beat me but please, let me prove you wrong' and sure enough he gave me that chance. April 22 I get to prove him wrong and by the looks of it the whole world."
"The Russian Hammer" certainly has the chance of a lifetime with this bout and he's well aware that most fight fans are doubting him, but he seems to embrace that and take it as motivation to shock the masses:
"There's nothing more motivating than seeing people doubt you," Lobov said. "There is no better feeling in the world than shutting them all up and proving them all wrong."
Are you giving Lobov a chance against Swanson?