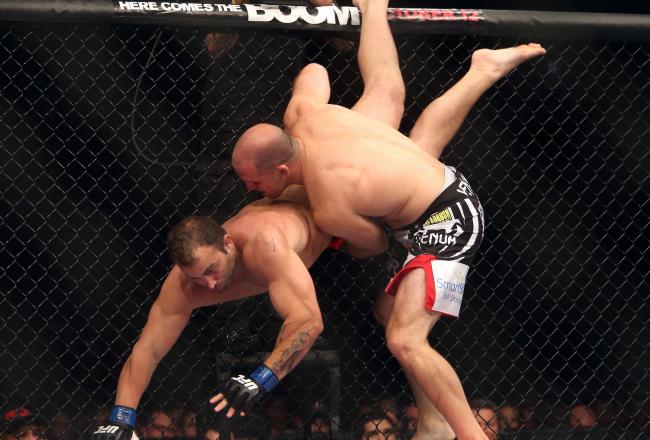 (Matt Hamill plays airplane with his freakishly large, Progeria-ridden child after defeating Roger Hollett earlier in the evening.)
It may be a futile effort to draft up these Armchair Matchmakers given the chaos that injuries are creating at every turn these days, but God damn it, a comedic MMA website has to have its principles! So with that in mind, we decided to scour through the wreckage left behind by UFC 152 and provide some potential opponents for the UFC to consider when booking the night's biggest winners down the line. Join us and voice your opinions in the comments section, won't you?
Jon Jones: Despite his best trolling efforts, it appears as if the UFC will actually show some common sense and wait to see if Chael Sonnen can at least defeat one "contender" at 205 (you know, the one he's supposed to face) before expediting him right to a title shot because the fans apparently control the matchups all of a sudden. We were all for Sonnen/Jones on 8 days notice, but it's clear that Jones only has two opponents truly worthy of getting ground into dog meat by him next. The first is Dan Henderson, who Jones blamed for the whole UFC 151 fiasco in the first place. He's clearly next in line in a division that is suddenly absent of marketable contenders (sorry, Alex) and will hopefully be back to his normal H-bombing self before osteoporosis sets in and we have to go through this all over again. The second option…well, let's just say that he would give Jones an offer that he could neither refuse nor defend. Specifically, "Five of these across the sneeze."
Demetrious Johnson: Dana White announced at the UFC 152 post-fight press conference that the winner of John "Clown Baby" Dodson vs. Jussier "Formiga" da Silva will more than likely be next in line for a flyweight title shot, a match that Johnson stated he will be watching with vested interest as well. So that's that.
Michael Bisping: We know, we know; we previously stated that if Bisping wanted to get slaughtered by Anderson Silva next then we should let him do it and in fact cheer him on. But let's be real here, Taters, Anderson doesn't really give two shits about the middleweight division right meow, and IF he gets past Stephan Bonnar at UFC 153, he will spend the remainder of his time shooting movies and waiting for the GSP superfight that may never come. And besides those facts, does anyone honestly think Bisping has earned a shot at Silva? He's currently on a 1-0 (decision) win streak and just beat his first top 10 opponent in…ever. We say give him the winner of Chris Weidman vs. Tim Boetsch while Anderson is off doing his thing.
Matt Hamill: Even though he turned in a pretty poor performance against Roger Hollett last Saturday, one of you were quick to point out that "The Hammer" set the UFC record for significant strikes landed in a LHW fight with 124. That's great and all, but the fact that 90% of those strikes were landed to the head of a downed and fetal Hollett without at least TKO'ing him doesn't exactly speak volumes of Hamill's power. Granted, it was Hamill's first fight in over a year, so maybe we shouldn't be so harsh on him. The fact still remains, however, that the TUF 3 alum still has a lot of kinks to work out, and we think the perfect matchup for him would be none other than former CP blogger Ryan Jimmo, who is coming off a 7-second destruction of Anthony Perosh in his UFC debut and has a wide open dance card. A win for either man would be a big step in the right direction.
Cub Swanson: Tweaked knee or no tweaked knee, Charles Oliveira got straight up embarrassed by Swanson last weekend, and it's time to give Cub the step up in competition he has feared since Jose Aldo stole his eyebrow and took it home to Brazil. Working with Greg Jackson has improved his game in leaps and bounds, so why not match him up against a former "title contender" in Eric Koch? Injuries have kept Koch out of action for over a year now and he could use a win over a streaking fighter like Swanson to prove that he was title-worthy in the first place. Again, it's a good fit for all involved and screams fireworks, so start Twitter-bombing DW with requests and make it happen!
Vinny Magalhaes: The TUF 8 finalist looked great in his grand return to Zuffa, taking advantage of a huge mental error by Igor Pokrajac (apparently he has a lot of those) to secure a brilliant armbar finish. He's been seeking UFC redemption ever since he was released by the promotion, so a fight with Ryan Bader a.k.a the man who dashed his TUF dreams seems like a pretty smart move. Bader was just knocked out of contendership by Lyoto Machida at UFC on FOX 4 and will be looking for some redemption of his own. However, if you're not a big fan of rematches, pairing Magalhaes against James Te Huna would be a great litmus test for both men. Te Huna needs to prove that he can hang with the best on the ground if he is ever to be considered a legit contender and Vinny could use another win over a solid standup fighter to erase the memories of the "tuck-n-roll" loss that dominates Bader's highlight reel.
T.J. Grant: It might surprise you to learn that Grant has been fighting int he UFC for over three years now, but has gone overlooked by almost every fight fan for his somewhat lackluster fighting style and lack of finishes. Even though he did not finish Evan Dunham in their FOTN-earning war on Saturday, it's safe to say that Grant is finally a name that UFC fans can get excited about. Now 3-0 at 155 lbs., Grant's striking, cardio, and chin looked phenomenal against Dunham, and he should look to keep the momentum rolling against another exciting lightweight. The first name that comes to mind is Jamie Varner, who followed a gigantic win over Edson Barboza with a hard fought third round triangle loss to Joe Lauzon, also at UFC on FOX 4. A former WEC champion, Varner is just the kind of name that Grant could build his name off. On the other side of the coin, a win over a fellow vet like Grant could give Varner's confidence an additional boost while keeping him relevant in his new home.
Marcus Brimage: He's knocked two hype trains off the rails in as many matches; let's see him try and do it again. Although Dustin Poirier's train suffered a significant setback in his loss to Chan Sung Jung at UFC on FUEL 3, he is still easily top 5 material. If Brimage can manage to upset Poirier, or even give an impressive showing against him, there will be no denying his future in the division.
Any matchups you think we missed? Let us know in the comments section.
-J. Jones