Anthony Pettis Says He Was Only At 75 Percent When He Won The Title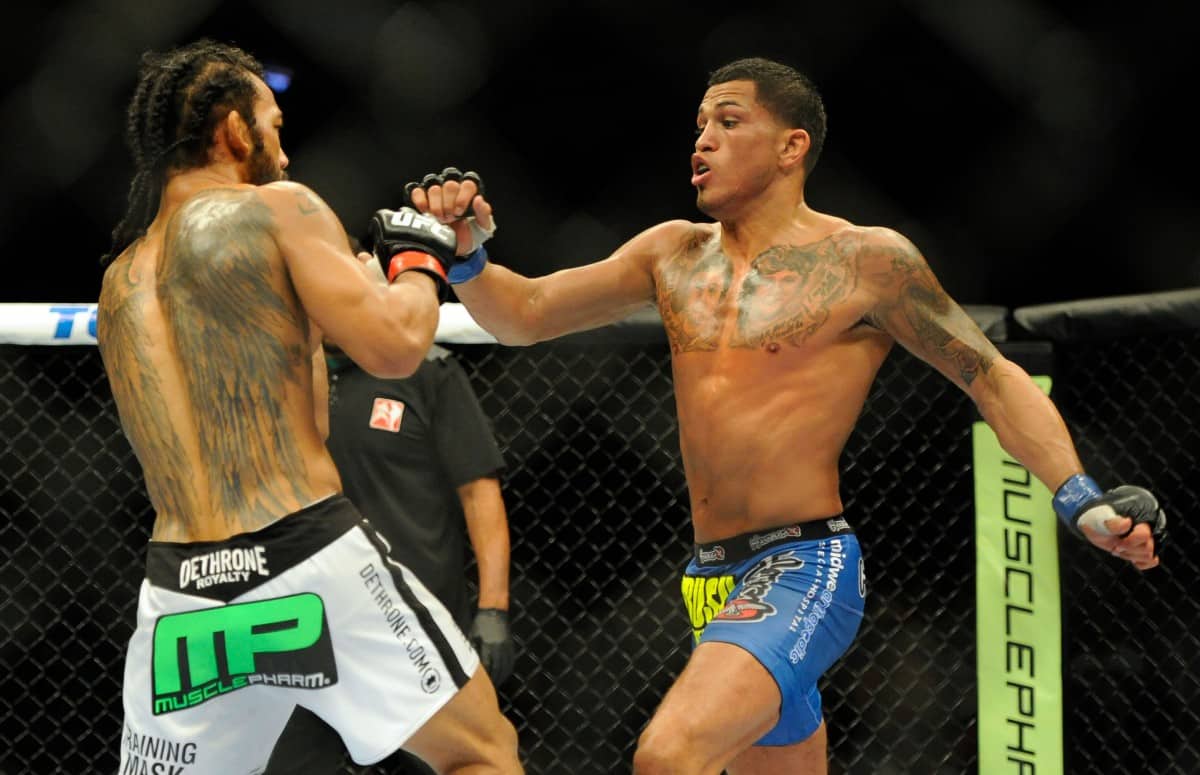 UFC lightweight champion Anthony Pettis hasn't lost since Clay Guida beat him in his first UFC bout back in June 2011, but he's only fought four times since then. Winning all four bouts and racking up three post-fight bonuses along the way, Pettis has looked stellar while winning the title in MMA's most stacked division.
His crowning achievement was a first round submission over former champion Benson Henderson at UFC 164 in August 2013, but the big win didn't come without a grave price. Pettis suffered a torn PCL in the bout, forcing him into surgery and holding the division in limbo for almost 15 months.
With fans growing impatient for his return, Pettis signed on to face Gilbert Melendez in the co-main event of December 6's UFC 181, but not before the two competed as opposing coaches on The Ultimate Fighter (TUF) 20. The extra time off gave Pettis a chance to not only heal up his many injuries, but to sharpen his overall skills .
Speaking in an interview with FOX Sports, Pettis detailed how we didn't even see the best version of him at UFC 164, blaming injuries and a short camp:
"I think I'm night and day a different fighter. Even against Benson, that was a short camp, I was coming off that little LCL tear, that was not the best Anthony Pettis. I want to say I was 75 percent as a fighter that night."
But "Showtime" still won the belt, and now he's moved on to improve his game. He discussed his excitement at finally returning to the Octagon:
"I'm focusing in on the details. I'm getting older now so I'm getting smarter and wiser, knowing positions more, my takedown defense is better, I'm just ready to go out there and (show) everybody what I'm capable of."
We already know that Pettis is capable of some incredibly spectacular things, with his dangerous and unorthodox kicks at the forefront of that skillset. Although he's been out of the cage for so long, he doesn't believe his accomplishments should be forgotten. He chose to cite his impressive knockout of the currently surging Donald Cerrone as an example of his past (and perhaps future) dominance:
"Look at (Donald) Cerrone — Cerrone's supposed to be one of the best kickboxers in the division, and I ended that fight in three minutes. A couple body kicks and that was it. I was just warming up.
If you get a guy like Melendez and he's tough enough to get past the first couple of minutes, I think you're going to see the best Anthony Pettis. If he's tough enough to withstand the first couple of minutes, you're going to see how good I really am."
The champ thinks that we'll see the best version of him of UFC 181, a fight he doesn't believe will be all that close. Despite Melendez' toughness, "El Nino's" stand-up game simply can't hang with his electrifying striking skills:
"I think he's very basic when it comes to standup. He's got decent boxing and he's tough. I think I outclass him in the striking like he's a beginner.
He's still new to striking. His wrestling's not strong enough to hold me down. Once it's on the feet, he's in for a long night. Or maybe a short night."
With his return date agonizingly close, Pettis is banking on the latter for Melendez. Pettis knows that anything can happen in a fight, but he believes it'll be yet another first round finish for him at UFC 181:
"It's mixed martial arts so anything is possible. With that being said, I don't see it going past the first."
A bold prediction from a bold champion, albeit one with a lot to prove on December 6 from Las Vegas. Will "Showtime" add Melendez to his list of knockout victims when he finally steps back into the Octagon at UFC 181?
Photo Credit: Benny Sieu-USA TODAY Sports