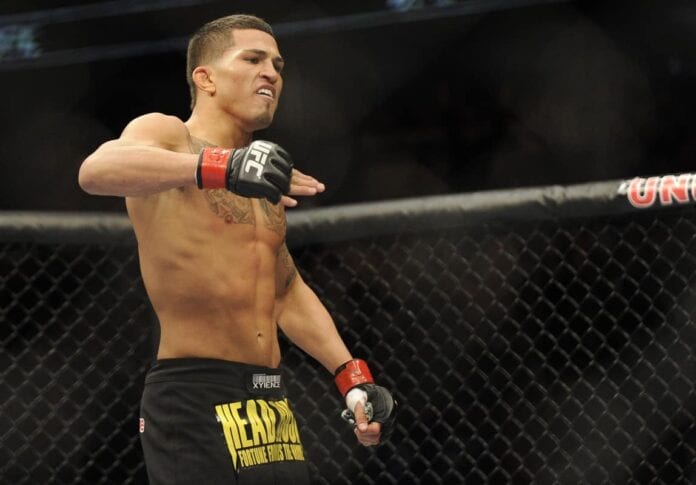 It seems as if No. 3-ranked lightweight Khabib "The Eagle" Nurmagomedov has found some beef with multiple lightweights over the past year or so. Of course he made headlines with his recent brawl with Nate Diaz at WSOF 22, but he has also engaged in twitter wars with soon to be title challenger Donald "Cowboy" Cerrone, and we can't forget about former champion Anthony "Showtime" Pettis as well.
The two have had a war of words on twitter multiple times, with "The Eagle" even calling out Pettis months back. Besides being two of the best 155-pounders in the world, the two have something else in common as well: they both seem to be injury prone.
Nurmagomedov has been out of action since April 2014 nursing multiple knee injuries, while Pettis has not been too active either, recently pulling out of a fight with Myles Jury due to an elbow injury.
Despite the beef or tension between the two, the two men actually recently had a conversation with each other. Nurmagomedov, speaking with MMAJunkie Radio, stated that he and Pettis shared a bus ride together, where they spoke about their injuries and return dates:
"I sat down on a bus, and he came and sat down next to me – there was no room," Nurmagomedov said. "He had to sit with me. I asked, 'When are you coming back?' He said, 'Maybe in November or December. When are you coming back?' I said, 'I can come back in October and November, but if the UFC says I need to wait to December to fight Pettis, I'll wait.'
It's clear that "The Eagle" wants a piece of "Showtime", and according to the Dagestani wrestler, Pettis seems interested as well:
"He said, 'We'll see what happens.' It wasn't bad."
With Pettis being ranked No. 1, and No. 2-ranked Cerrone getting a title shot, a bout between Nurmagomedov, and Pettis seems to make quite a bit of sense, also noting that they have similar return dates planned.
Who would you pick to win if this potential fight came to fruition?