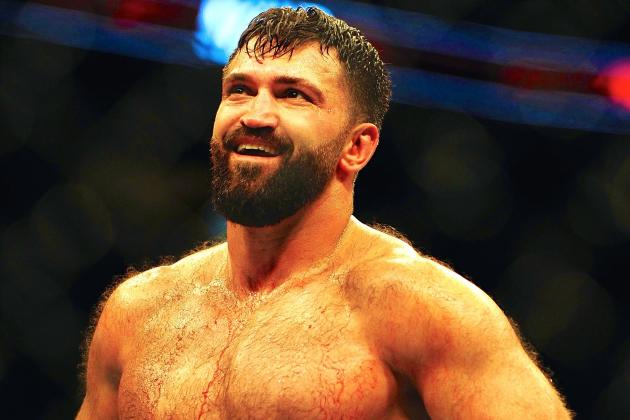 UFC Fight 51 went down last Saturday (September 13, 2014) live from Ginasio Nison Nelson in Brasilia, Brazil. The main event featured a clash of giants as top heavyweights Antonio "Bigfoot" Silva and Andrei "The Pitbull" Arlovski went to battle.
Many fans and media members were picking Silva to take this one home. However, "The Pitbull" surprised many, coming out firing and picking up a first round knockout over Silva. This is a huge win for the Belarusian fighter and will definitely propel him towards the top of the heavyweight contenders list.
However, he may have to wait quite a bit of time before getting back in the octagon and proving his true worth. The Brazilian athletic commission announced on Monday (September 15, 2014) that Arlovski is facing a 6-month medical suspension pending clearance from a doctor.
Arlovski is not the only one who came out of Saturday night banged up, as two other fighters are facing six-month suspensions as well.
Check out the full list of medical suspensions from UFC Fight Night 51 below courtesy of MMAFighting.com:
Johnny Bedford: Suspended 14 days; 7 days no contact
Sean Spencer: Suspended 14 days; 7 days no contact
Leandro Silva: Suspended 30 days; 21 days no contact
George Sullivan: Suspended 30 days; 21 days no contact
Dashon Johnson: Suspended 14 days; 7 days no contact
Rani Yahya: Suspended 14 days; 7 days no contact
Paulo Thiago: Suspended 45 days; 30 days no contact
Francisco Trinaldo: Suspended 30 days; 21 days no contact
Igor Araujo: Suspended 60 days; 45 days no contact
Godofredo Pepey: Suspended 14 days; 7 days no contact
Larissa Pacheco: Suspended 14 days; 7 days no contact
Russell Doane: Suspended 45 days; 30 days no contact
Wendell Oliveira: Suspended 45 days; 30 days no contact
Efrain Escudero: Suspended 180 days pending clearance of knee
Piotr Hallmann: Suspended 180 days pending clearance of jaw
Andrei Arlovski: Suspended 180 days pending wrist x-ray
Jessica Andrade: Suspended 14 days; 7 days no contact
Iuri Alcantara: Suspended 30 days; 21 days no contact
Santiago Ponzinibbio: Suspended 14 days; 7 days no contact
Leonardo Santos: Suspended 30 days; 21 days no contact
Gleison Tibau: Suspended 45 days; 30 days no contact
Antonio Silva: Suspended 60 days; 45 days no contact