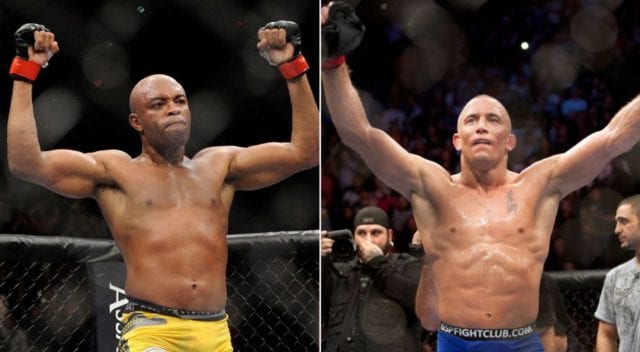 Anderson Silva won't rule out a super fight with Georges St-Pierre.
Even though the potential of it happening is not the greatest, one can dream. Years ago, fight fans always wondered what would happen if the best man from one division faced off with the best from another division which perhaps no other super fight has ever been discussed more than a bout between the former longtime middleweight champion and the former 170-pound ruler.
In a recent interview with MMA Fighting, Silva made it known that he still has the desire to fight  the Canadian star in a super fight as he wants to get back inside of the Octagon fighting once again after his latest troubles but even though years have passed from when they were in their primes, he still has hope for a fight that never came to fruition.
"Anything is possible in the UFC, man," Silva said. "It's a very eclectic company, with a broad vision of the sport. They are going through a new moment, a moment of entertainment, so anything can happen."

"I think the decisions have to be made at the time they have to be made," Silva said when asked about GSP moving up to middleweight when he was no longer the champion. "I think he had a good strategy, did a good fight with Bisping. They are both great fighters. If we didn't fight that's because it really shouldn't have happened."
GSP returned to competition in November after four years away from the sport to win the middleweight title with a submission victory in the third round over Michael Bisping at UFC 217 but shortly after the fight, he had to vacate the title as he is dealing with colitis.
On the flip side, Silva received a one-year suspension from USADA and is just waiting until November to take his next fight, which should be booked in the coming months.
If you enjoyed this story, please share it on social media!