Anderson Silva: The Hardest Part Is To Kick Again As I Used To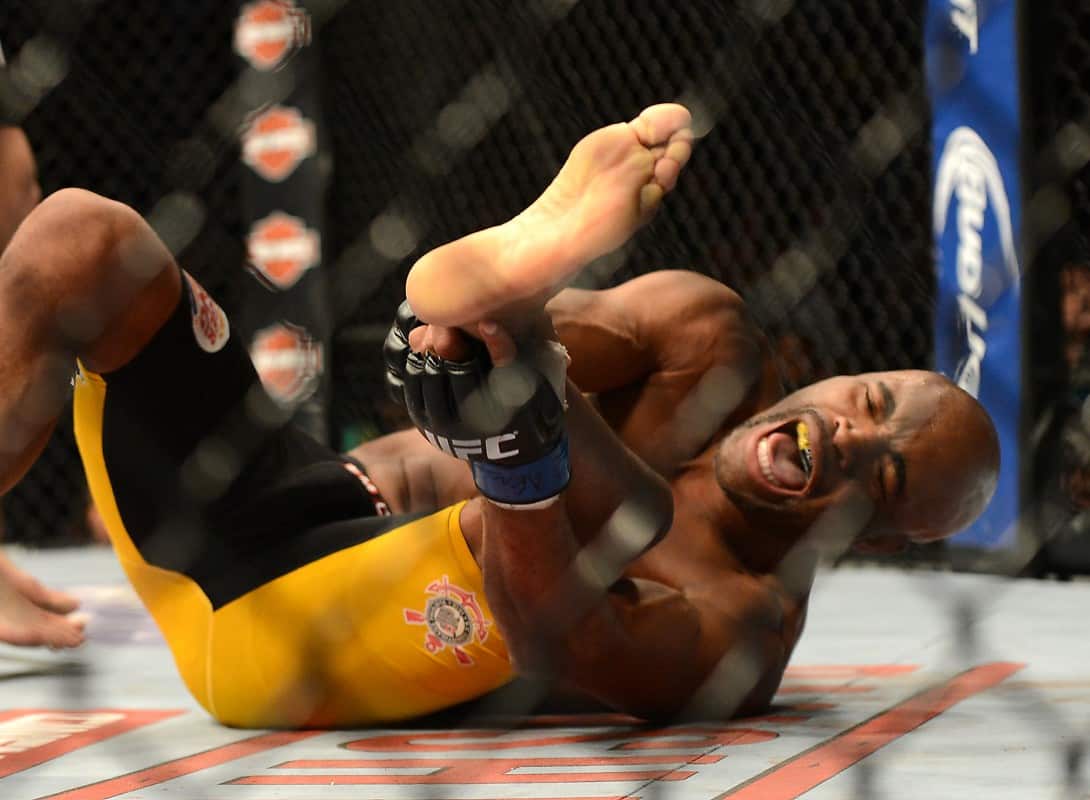 It's been a long and trying 2014 for former UFC middleweight champion Anderson Silva as he recovers from a gruesome broken leg suffered in his UFC 168 main event rematch with Chris Weidman on December 28, 2013.
He'll return to the Octagon on January 31, 2015, to face off with Nick Diaz in the main event of UFC 183, but that doesn't mean "The Spider" is fully recovered from the damaging injury. Speaking to Fantastico, Silva said that the while he feels no lingering pain from the injury, the hardest part is overcoming the metal blocks:
"I feel no pain at all. My strength is back because I'm back to training. The hardest part is self-confidence, to kick again as I used to."
That's perfectly understandable, as Silva's vaunted Muay Thai skills routinely saw him wing hard low kicks that resulted in bone-to-bone contact. No matter how hard he trains and how far he's come, the mental image of that fateful night plays in his head. Because of that, Silva said that he's enlisted the help of a sports psychologist to help him deal with the bad memories:
"I've worked with a psychologist so I can get rid of the ghosts of those horrible moments of that fight, when I had that accident. I'm a little apprehensive in training. I know I can execute the movement, but I end up not doing it for fear. Yeah, I won't get hurt. I know I won't get hurt, but fear is natural," he added. "I don't want to feel that pain ever again. No way."
Indeed that fear is natural for any human being, and it will probably be a roadblock for the No. 1-ranked Silva to resume fighting at championship level. But that's okay with him, as he said his time as champion is done for:
"I'm over this thing of being champion, having the title. The truth is, there will only be one Ayrton Senna, there will only be one Pele, and there will only be one Anderson Silva, so whoever saw me (as champion), saw me. Who haven't seen me (as champion), won't see it.
In a way you'll see me (fight again), but not for the belt, that thing of being champion again. I don't have patience for this. I think I'm closer to retirement every day."
The words are a classic Silva bait-and-switch; he just recently said that he wanted to fulfill the final seven fights on his UFC contract. That will be next to impossible to do without getting into a title fight, however, unless he suffers a few knockout losses.
UFC President Dana White has already said that Silva will be close to a title shot if he can get by Diaz early next year, something most are predicting him to do.
Yet there have been the negative consequences for Silva being talked into a fight that he didn't necessarily want. White may be able to coerce him into fighting for the belt again, but it appears that the all-time great's motivation to fight for the gold just isn't there anymore.
However, we've seen "The Spider" say one thing and do another more times than can be counted. Will he reclaim his glory, or is he close to retirement like he said in the interview?
Photo: Jayne-Kamin Oncea for USA TODAY Sports