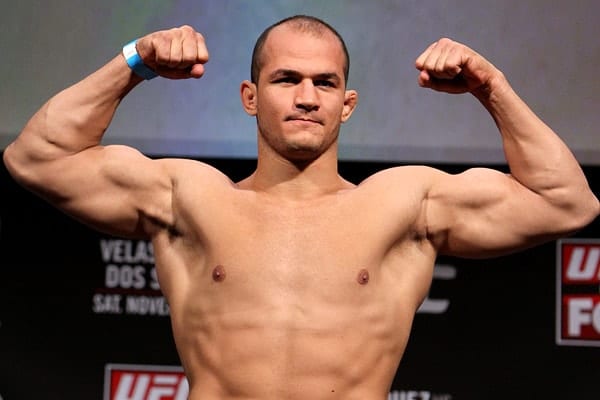 We now know who the baddest man on the planet is, and his name is not Cain Velasquez. Fabricio Werdum outlasted the champion, and put him away with a guillotine choke in the third round in front of 21,000 screaming Mexican fans, to be officially crowned the baddest man on the planet.
With the passing of the torch, it leaves us to speculate the entire heavyweight division. Expect the new rankings to look like this:
Champion: Fabricio Werdum
No.1: Cain Velasquez
No 2: Junior Dos Santos
No 3: Stipe Miocic
No. 4: Andrei Arlovski
Now that Werdum holds the belt, it's almost certain that he will want a rematch with Junior Dos Santos. Keep in mind that Dos Santos knocked out Werdum back at UFC 90 in 2008. Werdum credits this loss as the fight that turned his career around, so expect a war if these two step in the Octagon again.
For Velasquez, I can see him fighting Stipe Miocic next. Velasquez took a beating against Werdum, so he'll need some time to recover before he steps back into the Octagon. I believe the winner of a Velasquez-Miocic fight should be crowned the No.1 contender. It's up to Miocic whether he will want to wait and fight Velasquez towards the end of 2015, or call for a fight against a healthy, surging Andrei Arlovski.
Arlovski is in the midst of one of the biggest career resurgences MMA fans have ever seen. In his recent fight with Travis Browne, Arlovski proved that he can endure a war. He eventually knocked out the bigger, younger Browne in the first round, securing a top 5 ranking in the process. I believe Arlvoski needs one more fight before taking on Velasquez or Miocic.
It's tough to say what will happen next, but it's safe to say that the heavyweight division is wide open. One can make the argument that Velasquez fought ring rust and altitude, as much as he fought Werdum. I am not ready to say Werdum is unbeatable yet, as I believe he and Velasquez could face each other again.
It's refreshing to see a new heavyweight champion, because many people felt that nobody could dethrone Velasquez. At 37 years old, Werdum has put together one of the best MMA careers ever, with big wins over Fedor Emelianenko, Antonio Rodrigo Nogueira, and now Cain Velasquez.
A legend was born tonight, but the future of the UFC's heavyweight division is still very much up for grabs.