Every fighter, no matter how great they may be or have been, has a weakness that served as their Achilles heel. Whether it be a expert striker's proclivity for takedowns, or a wrestler who can't seem to escape from triangle chokes, no mixed martial artist is bereft of weakness.
Let's take a look at the ten greatest weaknesses that have plagued fighters throughout their career.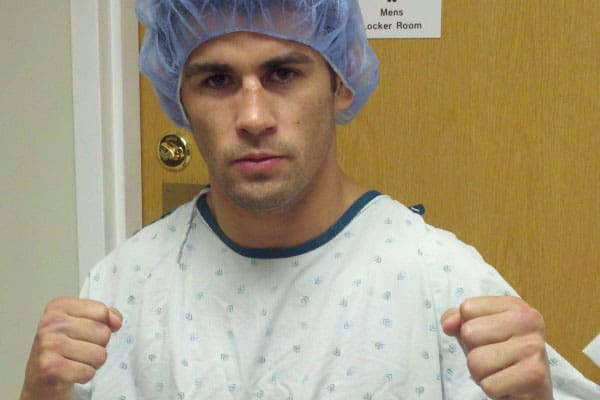 10. Dominick Cruz – Injuries
Perhaps one of the best and quickest bantamweight fighter, Dominick Cruz has had tremendous success in winning the 135 pound title twice and being the second and last man to beat flyweight kingpin Demetrious "Mighty Mouse" Johnson.
In spite of all his success, Cruz has repeatedly dealt with broken hands, torn ACLs, and the resulting surgeries that follow.
Cruz was stripped of the title after years of inactivity following a torn ACL while training to fight Urijah Faber in 2012, and although he finally returned to run through Takeya Mizugaki at UFC 178, he tore his ACL again and was forced out of action until he triumphantly returned to win the title back from current champ TJ Dillashaw in January 2016.
Cruz defended the title against Faber but lost it to 'The California Kid's' Team Alpha Male protege Cody Garbrandt to end the year. He was set to take on rising contender Jimmie Rivera in a potential title eliminator at December 30's UFC 219, but a broken arm forced him out of yet another bout due to injury.
If Cruz's hands were as durable as concrete, his knees more sturdy, and his limbs unbreakable, he'd be the best bantamweight alive right now. But unfortunately, that's not the case, making this weakness a highly important – and omnipresent – vulnerability.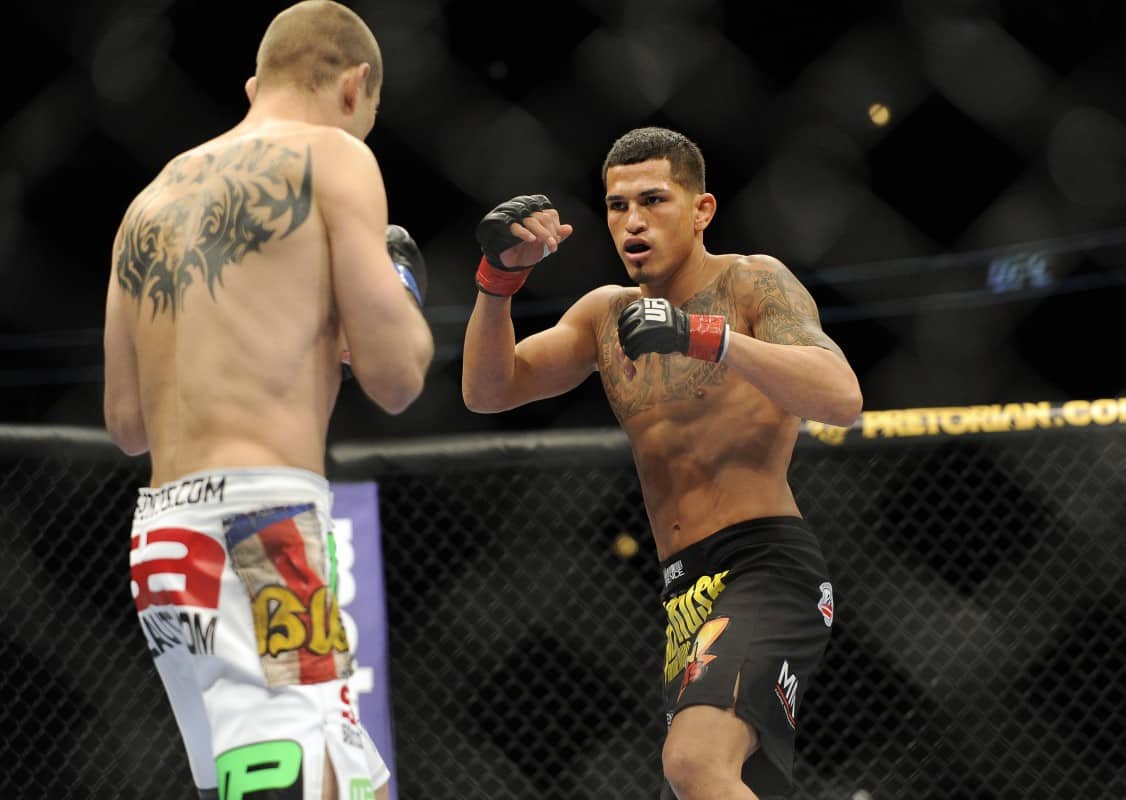 9. Cowboy Cerrone – Liver Shots
The best way to beat Cowboy, who's hell on wheels if you don't, is to kick him in the breadbasket.
Cerrone's offensive striking is superb, but his defensive liabilities have cost him bigtime in big fights. Anthony "Showtime" Pettis was the first to exploit it back in 2013. Ever since, his liver has been his biggest weakness, causing him to lose to Rafael Dos Anjos for the lightweight title, and generally being his biggest source of vulnerability.
But there is no mercy for the man who can't get the job done. Those who don't target Cerrone's stomach or don't strike back with him at all will pay a brutal price, often times becoming a highlight-reel victim for years to come.
Either way, Cowboy's liver can't take a kick. Whether from hard partying and drinking or just a predilection for stomach pain, this weakness has caused him several high profile fights.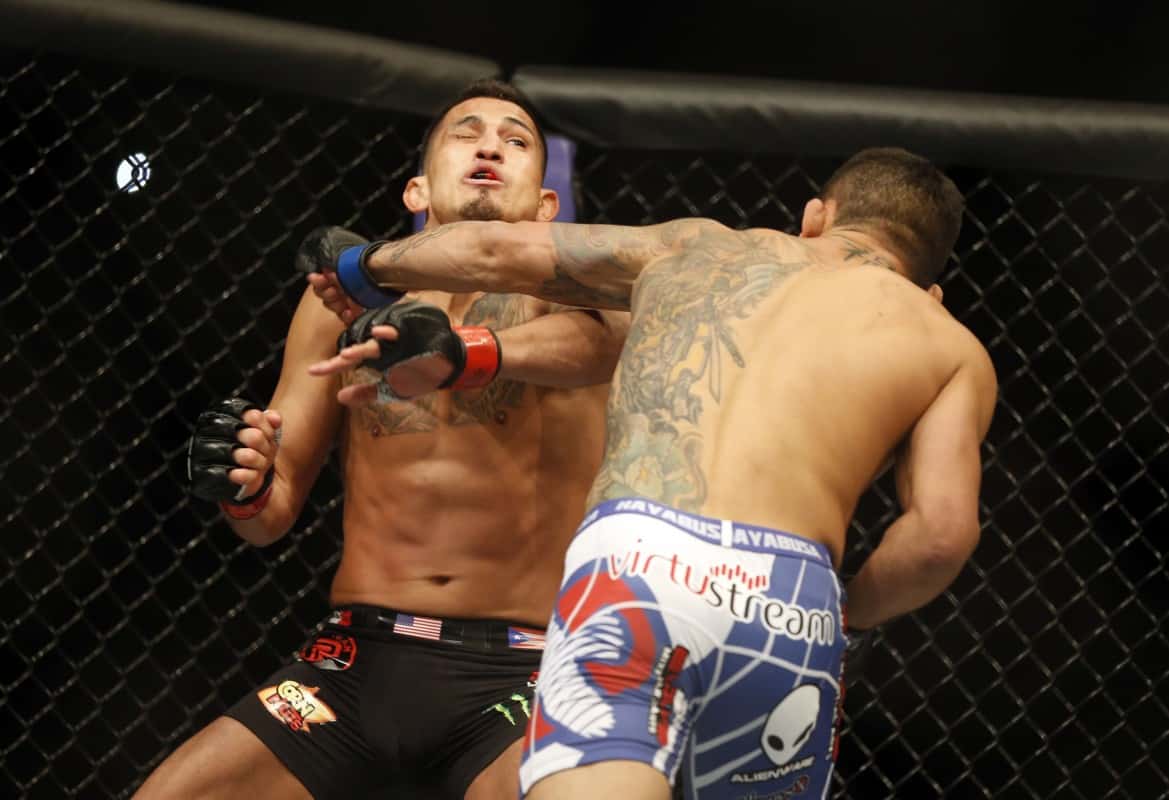 8. Anthony Pettis – Pressure Fighting
Speaking of Pettis, another glaring weakness in an otherwise excellent fighter has to be Showtime's reaction to pressure.
Pettis is the kind of counter-striker who prefers to hang back and pick his shots with the necessary space needed to do so. Well the fighters who beat him never gave him that space to work with, that space that led to spectacular things like his infamous Showtime kick against Benson Henderson in the WEC.
Fighters like RDA, Max Holloway, and Edson Barboza all took the fight to Pettis, forcing the pressure on him. The tactic worked and continues to work, as Pettis doesn't always react well to pressure in the cage.
But if you give him time to pick his shot, you're night will be a short and painful one.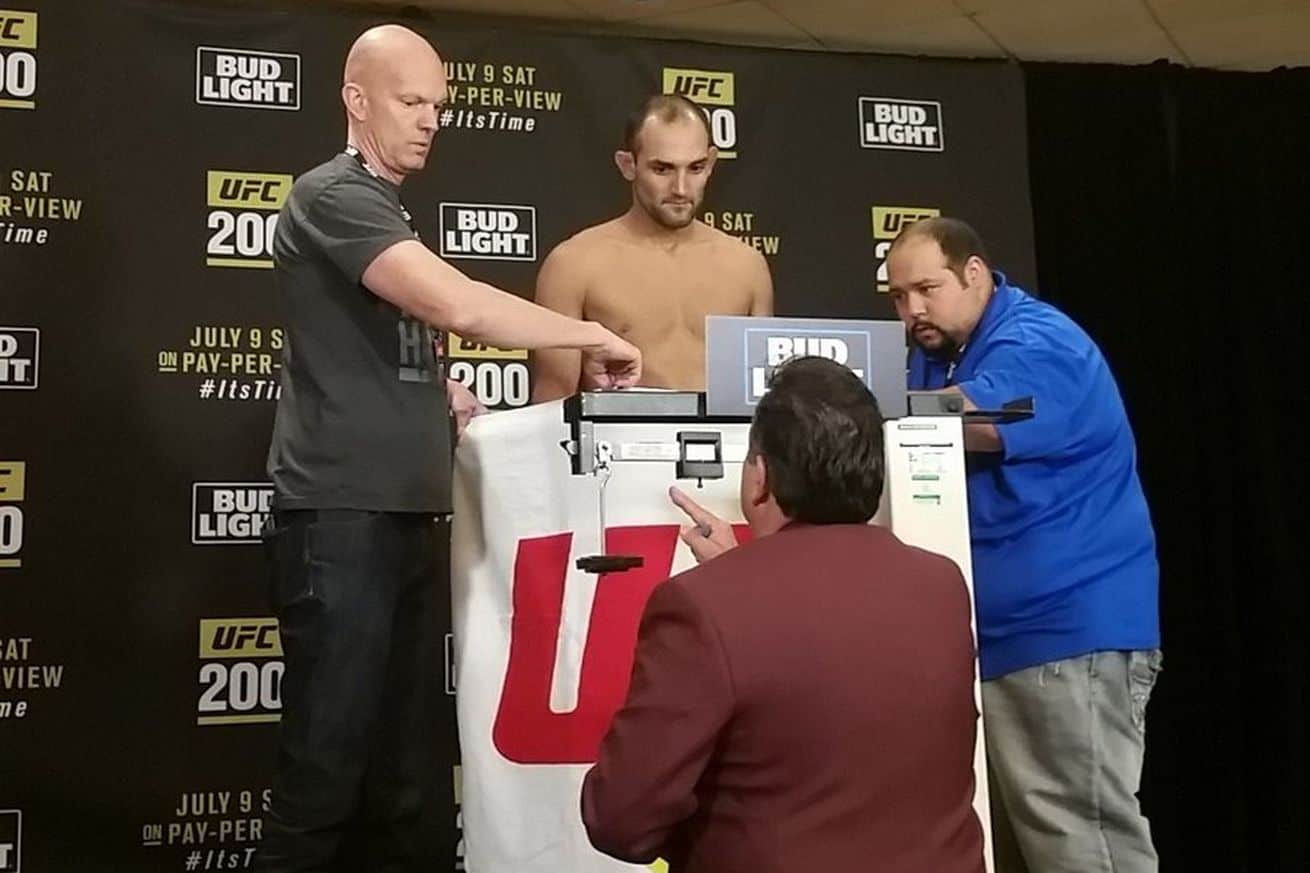 7. Johnny Hendricks – The Scale
Another case of a fighter who once knocked out guys in less than a minute at welterweight and had a weakness that led to his downfall.
For Hendricks, that weakness has always been food. Seriously, he had to move up a weight class because he couldn't make 170 pounds anymore and still missed the middleweight limit. The guy obviously loves to eat, and there's nothing wrong with that, but eating your way out of a job isn't worth it.
If he can manage to stay in shape, who knows what Hendricks could do. He once knocked out Jon Fitch in 12 seconds back in the day when he was seemingly more motivated to stay in shape.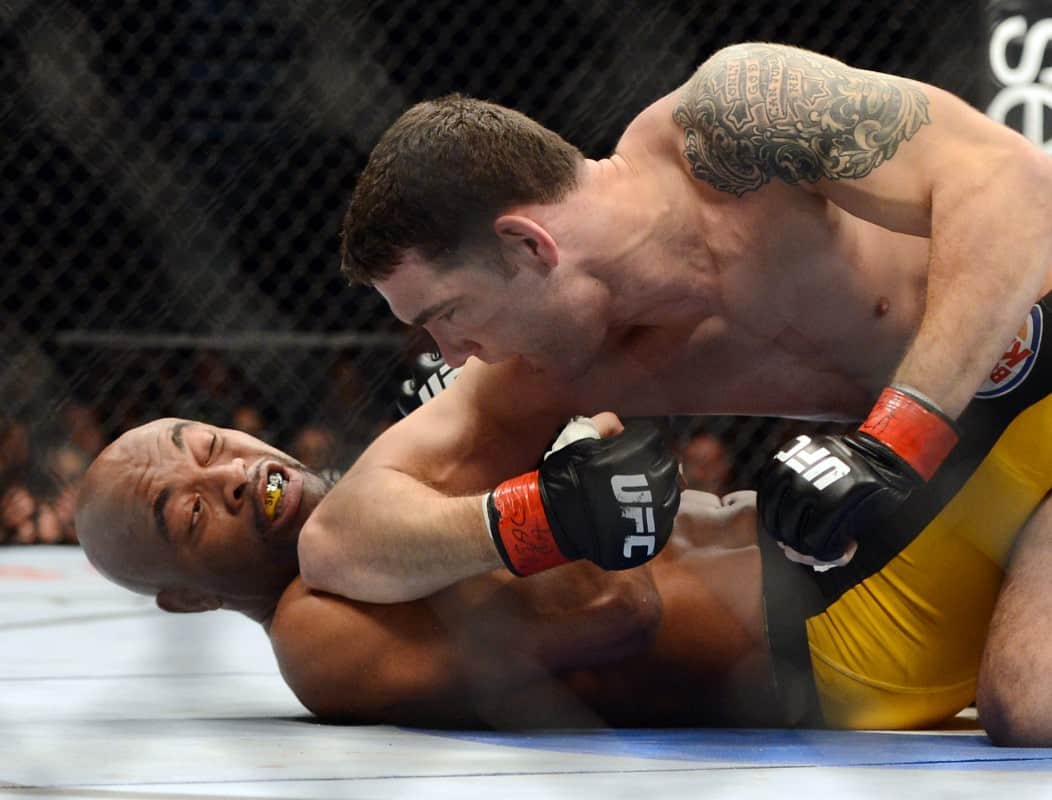 6. Anderson Silva – Takedown Defense
Anderson Silva may be the best striker in the history of the game. His expert dismantling of Forrest Griffin and Chris Leben are enough proof to demonstrate what 'The Spider' can do on the feet.
But as good of a striker he is, Silva's takedown defense has always been lacking.
In the first Chael Sonnen fight and the first round of their rematch, Silva was taken down repeatedly and with relative ease. Since then, the blueprint to beat Silva has been out there, although he won both of those Sonnen fights.
Especially at his age now, a good wrestler could take the victory away in a fight with Silva. A few takedowns per round would be enough to beat him at this juncture.
But with his most recent steroids allegations and failed tests, we won't be seeing him anymore if at all considering the gravity of the situation.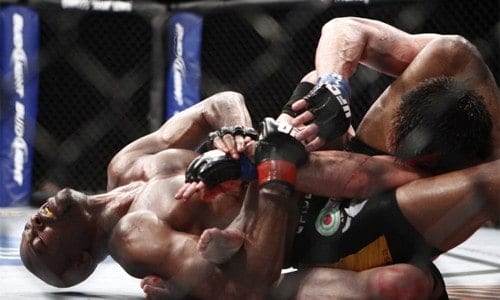 5. Chael Sonnen – Triangle Choke
Chael Sonnen still is an excellent wrestler who can take down just about anyone.
But even if he gets them down, he still has to watch for his Achilles heel; the triangle choke. Sonnen has been submitted four times to triangle chokes alone, causing him to lose big fights against Anderson Silva amongst others.
Jiu-jitsu is often the best answer for wrestling, and a well-executed triangle choke will stop a wrestler like Sonnen right in his tracks.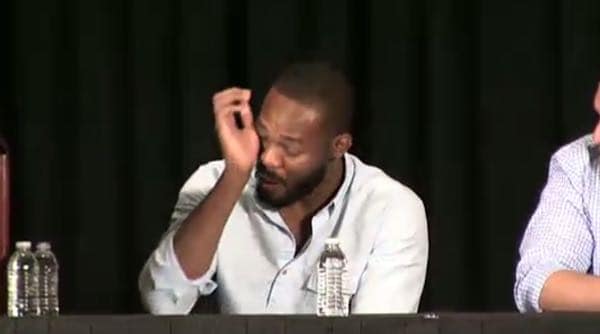 4. Jon Jones – Drugs
It's a shame to even have to write this, but past evidence has proven a common theme throughout Jones' career. He's tested positive for cocaine and steroids several times now, so something is obviously wrong there and we wish him the best.
But it has certainly cost him; he's lost two belts due to failed tests and his reputation has been ruined.
Imagine Jones' career without all the drug drama. He'd never have lost the belt and would have likely continued his reign over the light heavyweight division.
It's truly a shame the way Jones' career has gone.
3. Urijah Faber – Title Fights
Faber is a phenomenal fighter who's gone on to start an extremely successful team of fighters at Team Alpha Male.
But for whatever reason, he always fell short during title fights. Put Faber in there with anyone but the champion and he makes him look silly, but as soon as he got a title shot, he would get outclassed.
Going all the way back to his WEC title fights against Mike Brown and until his title fight with Renan Barao, Faber has had many chances to win gold but never was able to do so.
Other than that, Faber was always a force to reckoned with.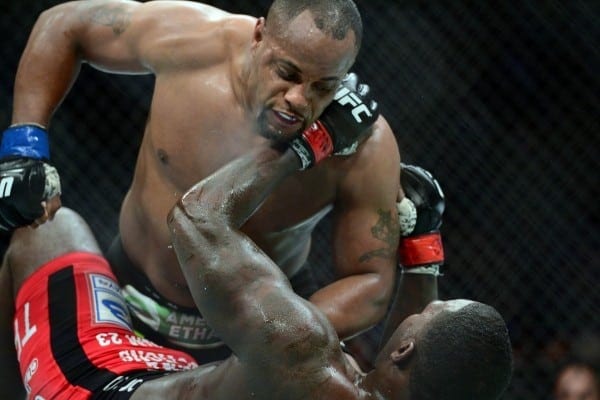 2. Anthony "Rumble" Johnson – Stamina
Rumble is a horrifying fighter in the first round, and to even survive the opening salvo means you belong in the elite of the elite.
But for great fighters with excellent stamina, Rumble would often fall short. Against Cormier twice, Josh Koscheck, and Vitor Belfort, Rumble's cardio burned out quickly and the opponent exploited that completely.
If a fighter can survive the initial onslaught, and it will be brutal, they're chances of beating Rumble go up exponentially.
Word of Rumble's MMA return has gotten around, although no word yet on when that might be. The rumor is he will compete st heavyweight again (he fought Andrei Arlovski at heavyweight), which could solve his stamina issues.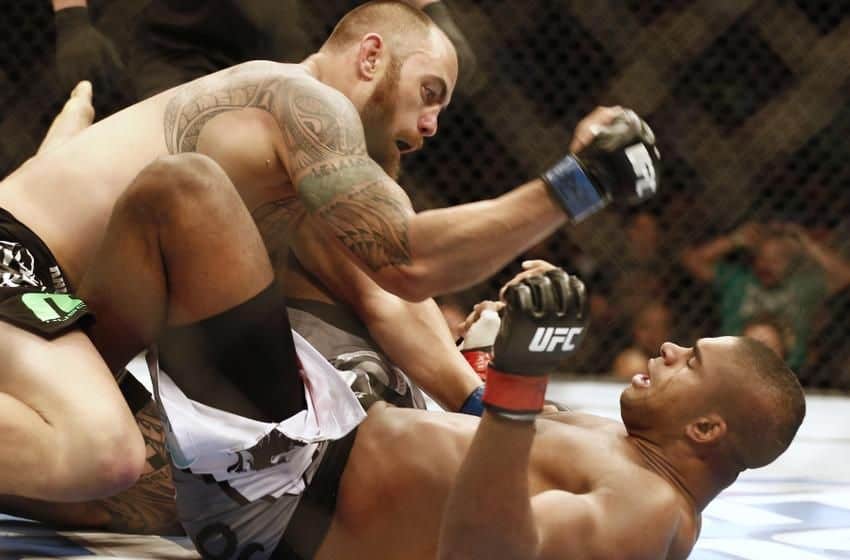 1. Alistair Overeem – His Chin
Overeem is a terrifying figure, standing nearly 6-foot-5, and weighing over 250 pounds. His kickboxing is K-1 tested, he has a nasty guillotine choke, and his size right reach make him one mean heavyweight.
And he'd likely be heavyweight champion if his chin hasn't taken so much punishment over the years. Knockout losses in MMA and pro kickboxing have demonstrated that whether through accumulation or otherwise, Overeem can't really take a punch anymore.
Against Stipe Miocic, he was knocked out on his back and misremembered Miocic tapping to a close but still unsuccessful choke he had applied.
If Overeem had an iron chin, there's nothing and nobody who could stop him.