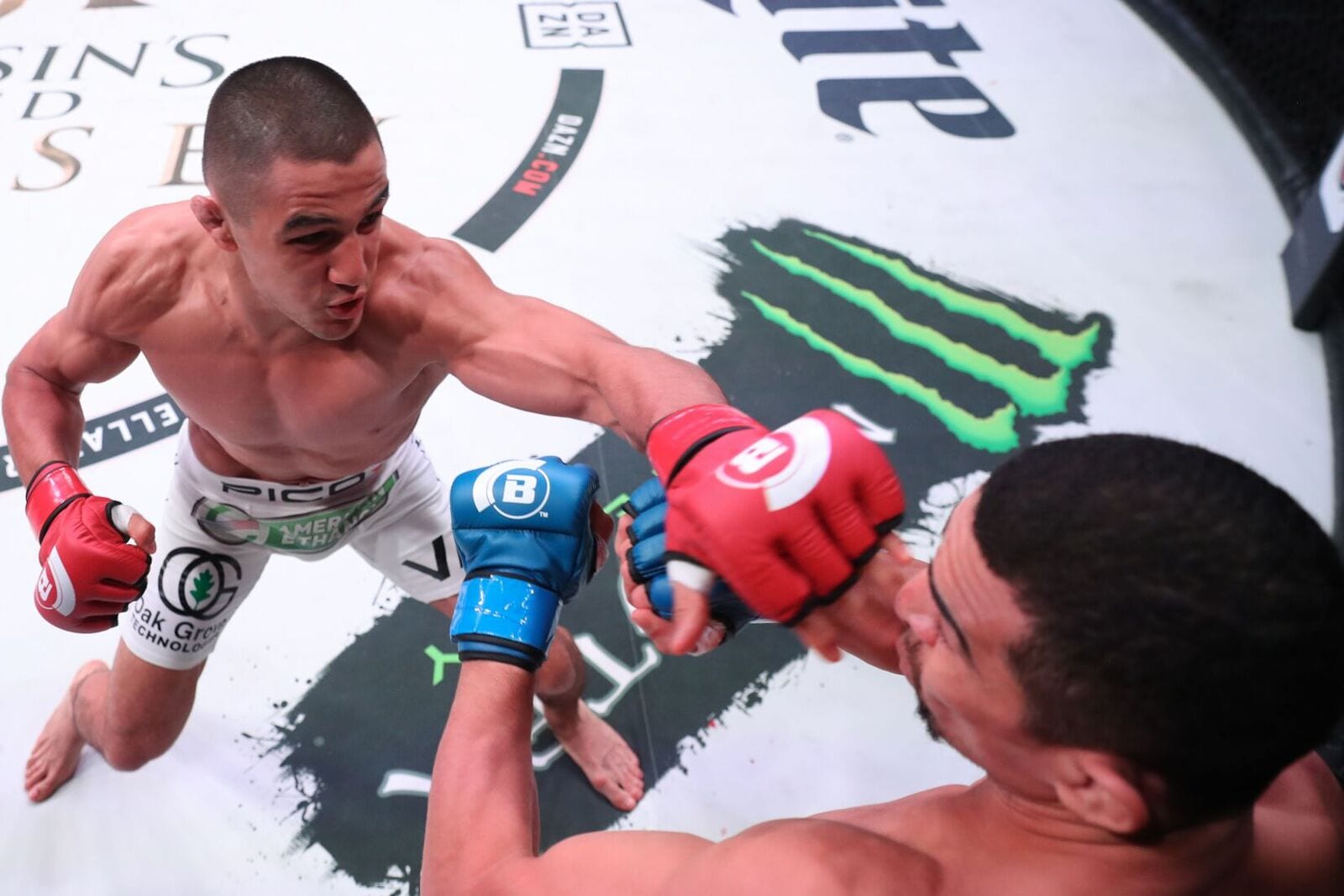 Surging future star Aaron Pico picked up his fourth straight knockout win (highlights here) by defeating veteran Leandro Higo at last night's (Sat., September 29, 2018) Bellator 206 from the SAP Center in San Jose, California.
After losing his pro debut at Bellator 180 in June 2017, Pico has looked like a man possessed. He's run through every one of the opponents Bellator has put in front of him. Not one of the fights has left the opening round.
The sky is obviously the limit for the 21-year-old prospect. It looks like he's aiming for the top of the food chain already, however.
Pico discussed his words to current featherweight champ Patricio Freire after his win at Bellator 206. Asked what he said to Freire, Pico revealed at the post-fight press conference via MMAjunkie that he told the champion his time was coming:
"Your time is coming. It's a new generation of young fighters, and the clock is ticking down for him," he said at the event's press conference. "Every day he goes and trains, there's a guy like me just waiting to get a shot at him and take his belt. That's just how it goes."
The nature of the fight game is a cold, patient beast. Indeed there's always a hungry young contender waiting to rise up and take the king's throne.
Pico is that fighter – perhaps more than any other rising contender in MMA right now. But while it seems he may be aiming for the fences by calling out the current champ, Pico knows he has to focus on getting better. That won't happen in just one fight:
"My whole job is just to progress as a fighter," Pico said. "That's so important to me right now. I'm very young in my career. I have a lot of things to work on.

"Being the best fighter doesn't happen overnight. It takes many years. But all I can do is progress and take each fight as it comes."
He appears to have the mindset of a fighter much older than his years. Freire could be an option for Pico soon, yet maybe it shouldn't be in his very next fight.
Pico knows he has all the time in the world. He's only getting better, too, so the future is more than bright for MMA's fastest-rising star. How long do you think it'll it take for him to rise to the pinnacle of the sport?