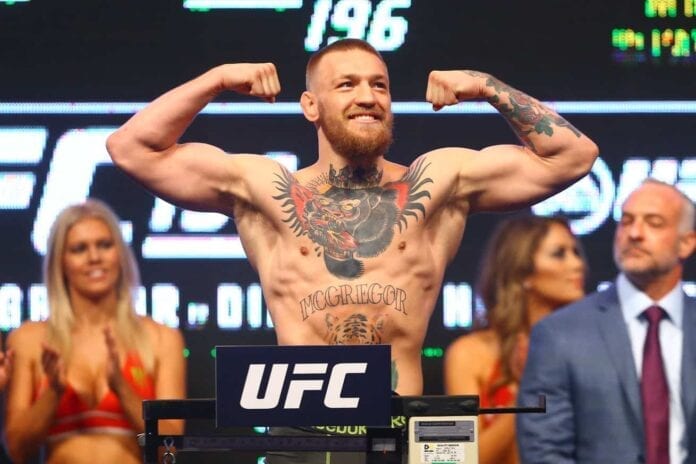 The "Notorious" Conor McGregor looked like a completely different man at last night's (March 4, 2016) UFC 196 weigh-ins compared to his previous weigh-ins.
That's because the Irishman will be taking on Nate Diaz in a welterweight battle, two whole weight classes up from his usual home at featherweight.
Fighting at 170-pounds as opposed to 145-pounds, McGregor looks happier, fuller, and much healthier.
With that being said, he does still indeed hold the featherweight title, although it seems more and more likely that he'll never defend that strap, at least according to UFC President Dana White (Via MMAFighting):
"I think if he wins impressively [Saturday], he doesn't even go back to 45," White said at Mandalay Bay's Light nightclub. "That's what I think. That weight cut is horrible for him. He looks terrible. I'm sure he feels terrible. I think he stays at 170 if he wins tomorrow."
McGregor, on the other hand, feels as if it would be no problem dropping back down to featherweight. That is if an interesting challenger were to arise:
"I can go back to 145 no problem," McGregor said. "Who is there, though?  Let me see some of these damn bums get up and fight and make some noise. I just hear crying, complaining, please, begging — all this sh*t. I don't see nothing appealing. They need to build themselves up right now. I'm sitting pretty. I'm sitting up here. They need to fight and make some noise, make me stand up and sy, OK, I'll take him on. That's what I need to see, because right now I see a bunch of complainers, whiners."
How do you see tonight's fight playing out, and what do you believe the future holds for the Irishman?