Josh Barnett Offers To Fight Stipe Miocic For Heavyweight Title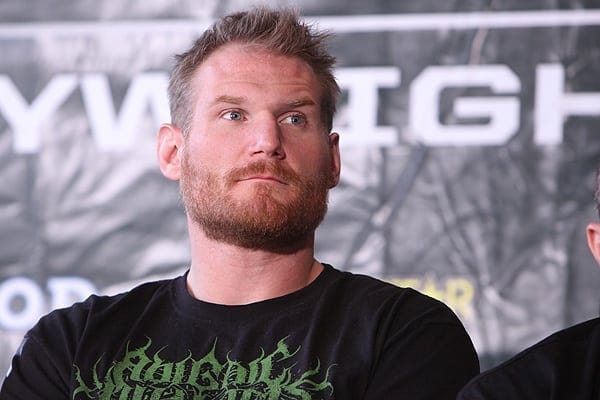 The UFC's heavyweight division has been thrown for quite the loop in the past two days.
Yesterday (January 24, 2015) it was announced that former champion Cain Velasquez was out of his scheduled rematch with champion Fabricio Werdum at February 6's UFC 196 due to injury. No. 2-ranked Stipe Miocic quickly stepped in to take on "Vai Cavalo", but it was reported earlier today that the Brazilian was also pulling out of the bout due to an injury, leaving the promotion and Miocic in a limbo.
In the midst of all of the commotion, No. 8-ranked former divisional king Josh "The Warmaster" Barnett, who's slated to meet Ben Rothwell at this weekend's UFC on FOX 18, offered to take on Miocic for the title if need be:
"If they page me 911, if they send me the number, I will absolutely take the fight," Barnett told MMAFighting. "If they want a heavyweight championship main event, I'm your man. I'll go in. I'll take care of business and I'll give them what they want. I'll give them what they need, which is a healthy, motivated championship fighter. That's what they'll get."
"Interim title," Barnett said. "It's set up for a title match. Let's keep it going. That's what they need on Super Bowl weekend. They need a title fight. They need a heavyweight title fight. That's what we can provide. Former champ and a No. 1 contender. That's what people want to see.  They want to see championship level fights. They want to see the top guys go at it. We can do it."
"The Warmaster" continued on, saying that he's completely healthy, and if it were up to him he would go five rounds for the title right now:
"I'm ready," Barnett said. "I'm willing. I'm capable. I'll fight Stipe. I'll go five rounds for a heavyweight title right now. We're good."
"For whatever reason, Werdum is hurt, Cain is hurt," Barnett said, "Stipe stepped up and now Stipe doesn't have a partner to dance with. I'll dance with him. And then we'll fight. And then maybe I'll dance with him again afterwards. A nice slow one. When we're all beat up and bruised and battered. When we're vulnerable. That's the time to go cheek to cheek on the dance floor."
Although an interesting proposition, the idea is quite unlikely given Barnett's upcoming fight, and the fact that Werdum should only be out for a few months.
"The Warmaster's" opponent, Rothwell, also took to his official twitter account to voice his displeasure towards the idea:
' @UFCONFOX @ufc funny you would promote that-we are fighting in less than a week, on Fox- As if I wouldn't take the fight? B…. please

— Big Ben Rothwell (@RothwellFighter) January 26, 2016
What should the UFC do regarding not only UFC 196, but the heavyweight division in general?