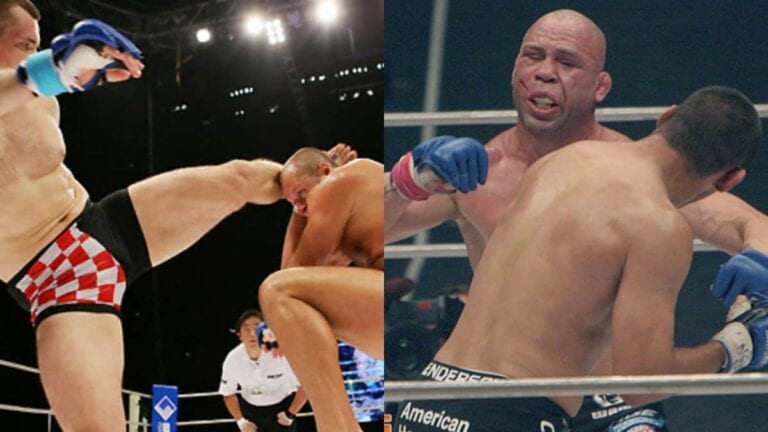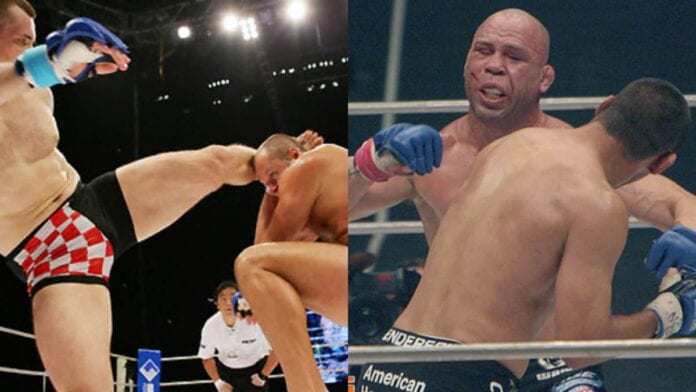 Before the Ultimate Fighting Championship (UFC) took over the majority of MMA, the world's foremost promotion had some serious competition in the form of PRIDE FC.
The Japan-based mixed martial arts (MMA) organization offered combat sports in its truest form before it became mainstream on the heels of Zuffa's massive efforts. In 2007, PRIDE was actually absorbed by UFC.
Nonetheless, the promotion was the launching pad to countless MMA legends, champions, physical dynamos, and more. It gave us transcendent combat stars like "The Last Emperor," "Minotauro," and "The Axe Murderer." If not for PRIDE, some of these historic figures would have never burst onto the international scene.
To celebrate the past and pay tribute to PRIDE, we take a look back at the 10 best fights in organizational history. Enjoy.

10) Quinton Jackson vs. Ricardo Arona
We start out with one of the sickest finishes ever.
As one of the very best power punchers in the sport at the time, "Rampage" Jackson was suppose to get rid of Arona on the feet. So when he lifted the submission specialist up over his head and slammed him down like a reenactment of a WWE powerbomb, it certainly added to the surprise.
Through all of his career finishes, this remains one of Jackson's most memorable, offering power in its purest form.

9) Antonio Rodrigo Nogueira vs. Bob Sapp
It was no secret that Nogueira had to weather the storm of Sapp, who came into the 2002 bout 150 pounds heavier than the Brazilian.
In the earlygoing, "Minotauro" did his best to ward off the unparalleled ferocity driving Sapp. He even recovered from one of the hardest slams in MMA history, which looked like the hulking heavyweight was cradling a small child.
But in the end, after the lights literally went out inside Tokyo National Stadium, Nogueira outlasted Sapp and submitted him with an armbar in the second round.

8) Kevin Randleman vs. Mirko Cro Cop
You knew the late, great Randleman was going to get in here somewhere.
In easily his biggest victory of his storied MMA career, the powerhouse wrestler surprised the combat world when he leapt in with a left hook and knocked Cro Cop to the ground. Remember, the Croatian was widely considered the most lethal standup artist in the game at the time.
After sending Cro Cop to the canvas, Randleman proceeded to ground and pound the striker to the tune of a TKO victory, sparking one of the most epic cageside rants of all time by PRIDE announcer Mauro Ranallo.

7) Fedor Emelianenko vs. Mirko Cro Cop
In a matchup between two international superstars, Emelianenko and Cro Cop went to war in 2005.
Their epic three-round affair, which offered countless exchanges on the feet and tremendous ground and pound by Emelianenko, was good enough to win "Fight of the Year." Not to mention it was the first time Cro Cop had ever lost via decision, seeing as "The Last Emperor" won unanimously.
It remains one of Emelianenko's most complete victories to date considering he shut down the best striker on the planet.

6) Antonio Rodrigo Nogueira vs. Mirko Cro Cop
Nogueira vs. Cro Cop was a PRIDE matchup of a lifetime. It pinned the best heavyweight submission specialist in the world against the best striker.
After being out-muscled and picked apart by Cro Cop in the first round, Nogueira secured a sneaky arm bar in the second to hand the Croatian knockout king his first professional loss.
The Brazilian's victory sparked a standing ovation and earned him the interim heavyweight championship in the process.

5) Royce Gracie vs. Kazushi Sakuraba
This can arguably be considered one of Gracie's worst performances inside of a ring during his prime days as a competitor.
Unable to do much of anything against an athletically superior Sakuraba, the Brazilian ended up losing his first professional MMA fight to a man who was later referred to as "The Gracie Hunter," seeing as the Japanese legend previously defeated Royler Gracie via submission.
Royce Gracie was so out of it that his corner threatened to throw in the towel during the fight, but they waited to do so after 15 minutes of one-sided action.
4) Don Frye vs. Yoshihiro Takayama
There is a reason this is the only fight with a highlight. The action is simply too legendary to put in writing.
In arguably the greatest brawl in PRIDE history, Frye and Takayama literally went toe-to-toe and exchanged everything in their power. The American would go on to capture a TKO victory in a bout that earned "Fight of the Year" honors in 2002.
If you're ever trying to get someone into MMA, this is the fight to show them.

3) Dan Henderson vs. Wanderlei Silva II
Great things usually transpire when two dynamic knockout artists lock horns inside of a ring.
Luckily, that notion rang true when Henderson fought Silva in a rematch at PRIDE 33. After eating a wicked left hook from the Brazilian in the corner, Henderson landed an unexpected spinning back fist, which softened Silva up for a fight-ending left hand in the third round.
Henderson's legacy would further evolve as this vicious knockout landed him a title fight with Quinton "Rampage" Jackson at UFC 75.
2) Wanderlei Silva vs. Quinton Jackson II
In one of the best pictures you'll find from the PRIDE era, Silva toppled Jackson with the vicious Muay Thai that made him an honored legend of PRIDE.
While "Rampage" offered an abundance of offense in this 2004 rematch (Silva won the first meeting via TKO), he was no match for an angry "Axe Murderer."
Silva's second-round knockout via knee is one of the best of all-time, and a finish that played a part in 2004's "Fight of the Year" winner and the Brazilian's first PRIDE title defense.

1) Mirko Cro Cop vs. Wanderlei Silva
Their first fight in 2002 was a draw. Their second fight in 2006 was downright epic.
As two of the most flashy knockout gurus of their era, seeing Silva and Cro Cop tie it up for a reboot was simply spectacular. What made things even better is the fact that fight fans got the finish they were looking for, as the Croatian landed his patented head kick to stop Silva in Round 1.
It's one of Cro Cop's greatest performances of his lengthy career and a finish that truly stood out during a time when PRIDE legends were all in their prime.