Could PEDs Potentially Ruin UFC 189?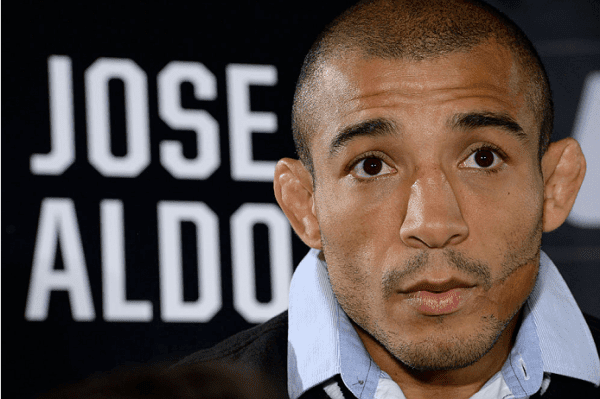 Only four weeks from his blockbuster main event against heated rival Conor McGregor at July 11's UFC 189, featherweight champ Jose Aldo was recently embroiled in a touchy situation surrounding the most controversial topic in all of MMA right now, that of performance-enhancing drugs (PEDs) and testing for them.
The story went that Aldo was issued a random out-of-competition drug test by a Nevada State Athletic Commission (NSAC) member on Thursday, for which the longtime champion provided a urine sample. But Aldo and his Team Nova Uniao head coach Andre Pederneiras believed there was something up with how the test went down, and inquired further into the scenario.
They found out that the man who issued the test, Ben Mosier of Drug Free Sport Lab, was indeed authorized to collect samples by the NSAC but was not actually allowed to work in the country of Brazil due to visa issues. Pederneiras contacted the Brazilian Athletic Commission for MMA (CABMMA) to inform them, and ultimately Brazilian Federal Police were brought into to issue Mosier a $130 fine and a timetable of eight days to leave Brazil.
Aldo's first urine sample was then discarded; however, he was still made to submit a second 'random' drug test to an accredited World Anti-Doping Agency (WADA) member on Friday, which was sent to the same Salt Lake City, Utah, lab as his first was scheduled to get tested at.
Not surprisingly, McGregor and his coach issued quite the negative response to the tenuous situation in Brazil, and in all honesty, they can't really be blamed. With new and improved (and stringent) drug testing set to go into effect for the UFC on July 1, any and all inconsistencies with complying to the random testing that has clearly been laid out for champs and main event participants is rather cut and dry.
What makes things even murkier is the fact that Aldo himself said that he had been tested many times before, but never in his native Brazil. This kind of statement may suggest he didn't think he'd be tested in his home country. In no way am I insinuating that Aldo is on PEDs or trying to hide something; obviously there is nothing in terms of concrete evidence proving that he has (at least not yet).
Yet, on the surface, it would appear that Nova Uniao did not handle this situation with the utmost poise. It's understandable that they wanted the NSAC to follow the rules and have CABMMA or personnel licensed by them conduct the testing there as rules may state. However, if Aldo is indeed the clean fighter he insists he is, then taking and passing that test before calling the NSAC and the UFC out for not following the rules would have been the correct course of action in my opinion.
Making a big scene and calling the police to get the sample collector deported only makes the whole thing exponentially worse because it makes you look like you're potentially hiding something. Rules or not, pass the test and prove you are heading into the biggest fight of the year without the aid of PEDs.
Sure, Aldo took a drug test the next day and it was sent to the same lab it would have been the day before, but then he had a full day to prepare for a test he knew was coming. That doesn't look good, especially not in today's PED-sensitive MMA climate. Again, that's not to suggest in any way that Aldo is on PEDs, but if he wasn't, why would he and his team raise such a stink?
There's also the suggestion that if Aldo feels he has to use steroids to defeat 'Notorious,' then the Irishman is already in his head as many have already suggested. It's an entirely valid possibility.
The whole thing raises the highly hypothetical scenario where Aldo could be removed from UFC 189. If he s found to be on PEDs, then he should be. Surging no. 1-ranked Frankie Edgar would most likely be readily available to take Aldo's place against McGregor.
But that just isn't the same fight we've been waiting for, meaning that the onus of the UFC's biggest card of 2015 will now rest on the results of Aldo's second drug test. And considering that he didn't want to have to his first one submitted for reasons unknown, that's far from the best situation for the UFC as they try to rid themselves of the negative public perception that MMA fighters are steroid-fueled monsters.
Do you believe the champ is using PEDs?
[interaction id="557c68ab84caec334b995845″]