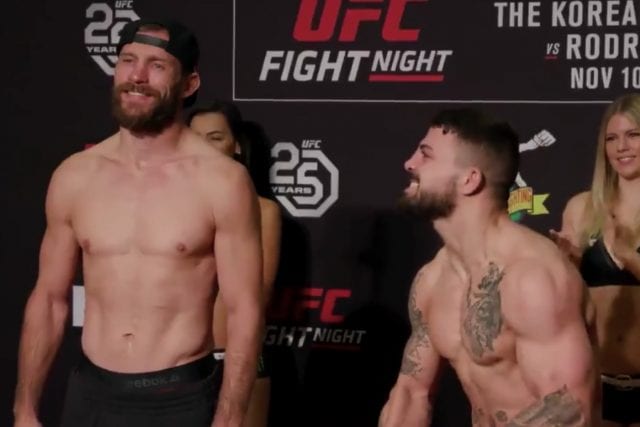 Donald Cerrone and Mike Perry will meet in a bad blood-fueled showdown in the co-main event of tomorrow night's (Sat., November 10, 2018 ) UFC Fight Night 139 from Pepsi Center in Denver, Colorado.
The discord centers on 'Cowboy's' former team JacksonWink MMA, where 'Platinum' currently fights out of. Cerrone has repeatedly stated he isn't necessarily mad at Perry, but more at his former coach Mike Winkeljohn due to their falling out.
Either way, Perry is understandably pumped for what is the biggest fight of his UFC career. The energy carried over into their staredown today. Cerrone was more reserved and laughing, therefore seeming much calmer. We'll have to see if Perry's emotions will affect him tomorrow. Perry was that emotional, but he is often is.
Watch their odd, entertaining staredown courtesy of MMA Fighting right here:
VIDEO: UFC Denver weigh-in staredowns (@ekc) https://t.co/WPvEgD3VD4 pic.twitter.com/9AQXTvyqYl

— MMAFighting.com (@MMAFighting) November 9, 2018