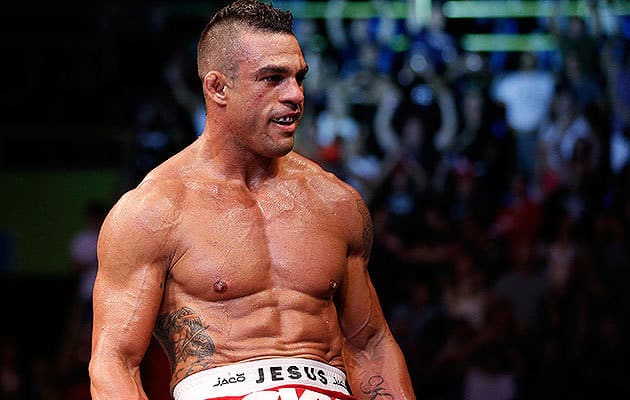 With the UFC missing most of their biggest fighters over the past 12 months, title fights like Vitor Belfort vs Chris Weidman need to happen. Their UFC 175 booking was already sabotaged by the TRT ban, and the fight was further postponed when Weidman injured his hand in training before UFC 181.
Now set to collide at UFC 184 in Los Angeles, California on Feb 28th, much talk has been focused on whether both men will make it to the event. Perhaps more frequently than "The All-American" for his injuries, "The Phenom" is brought under question for failing drug tests. According to Brett Okamoto of ESPN, Belfort passed a random drug test on November 1st:
Per NSAC's Bob Bennett, @vitorbelfort has passed the blood/urine test he took on Nov. 1. UFC paid for the cost of test. @ChrisWeidmanUFC

— Brett Okamoto (@bokamotoESPN) November 20, 2014
Great news for fans awaiting their bout at UFC 184, but the testing is not done yet. The California State Athletic Commission is yet to issue a test to "The Phenom", and the bout is still three months away. Belfort was previously banned from competing in the state of Nevada, meaning all his 2013 wins came in his home nation of Brazil.
Although he was once again granted a license to fight in Nevada earlier this year, Belfort will have gone all of 2014 without a fight. Could this be damaging to his performance, or perhaps that time away was needed to recover from the TRT that he notoriously received for so long? His successful NSAC drug test is great news, but I'll reserve judgement until the post-fight drug tests come back all clear….