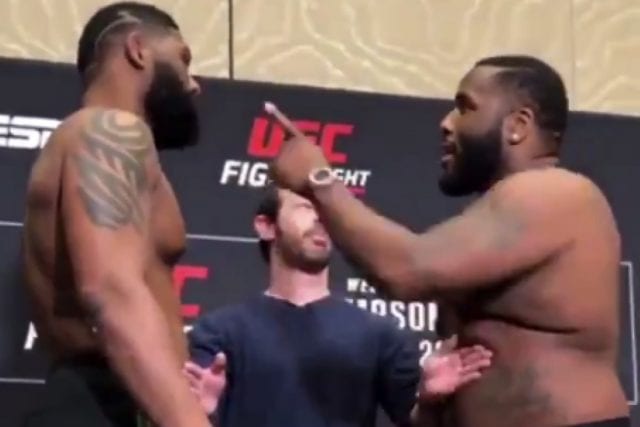 Heavyweight Justin Willis is set for the biggest fight of his career when he meets top-ranked Curtis Blaydes in the co-main of tomorrow's (Sat., March 23, 2019) UFC on ESPN+ 6 from the Bridgestone Arena in Nashville, Tennessee.
And he's attempting to make the most out of it. "Big Pretty" got up close and personal with 'Razor' at today's early weigh-ins. It was a blatant attempt at spewing a heaping amount of trash talk in his face. Matchmaker Sean Shelby didn't necessarily have to separate them, but he was on alert to be certain. Apparently, Blaydes' father was in the background talking some smack of his own. When Willis saw that, he spoke up about it:
"Daddy can't help you! Daddy can't help you!" Willis said before he walked off stage. "Daddy can talk all he wants to! Daddy can't help you!"
For his part, 'Razor' seemed to take it all in stride, shrugging it off and preferring to wait for the fight. Who holds the advantage in the exchange? Watch it courtesy of ESPN MMA below and decide for yourself:
If you enjoyed this story, please share it on social media!