Ronda Rousey's striking skills really came under the microscope at UFC 193. Leading in to her November 2015 clash with Holly Holm, Rousey was the undefeated queen of the women's bantamweights. Fighting with equal parts attitude and reckless abandon, 'Rowdy' truly lived up to her moniker during her intense win streak. During a stint on The Ultimate Fighter, Rousey had gained quite the reputation as a heel. The promotion realized they were on to a good thing, pouring dollars in to advertising her upcoming scraps.
Finishing her opponents in ridiculously dominant fashion, Rousey's image was expanding at an exponential rate. Even when paired with 'The Preacher's Daughter,' a highly respected former boxing champion with harrowing knockout power, 'Rowdy' was a record-breaking betting favorite. Holm delivered a soul-crushing knockout in Melbourne, Australia. Shattering the bookies odds and Rousey's unbeaten record, Holm would then go on to lose the title in her first defense against Miesha Tate.
The Striking of Ronda Rousey
We'd seen an evolution of sorts in Ronda Rousey's stand up game, but hindsight gives 20/20, as thy say. Knockouts against Bethe Correia and Sara McMann surely proved her striking was advancing? That's certainly what we believed, and to an extent it's true. Let's be honest, even a good solid striker could be made to look amateur against Holm, but what we saw from Rousey that night was something different, and perhaps far more concerning.
Many came to believe that Ronda's improved striking acumen was more from instinct and experience. Why would they think that? Two words-Coach Edmond. Once we started to take a closer look at Edmond Tarverdyan's boxing training, things were brought a little more in to focus. 'Rowdy's' Mom had put Tarverdyan on blast multiple times in the past, claiming he was a fraud and riding in the now ex-champion's wake.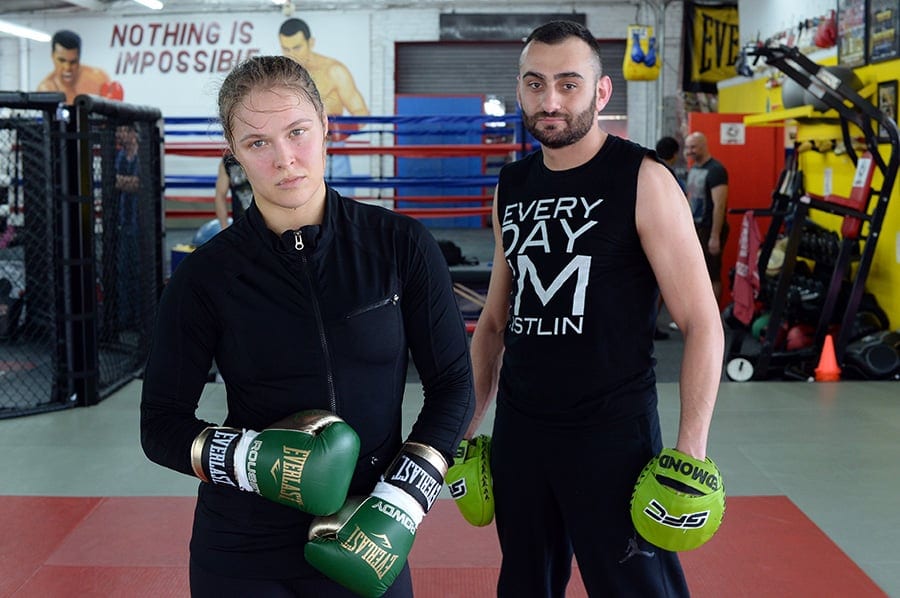 Glendale
There's a fair amount of evidence for both sides of the argument; Ronda Rousey, one of the most successful UFC athletes ever has far more losses than wins since fighting out of Glendale. Travis Browne and Jake Ellenberger are the exact opposite. Tarvedyan's alleged Muay Thai record is 27-2 (sources vary). A recent report on entimports indicated that coach Edmond's last Thai boxing match was against a debuting teen who didn't even have a cornerman present. What about MMA fights? 2-0, his latest opponent was one Dominic Gutirrez who has six wins and 20 losses.
His actual fight records aside, are we all going on an internet opinion/record-based witch hunt with coach Edmond? Maybe it's just a case of Ronda Rousey not utilizing her striking training properly, or just letting nerves get the better of her gameplan against Holly Holm? There's only one way to settle that debate, we need to see Edmond Tarverdyan practising what he preaches in terms of fighting. Well, a video that surfaced on Youtube yesterday would suggest he is indeed teaching Rousey the striking skills he uses himself.
Here it is, aptly titled 'Edmond Tarverdyan Training For Fabricio Werdum.'
https://www.youtube.com/watch?v=PjG_WvkKiMs
Let's Break This Down
In the absence of any professional boxing trainer, although opinions are welcome, I'll do my best to analyze Edmond's boxing here. From what little input I've personally had from viewing fighters train and amateur training myself, there are a number of questionable techniques shown in the video. The first thing I noticed was how Edmond follows the pad downwards after punching, as opposed to bringing his hand back to his chin. That's perhaps one of the first fundamentals of a good boxing defense.
Secondly, I see a lot of Edmond squaring up to the pads during this training sequence. Again, this is a basic defense tactic of making yourself smaller, you might argue he is not hitting a target that will hit back, but the idea of drills is to get used to good technique for the real thing. Instead of bending his knees in to body punches, Tarverdyan seems intent on bending his upper body and punching downwards, another no-no in basic boxing language. On to the footwork, the coach seems to be lacking in pivots when throwing strikes, instead opting to generate force on his hooks by throwing from the hips.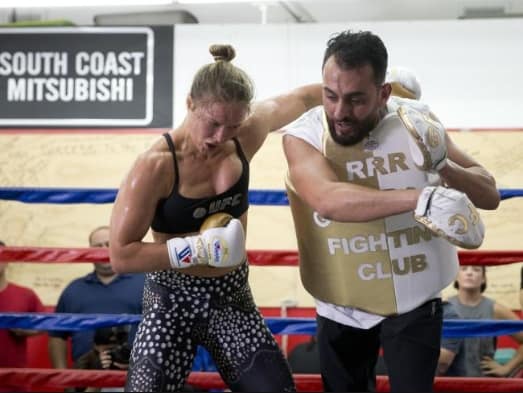 The Effect
As previously mentioned, this is not a hate mongering assessment, but we've been talking about the effect of Tarverdyan's training methods for some time. In recent memory at least, this is the first time we've seen the coach actually display his own skills. So, the question is raised once again, is Edmond Tarverdyan's apparent lack of technique showing through in his training of Ronda Rousey?
In closing let's take a look at how Ronda herself looks (one year ago) training boxing with coach Edmond.