Valentina Shevchenko Goes Off On Judges For Amanda Nunes Scoring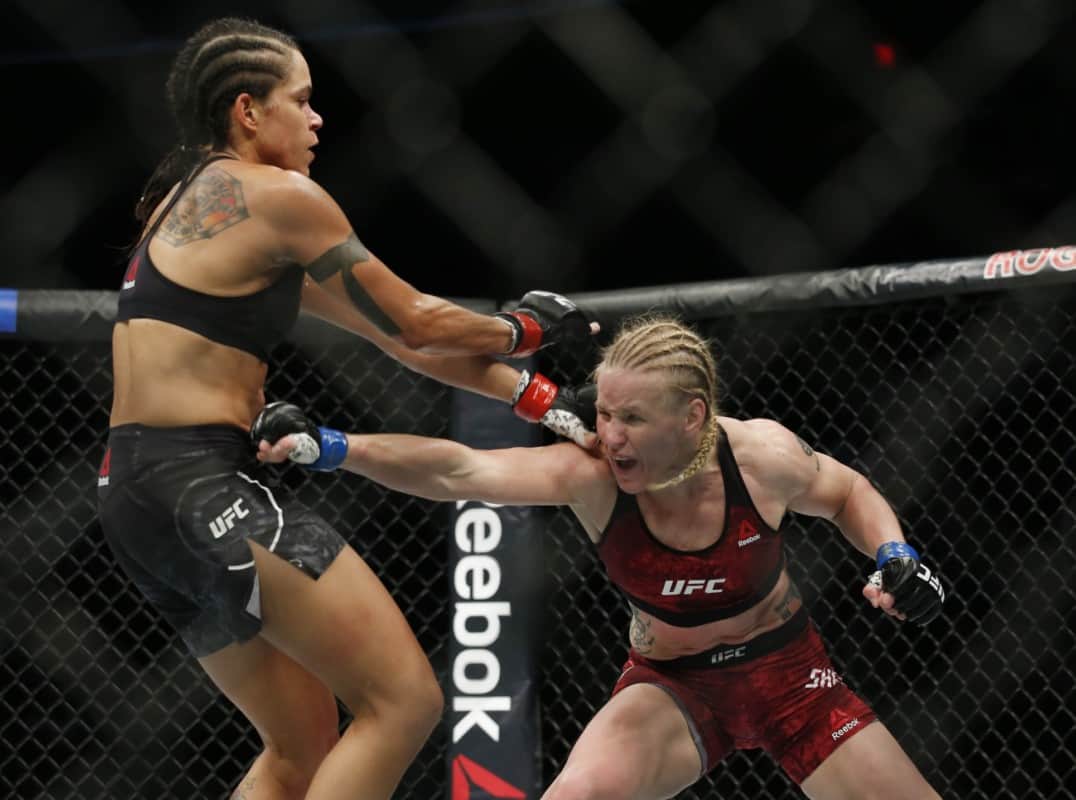 Valentina Shevchenko had a hard fought bout against UFC women's bantamweight champion Amanda Nunes in the main event of Saturday's UFC 215 PPV (pay-per-view) event. After going 25-minutes, the judges awarded Nunes the split decision victory, which marked the second win that Nunes holds over the title contender.
This did not make Shevchenko very happy as she stood inside the world famous Octagon after the bout with her hands on her hips. In her post-fight interview with longtime commentator Joe Rogan, Shevchenko pulled no punches on how she felt about suffering her second loss to Nunes.
"I really don't understand why the victory goes to the other side," Shevchenko said (transcript courtesy of MMA Fighting). For two takedowns in five rounds? She didn't hit me with one punch. Nothing significant. Look at her face. Her nose is red from my punches. Why she is still (champion), I don't understand. Even when I was on the ground, I hit very hard from the back position, from the ground position and I really don't understand why (Nunes won)."

"I think that she didn't want to be in this fight. She didn't hit this fight…not one punch. Just like these kicks, these are her kicks," she said as she kicked the air lightly. I hit hard…I hit hard. This is the reason I hit hard," she explained, pointing to the cut she suffered on her shin. "But this one?" she asked, again lightly kicking the air.
Shevchenko went on to insist that she would win if she met Nunes for the third time:
"I definitely will win this next fight. I won this fight, and I totally disagree with this decision going to the other side. I disagree."
A third fight may not be likely, however, due to the fact that Nunes has won both previous bouts and because the UFC 215 PPV buy rate is not expected to do that well.
Shevchenko continued to sound off on the decision while speaking with reporters at the post-fight press conference. This was when she claimed that she felt she had won the first three rounds.
"My thoughts on this fight…first of all, I respect decision of judge, but I don't agree with the decision at all," she said. I think this fight…in three rounds this was my points…I won these three rounds. In the final fifth round, only one takedown and she didn't do nothing, just one takedown. And for this takedown to give victory, I don't agree with this. Even when I was on the ground I was landing more punches, and she was just holding the position, nothing more."

"After the first round, it was pretty close. Second, third and fourth it was mine. And fifth…all the rounds it was mine. Just one takedown, I think about this, the judge gave one to the other side. Even this takedown, it was only a control position, and I was landing more punches from being on the ground."

"I'm frustrated with the decision because I don't agree totally. My opinion, if it will be victory, it should be victory, like, clear. In this fight, I see more tactical. You can see on her face and my face who landed more punches. I had on my shin stitches because, I don't know, maybe her teeth. It was cut in, bleeding. I totally disagree."