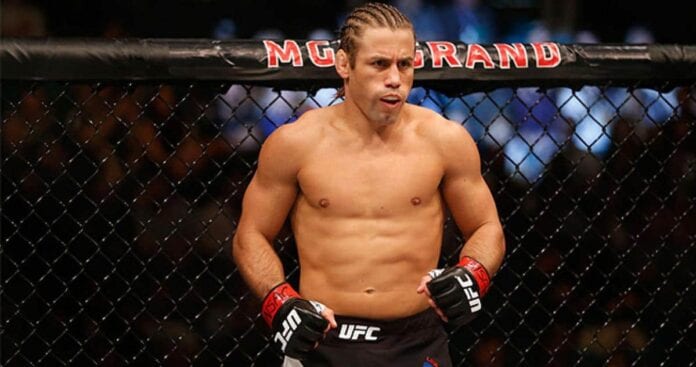 Urijah Faber reveals why former UFC bantamweight champion Cody Garbrandt has been quiet since his last fight that saw him lose.
UFC bantamweight champion TJ Dillashaw scored a first round KO victory over Garbrandt in the main event of the UFC 227 pay-per-view event at the Staples Center in Los Angeles, California. The finish of the fight at UFC 227 saw Dillashaw land ferocious flurry in the first round following dropping Garbrandt at first with a right hook.
If you recall, their first fight went down at the UFC 217 pay-per-view event at Madison Square Garden in New York City in November of 2017 where Dillashaw finished Garbrandt to win back the bantamweight title.
When Garbrandt won the bantamweight title at UFC 207, it set up a rivalry fight for one of the hottest feuds in MMA over the past couple of years, and the two fighters had been jawing at each other publicly since Dillashaw left Alpha Male. However, this feud has been put on ice for the time being.
Faber recently revealed the reason that Garbrandt has stayed quiet since his last fight, which is due to him being a family man right now as well as stay away from the negativity.
"Cody is enjoying being a family man right now," Faber told MMA Fighting in an interview on Monday. "He was in the gym the other day and he was in good spirits. I know he's been working out still."

"This is a mean world, and everyone likes to jump in and kick people when they're down," said Faber, who was in town for a media day promoting the Oct. 5 Quintet grappling event. "Cody is someone who wears his heart on his sleeve, there's no pretenses with him. I don't know if that has something to do with it, if it was negativity he was paying attention to."

"I spent some time with Cody directly after the fight," Faber said. "And I wasn't necessarily the one that was in the corner for him for that fight, I've got some great perspectives for him, I said I've been in this a real long time I've got some good perspective for you, so, he seems open to that, we're going to have a conversation about his path forward yet but it just hasn't happened yet."

"Cody's doing really well, he sent me an incredible video of his baby watching TV and he's in good spirits," Faber said. "He's 27 years old and he had a moment where he needs to figure out, what's my motivation, what's my dedication, and that's that."