Tomorrow evening (Sat., January 28, 2017) the UFC is back with UFC on FOX 23 from the Pepsi Center in Denver, Colorado. While the event may not carry any true marquee names, it nonetheless presents some highly relevant and potentially entertaining clashes that could carry championship implications for their respective divisions.
None will be more glaring than the Valentina Shevchenko vs. Julianna Pena main event, a bout where the winner should almost assuredly get the next women's 135-pound title shot versus Amanda Nunes. But with 'The Lioness' campaigning for a bout against the winner of next month's Holly Holm vs. Germaine de Randamie women's featherweight title fight, the likelihood of that has unfortunately become cloudier in recent weeks.
The co-headliner will also feature potential title implications, but only for Colorado native Donald Cerrone. 'Cowboy' will put his strong four-fight win streak on the line against experienced under-the-radar veteran Jorge Masvidal, who seems invigorated to finally fulfill the potential that's kept him just on the outside of both the lightweight and welterweight Top 10 in the UFC. A win would mean a huge fight (if not a title fight) for Cerrone, while a Masvidal victory would be a coming-out party of sorts for 'Gamebred' on a national television stage.
It may not have earned the sheer attention of a Conor McGregor or Ronda Rousey-led card, but it's safe to say UFC on FOX 23 brings no shortage of backstories. Find out whom we picked to win the card's main bouts right here:
Valentina Shevchenko vs. Julianna Pena:
Mike Drahota:
They may not be household names in MMA just yet, but this fight presents a match-up of the absolute cream of the crop at women's bantamweight right now. Pena has been seemingly calling out for a title shot since the moment she healed from her serious post-TUF knee injury and officially debuted in the UFC. You can't argue with her body of work, as she's won four straight with her most recent a one-sided, blanketing win over former title challenger Cat Zingano.
However, her finishes were against lower ranked opponents and her recent wins have been uninspiring. She brings a wrestling-heavy control game that should give her an advantage on Shevchenko there, but overall I see 'Bullet' as being the far more complete fighter. She can out-strike the best, evident by her latest win over Holm, and both her wrestling and submission games are up there with the top. Her striking advantage on the rather unrefined stand-up of Pena is the deciding factor to me, as I'm picking 'Bullet' to keep the distance with her championship Muay Thai background. Shevchenko by unanimous decision.
Rory Kernaghan:
The pivotal women's bantamweight headliner will spell title shot for the winner, and it's clear in my mind who has the edge. The Ultimate Fighter 18 winner Pena has her hands full in my opinion, as Valentina Shevchenko is proving to be the dark horse of the division. Aside from her loss to current champion Nunes, 'Bullet' has been on top form recently. Her movement, clean striking, and accuracy, I feel, gives her the edge in this main event. Clean-cut unanimous decision for Shevchenko.
Mike Henken:
In my opinion, this main event should decide the next challenger to the 135-pound title. Shevchenko has won two of her last three bouts with her only loss in that stretch coming to champion Nunes. However, she rebounded last July with a dominant decision victory over former champion Holm. Pena, on the other hand, has won four straight over steadily improving competition. I would argue that Pena is the more physically imposing and aggressive fighter, but I'd also say that Shevchenko's striking is leaps and bounds ahead of Pena's. "Bullet's" submission game is also solid, as she has five submission victories to her credit. I simply feel as if she's the superior fighter here, and that's why I'm picking her to win. Shevchenko by unanimous decision.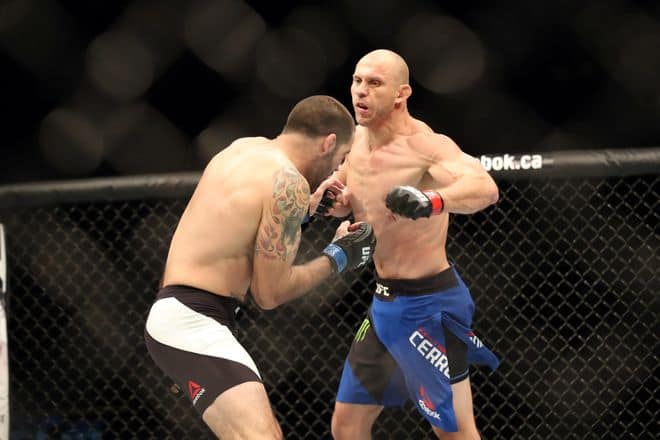 'Cowboy' Cerrone vs. Jorge Masvidal:
Mike Drahota:
This is a fun fight Cerrone took after Masvidal continuously called him out for 'stealing his food' when two Top 10-ranked opponents he was supposed to face were given to 'Cowboy' for one reason or another.
It's lead to a very entertaining pre-fight back-and-forth, something that's allowed Masvidal to come out of his shell after being one of the most talented-but-unknown fighters in MMA for many years. Of course his three split decision losses where his critics have pointed out he tends to coast after hurting his opponents early doesn't help, but 'Gamebred' can erase all of that with a big win in Colorado.
He'll have his hands full with a steamrolling force in Cerrone. 'Cowboy' has appeared reinvented at 170 pounds, as he's been back to walking down opponents following a first-round TKO loss to Rafael dos Anjos in late 2015. He owns a knockout power edge over Masvidal and could certainly stop the bout early, but 'Gamebred' is an iron-chinned test. He also appears more motivated than he ever has been, and that's been accompanied by a newfound killer instinct. Those aspects have me leaning towards the upset, Masvidal by unanimous decision.
Rory Kernaghan:
Given their recent form, it's hard to bet against either man in the Denver co-main event. Jorge Masvidal's underrated boxing is a sight to behold, but I think he comes second in the technicality and finishing departments against Donald Cerrone. The Jackson-Wink MMA product has been wrecking fools in two divisions, most recently with four straight at 170 pounds. I don't see 'Cowboy' finishing the tough 'Gamebred,' in fact I predict quite a narrow and exciting fight. In the end, though, I'm picking Cerrone for the decision win.

Mike Henken:
Masvidal is certainly a well-rounded veteran, but Cerrone's recent stretch at welterweight cannot be overlooked in my opinion. The former lightweight title challenger has scored four straight victories at 170-pounds with all four of them coming by way of finish. "Cowboy" looks bigger, faster and stronger at welterweight, and I think he'll continue his streak against Masvidal. Cerrone by unanimous decision.