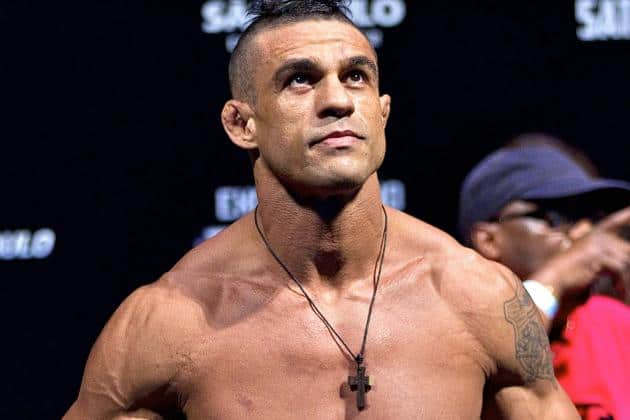 With so many shattering knockouts and stoppages at last night's (Saturday, November 7, 2015) UFC Fight Night 77 from the Ginásio do Ibirapuera in São Paulo, Brazil, it was difficult to pick just whom deserved the post-fight bonuses.
In the end, however, the first $50,000 'Performance of the Night' bonus not surprisingly went to Vitor Belfort, who knocked out old rival Dan Henderson with the first strike he threw in their main event trilogy match, a head kick that put 'Hendo' on wobbly legs and eventually lead to a stoppage from a few follow-up punches.
The second bonus went to Glover Teixeira, who finished off tough wrestler Patrick Cummins with a nonstop barrage of vicous power straights, uppercuts, and hooks, to score his second straight stoppage win.
It was a night where not only two 'Performance of the Night' bonuses could be given out, however, as other too many other fighters simply put on great performances.
The third bonus went to rising young Brazilian star Thomas Almeida, who pushed a relentless pace at a tough opponent in Anthony Birchak, scoring a brutal knockout with two perfectly placed power punches.
The fourth and final $50,000 bonus went to featherweight Thiago Tavares, who surprisingly submitted longtime veteran Clay Guida with a tight guillotine choke only 39 seconds into the first round.
The bonuses were Almeida's fourth in four UFC fights and Tavares' third in only three fights at featherweight.
If you enjoyed this story, please share it on social media!