UFC Fight Night 73 Predictions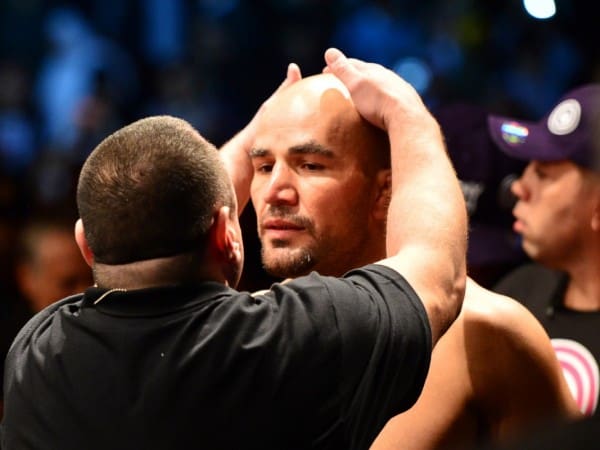 Glover Teixeira vs. Ovince St. Preux:
Mike Drahota:
For up-and-coming light heavyweight St. Preux, this is a massive opportunity to pick up the biggest win of his career in the state where he played college football for the Tennessee Volunteers. For the no. 4-ranked Teixeira, this is a must-win bout for him to prove he can still hang with the division's elite after two consecutive one-sided losses to Jon Jones and Phil Davis. The fight brings an interesting mix of respective pressure for both sides, but I think St. Preux will be lifted up by his hometown fans' cheers. I'm not entirely sure that will be enough to deal with the Brazilian slugger, however, as he's reportedly healed up from nagging injury and in better shape than recent bouts. St. Preux can't get careless and leave himself wide open with his striking as he often does. For that reason, I'm picking Teixeira via R2 TKO.
Rory Kernaghan:
Glover Teixeira's rise to a UFC light-heavyweight title shot was quite the spectacle to watch, and his younger adversary Ovince Saint Preux was being tagged for the same sort of success. After losses to Ryan Bader for OSP, and Jon Jones in his title fight and then Phil Davis for Teixeira, each man has a lot on the line. For the Brazilian it could be his job at stake, for OSP he could be in line for a contender fight as this would be his third straight win. Similar in size and stature to 'Bones', Saint Preux will undoubtedly try to expose Teixeira's lesser reach. I don't see it going that way though, as the Brazilian's grappling skills will be the difference maker in my opinion. Look for Teixeira to grind out a gritty decision victory.
Mike Henken:
This is a very interesting match-up stylistically. Ovince Saint-Preux could be a dark horse contender in the 2015-pound division, and he has looked strong as of late. OSP is a phenomenal athlete, with great speed, power, and explosiveness. With unorthodox striking, and improving wrestling, he could see success in this fight, but I just don't feel as if Saint-Preux has face a true challenge yet. Glover Teixeira is a former title challenger, and an elite light heavyweight despite his recent setbacks. Teixeira has underrated grappling and devastating power. The Brazilian should look to close the distance and land huge shots inside, and I see him doing just that. Teixeira by third-round TKO.
Michael Johnson vs. Beneil Dariush:
Mike Drahota:
I think this is a largely under-the-radar bout that could potentially have title implications for the winner at some point down the road. After out-grinding Jim Miller, Dariush has a huge step up in competition against the top five-ranked 'Menace,' who looked simply superb in picking apart vaunted striker Edson Barboza earlier this year. The Blackzilian also has the wrestling chops to go along with it, but grappling is where Dariush shines through. The huge lightweight benefits from training alongside division champion Rafael dos Anjos at Kings MMA, and he's recently teased a move up to welterweight. He's risen quickly up the crowded lightweight ranks, but I think that Johnson is a bit too much of a challenge at this point. If Darius can't take him down and hold him there, 'Menace' should use his footwork and timing to pick him apart. Johnson by unanimous decision.
Rory Kernaghan:
Beneil Dariush and Michael Johnson will dance for lightweight title rights in the co-main event, and it has all the makings of a FOTN winner. 'The Menace' has evolved exponentially since his days on The Ultimate Fighter, but Dariush provides a puzzle that only Ramsey Nijem has solved during his 12 pro fights. 'Benny' is incredibly strong, has a BJJ black belt and wants to get the fight to the mat. Both have a four-fight win streak on the line, but the question is who wants it more. I feel like this won't be a finish, and could be a very close fight. Judges will be working hard, but I'm going to give the nod to Dariush by decision even though it's not set in stone.
Mike Henken:
This should be a very exciting fight, and it could be the best bout on the card on paper between two surging lightweights. Beneil Dariush is facing his toughest challenge to date in Michael "Menace" Johnson, but Dariush has won four straight, and may be one of the very best submission artists in the division. Johnson, on the other hand, is very fast and explosive, with strong wrestling and powerful striking. He'll have to be careful on the ground, but I just see "Menace" as the better fighter. I think he'll use his speed and power to pick apart Dariush on the feet as well. Johnson by unanimous decison.