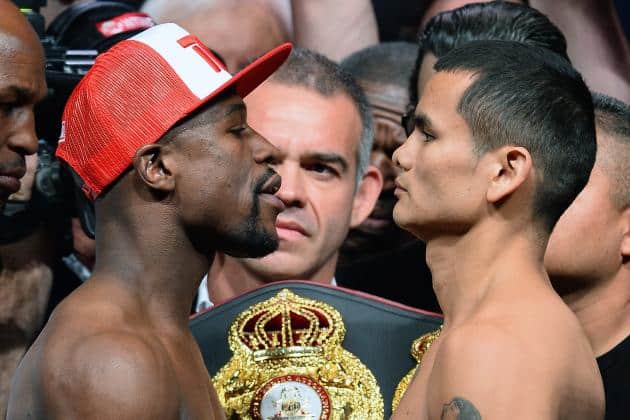 It's been a very busy weekend for fans of combat sports, with UFC Fight Night 51, World Series of Fighting 13 and ONE FC 20 all transpiring with 24 hours, and of course the PPV rematch between boxing great Floyd Mayweather and Marcos Maidana…..
UFC Fight Night 51
Biggest learning point from last night's (Sat. Sept. 13th, 2014) action in Brazil came in the main event, in the form of a renewed Andrei Arlovski. The Belarusian striker showed that you can teach an old dog new tricks, and pretty good ones at that. "The Pitbull" showed up and took care of business, knocking Silva clean out in the first round. What's next for Arlovski? Well, I think a pairing of strikers in JDS vs Arlovski would be great.
We also got a great account of Godofredo Castro last night, as he submitted Dashon Johnson with a wicked armbar-triangle in the first round. The Brazilian has shown high level striking and grappling in his last two, and I'd expect a main card slot for "Pepey" next time out.
ONE FC 20/WSOF 13
Over to Asia, and ONE FC put on a fantastic display for the fans; only one bout made it to the judge's scorecards, and the event included four first-round knockouts. WSOF 13 went down on the other side of the globe, and was packed with it's own share of crazy finishes, see here. Ray Sefo's budding organization may lack the star power to fill a PPV, but his athletes really gave a good account of the promotion, especially while running head-to-head against the bigger dog.
Mayweather vs Maidana 2
As much as MMA fans complain about the price of PPV cards nowadays, I think there will be a lot more jilted boxing fans after last night's "Mayhem". The Showtime card lacked substance, and was headlined by a somewhat diluted rematch between boxing great Floyd Mayweather Jr, as he schooled Marcos Maidana over 12 rounds.
Fans were frustrated in the wake of the event, but I felt like asking if they'd ever seen "Money" fight? He is a counter-punching, elusive pain in the ass. Although I didn't pay 80 bucks to watch him win a fight mainly with head movement and an average of 12 punches per round. Lesson learned; MMA was pretty decent this weekend, boxing wasn't.