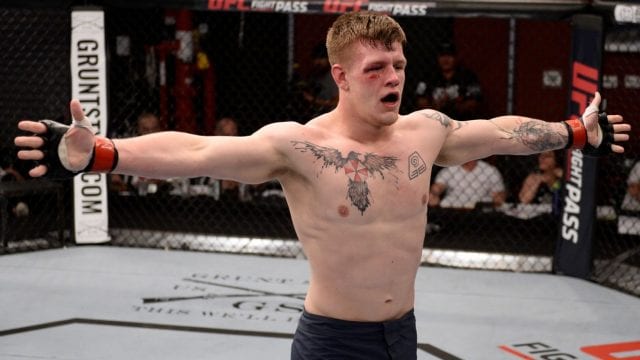 The Octagon touches down in the land down under as UFC Adelaide is upon us. 12 Fights in total on the night and we have you covered will all the results.
The Adelaide Entertainment Center in beautiful Adelaide, South Australia will host the fights. With a healthy dose of local talent and plenty of veterans, UFC Adelaide is a solid card.
A pair of light heavyweight fighters kicks off the main card. As Australias own Jim Crute takes on a Scotsman in Paul Craig.
Crute has garnered much hype in his short MMA run. He has compiled a record of 8-0 in a short period of time. The 22-year old earned a UFC contract by defeating Chris Birchler on last season of Dana White's Tuesday Night Contender Series.
Craig will make the walk to the Octagon for the fifth time in Australia. He is riding high off of one of the greatest come from behind victories in the history of the sport. He defeated Magomed Ankalaev via a triangle choke with one second left in the fight.
Round One
Crute throws a leg kick to start. He presses the action forward however Craig lands a takedown. Craig finds himself on top, Crute goes for a guillotine choke but the "Bearjew" defends. Craig lands a couple of pot shots as Crute hits a switch and reveres position on Craig. About halfway through the round Crute lets Craig up to his feet. Crute looses his balance and Craig uses the opportunty to get the fight back down to the ground. Craig goes for a triangle, Crute defends. Crute locks in a arm triangle choke. He digs the hold in tight but Craig somehow defends the choke. 60 seconds left in the round. Crute tells Craig to get up. Craig lands a spinning back kick, Crute stuffs a takedown and ends up in half guard. The round ends.
Round Two
Round two starts and Craig lands a takedown. Not much action as time passes. Craig is grinding and punching Crute at times. He positions Crute away from the cage. Crute reveres the position and lands a hard right hand. He stands up but Craig locks a hold of Crute's leg. Craig drags the Aussie back down to the canvas. The fight stalls. Crute finds a way out and lands a hard punch. He stands up but gets taken down almost instantly by Craig. The round Ends.
Round Three
The fights meet in the center of the cage and trade punches. Craig looks for a takedown, Crute stuffs it and lands his own. Crute softens up Craig with some blows as he looks for a submission. He locks in an arm triangle choke and works to set the angle. He struggles for some time. Craig punches in defence. He gets back to mount and lets the choke go. The pace has slowed much here in the final round. Crute is landing some rabbit punches to Craig. He opens up with some elbows as well. He postures up and lets some hard punches go. He looks locks in a kimura in the final seconds and gets the tap.
 Jim Crute defeats Paul Craig via submission at 4:51 of round three
If you enjoyed this story, please share it on social media!