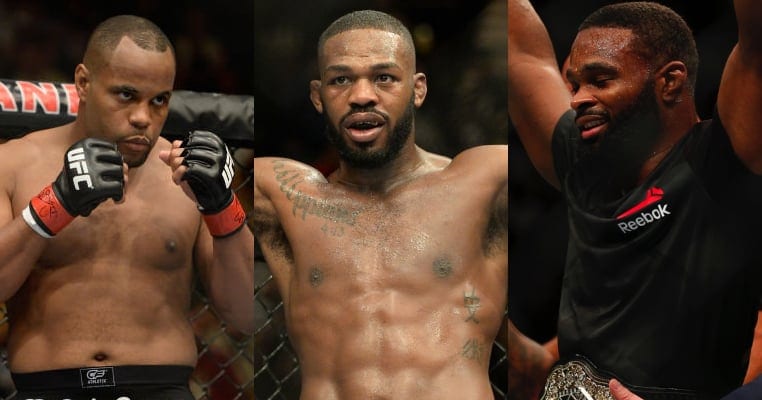 We are now just one day away from the biggest UFC fight card of the year thus far, as UFC 214 is set to take place this Saturday night (July 29, 2017) live on pay-per-view (PPV) from the Honda Center in Anaheim, California.
The card will feature a staggering three title fights, with the main event playing host to the long-awaited and highly anticipated rematch between light heavyweight champion Daniel Cormier and longtime former divisional ruler Jon Jones. In the co-main event, welterweight king Tyron Woodley will defend his title against grappling guru Demian Maia. Finally, Cris Cyborg and Tonya Evinger will also do battle for the vacant women's featherweight title in an unprecedented third title fight on the card.
That's not all for the main card, however, as fan favorites Robbie Lawler and Donald Cerrone will face off at welterweight, while light heavyweight contenders Jimi Manuwa and Volkan Oezdemir will also do battle. Both fights hold major title implications in their respective divisions.
Without further ado, let's take a deeper look into the card we've all been waiting for: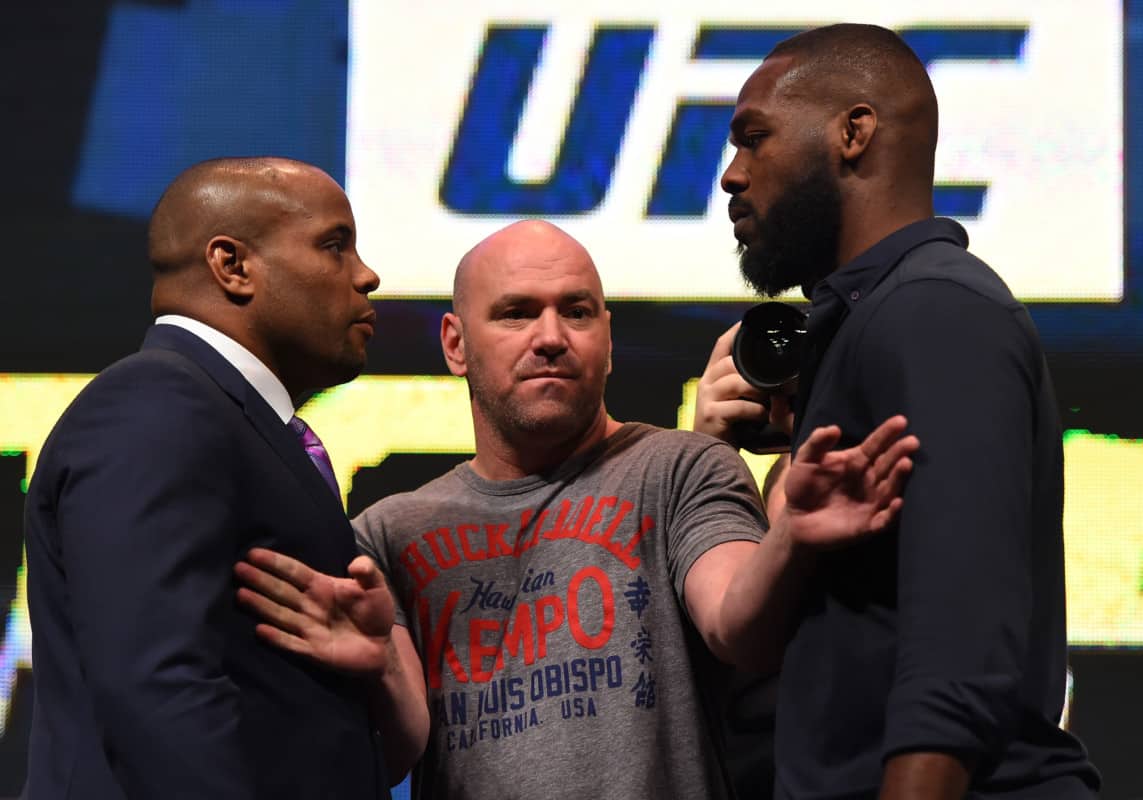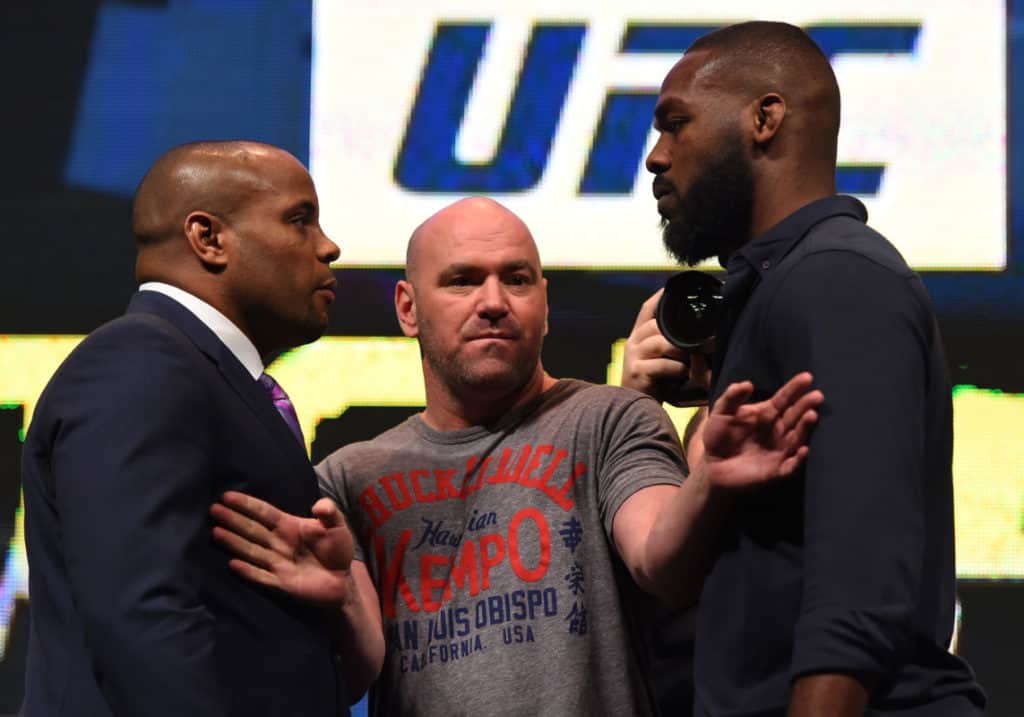 Daniel Cormier vs. Jon Jones
Daniel Cormier and Jon Jones possess one of the deepest rivalries in the history of the sport, but when they first met at UFC 182 in Jan. 2015, Jones scored a one-sided decision victory.
Since then, due to Jones' legal and personal issues, Cormier has claimed the undisputed title, won four straight bouts, and successfully defended that title twice. Sure, Jones has only competed once since his initial meeting with "DC", but it's also true that Cormier has only gotten older in that time, while Jones still sits in the prime of his career at age 30.
At the end of the day, this bout will feature the two best light heavyweights on the planet facing off, but in my opinion, Jones is simply the best 205-pounder in the world, and arguably the best pound-for-pound fighter in the world period.
At UFC 182, Jones was superior to Cormier in every aspect of fighting. He out-struck Cormier on the feet, while doing great damage to his body. He was more successful in the clinch, and he even out-wrestled the former Olympian.
I expect a similar fight this time around.
Prediction: Jon Jones def. Daniel Cormier via unanimous decision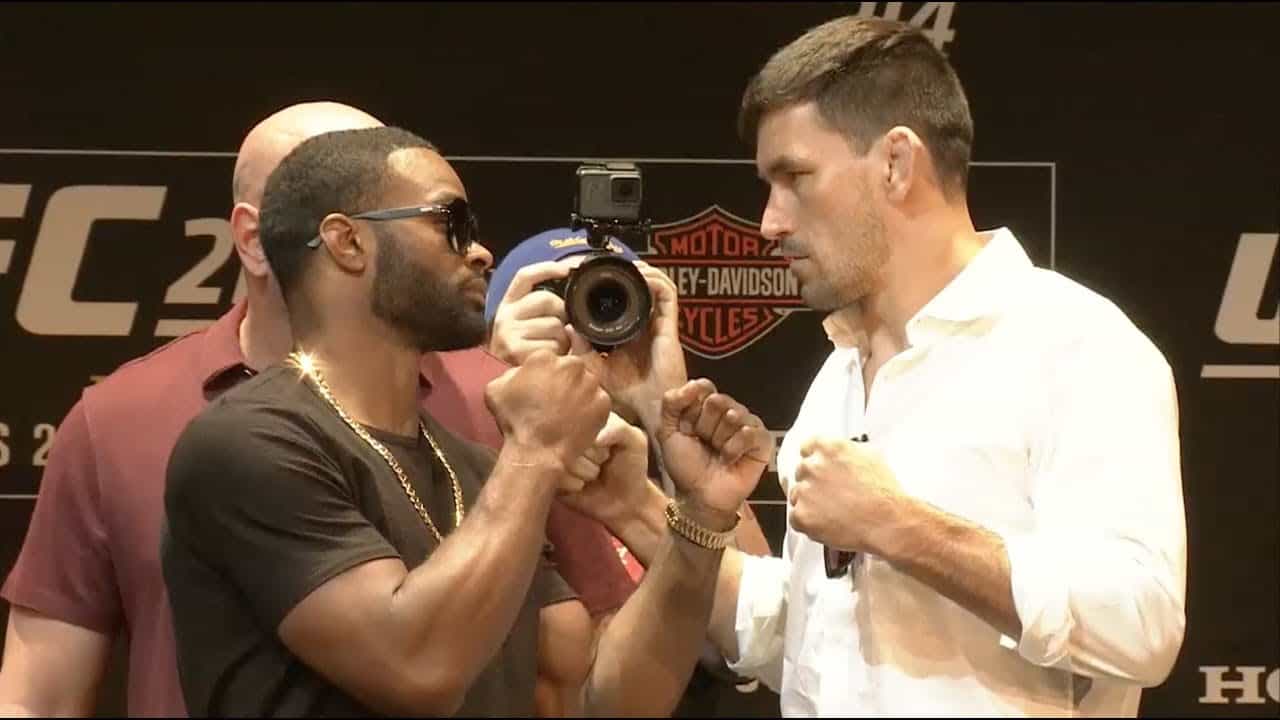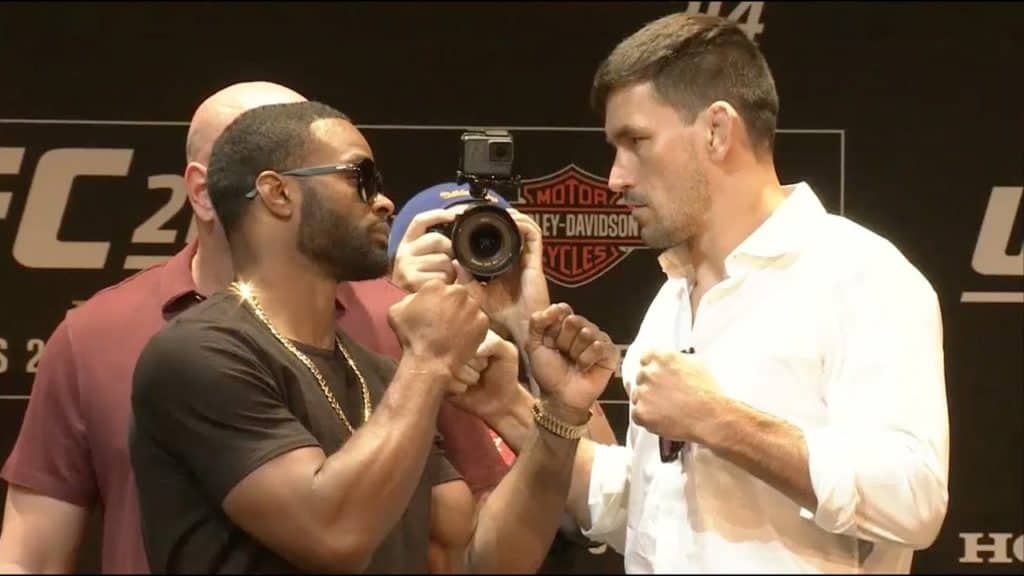 Tyron Woodley vs. Demian Maia
Maia has won an incredible seven straight fights, and is without question the No. 1 contender in the welterweight division, but I simply don't feel as if he matches up well against the champion Woodley.
While his striking has improved over time, Maia's recent win streak has been backed in large part by his world-class grappling skill. The only problem here, however, is that Woodley, a former NCAA Division I wrestler, is extremely difficult to take down.
In addition to that, Woodley is lightning-fast and extremely explosive on the feet. He also possesses a tremendous amount of power in his hands that gives him the ability to finish a fight at any time.
Woodley has indeed been criticized for his cardio at times, so Maia should look to avoid his big shots while dragging the fight into deep waters, but the Brazilian has also only been given five weeks to prepare for the fight after coming out of a back-and-forth war with Jorge Masvidal at UFC 211.
I expect Woodley to be too much on the feet, and to finish this one early.
Prediction: Tyron Woodley def. Demian Maia via second-round TKO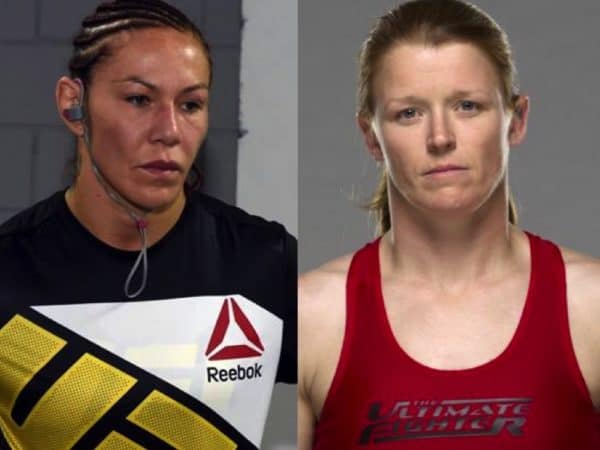 Cris Cyborg vs. Tonya Evinger
Similar to my opinion on Jon Jones, I feel as if Cris Cyborg is the very best female fighter on the planet.
She is a massive featherweight with brutal power and world-class striking ability. Her grappling game has also improved over time, and she's very well-versed in keeping a fight on the feet where she is a threat to finish at all times.
In this fight, she'll take on a relative unknown in former Invicta FC bantamweight champion Tonya Evinger, who will make her UFC debut at UFC 214. Despite the fact that she hasn't competed in a fight of this magnitude before, Evinger is certainly a talented fighter. She's also quite experienced, possessing a 19-5 professional record with 15 of those victories coming by way of stoppage.
Evinger will likely look to take the fight to the ground where she could attempt to incorporate her strong submission game, but I don't expect her to get this opportunity. I feel as if Cyborg's sized advantage will allow her to overwhelm her opponent and add yet another finish to her resume.
Prediction: Cris Cyborg def. Tonya Evinger via first-round TKO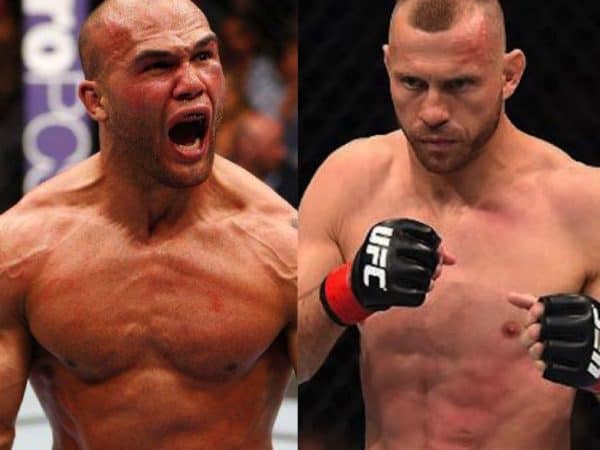 Robbie Lawler vs. Donald Cerrone
This is a fight that has been scheduled twice before UFC 214, but it never came to fruition. It's also a fight between two fan favorite fighters, and it's expected to be a firefight.
Lawler, the former welterweight champion, is a savage inside the cage. His forward pressure, aggressiveness, and ability to trade shots has made the "Ruthless" one a joy to watch and a fighter to be feared. With that being said, he hasn't competed since suffering a first round knockout loss to Woodley last July, but I actually feel as if the time off will likely benefit Lawler after the wars he went through prior to that fight with "The Chosen One".
Cerrone, on the other hand, is also a versatile and elite-level striker, and prior to his last fight, he had won four consecutive fights with all four of those victories coming by way of stoppage. Then, however, he ran into Jorge Masvidal this past January, and was finished in the second round via strikes.
"Cowboy" also has a strong, yet often overlooked submission game, although I expect this fight to remain on the feet. With that being said, Cerrone has had issues with southpaws in the past, and I feel as if Lawler's pressure and striking-based attack will provide similar issues here.
It's also important to note that Cerrone was dealing with a staph infection that forced him off of UFC 213 just a few weeks ago.
Prediction: Robbie Lawler def. Donald Cerrone via. unanimous decision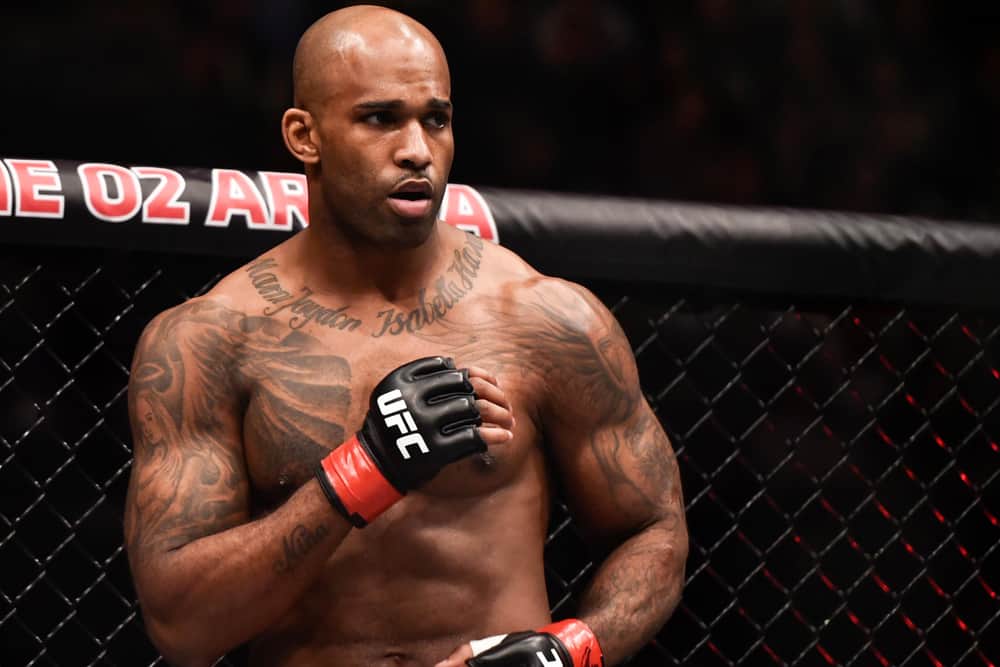 Jimi Manuwa vs. Volkan Oezdemir
In the somewhat shallow light heavyweight division, both Jimi Manuwa and Volkan Oezdemir have emerged as possible title contenders, and they will do battle in the main card opener at UFC 214 with a title shot potentially on the line.
Despite losing pivotal bouts to Alexander Gustafsson and Anthony Johnson, Manuwa has quietly compiled an impressive 6-2 UFC record, with five of those victories coming by way of stoppage. Recently, he's seemed to hit his stride, scoring back-to-back TKO victories over the likes of Ovince Saint Preux and Corey Anderson.
While he has certainly rounded out his game over the years, "Posterboy's" strengths have always lied in his striking arsenal, and more specifically within his boxing and Muay Thai skills.
Oezdemir, on the other hand, has also quietly compiled an impressive professional record of 14-1, with 10 of those victories coming by way of stoppage. His most recent victory, a brutal TKO victory over prospect Misha Cirkunov, seemed to gain him recognition, but that fight was only his second in the UFC.
Overall, I feel that Manuwa is the superior striker, and his UFC experience will benefit him here as well.
Prediction: Jimi Manuwa def. Volkan Oezdemir via unanimous decision