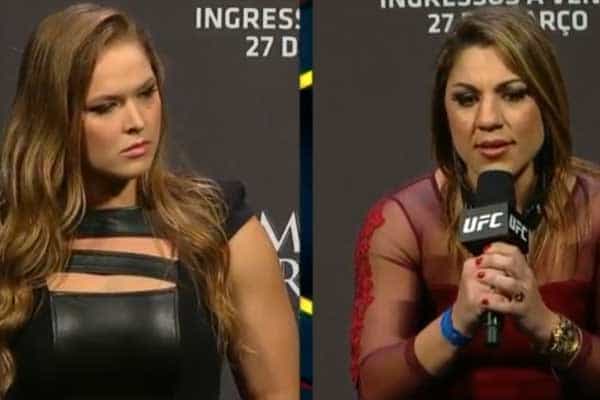 The much anticipated women's bantamweight clash, between champ Ronda Rousey, and challenger Bethe Correia, will be taking place at UFC 190, live from HSBC Arena in Rio De Janiero, Brazil on August 1.
As reported by Guillherme Cruz of mmafighting.com, the fight card has been finalized. Fans will also be treated to a double dosage of Nogueira, along with Mauricio 'Shogun' Rua on this historic night in Brazil.
Let's have a look at what fans can expect to see come fight night.
Main Event (Women's Bantamweight Championship)
135 Pounds: Ronda Rousey vs. Bethe Correia
Co-Main Event
205 Pounds: Antonio Rogerio Nogueira vs. Mauricio Rua
Main Card:
145 Pounds: Fernando Bruno vs. Glaico Franca
135 Pounds: Dileno Lopes vs. Reginaldo Vieira
265 Pounds: Antonio Rodrigo Nogueira vs. Stefan Struve
265 Pounds: Antonio Silva vs. Soa Paleilei
115 Pounds: Jessica Aguilar vs. Claudia Gadelha
Undercard
170 Pounds: Neil Magny vs. Demian Maia
205 Pounds: Patrick Cummins vs. Rafael Cavalcante
170 Pounds: Nordine Taleb vs. Warlley Alves
135 Pounds: Leandro Issa vs. Iuri Alcantara
185 Pounds: Clint Hester vs. Vitor Miranda
145 Pounds: Guido Cannetti vs. Hugo Viana
Stay tuned to LowKickMMA.com, for the latest in UFC 190 updates and coverage.